Hi-Fi Drums, Woody Herman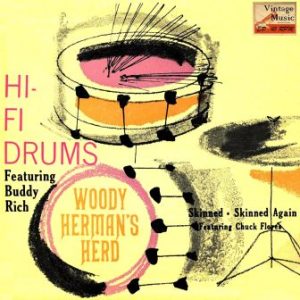 Label: Hi-Fi Drums
Release date: 2011-02-24
Woody Herman, de nacimiento Woodrow Charles Herman ( 16 de mayo, 1913, Milwaukee, Wisconsin – 29 de octubre, 1987, Los Ángeles, California)
Woody Herman fue un saxofonista, clarinetista, cantante y líder de big bands de jazz estadounidense.
A los quince años, Woody Herman comienza a trabajar con la banda de Myron Stewart y, poco después, con la de Joe Lichter , con quien realiza su primera gira por Texas , en 1928. A lo largo de los cinco años siguientes, Woody Herman tocará con Tom Gerum (1929-1933) , Harry Sosnick (1933), Gus Arnheim, Joe Moss y, en 1934, Isham Jones.
En 1936, la banda de Jones se convierte en una cooperativa de cinco músicos, conocida como The Band That Plays the Blues , asumiendo Herman el papel de líder. La banda tuvo su primer gran éxito, dentro de una línea ascendente, en 1939, con el riff melodioso de Woodchopper´` s Ball.
A partir de este momento, dentro de una dinámica de abundantes cambios de personal, los Herds de Woody Herman (como solía llamar a sus sucesivas Big Bands) gozaron de una notable popularidad