Great Balls Of Fire, Jerry Lee Lewis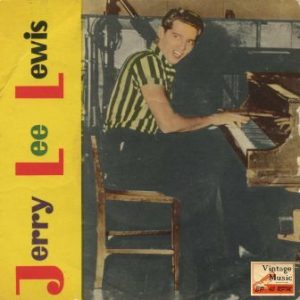 Label: Great Balls Of Fire
Release date: 2009-05-07
Jerry Lee Lewis (29-9-35, Ferriday, Louisiana) es el rocker blanco por excelencia, pese a surgir inmediatamente después que Elvis Presley y con sus mismos orígenes y antecedentes (el country and western y Sun Records).
Hijo de una humilde familia en la que el padre trabajaba de carpintero, Jerry Lee Lewis estudió en el Bible Institute de Waxahatchie, Texas, y tuvo su iniciación musical en la iglesia, aprendiendo a tocar el piano, la guitarra, el violín y el acordeón, demostrando un talento Innato para la música.
Su debut semi-profesional se produjo a los catorce años, cuando comenzó a actuar en Natchez, una localidad cercana a su casa. En la radio y en un club llamado Blue Cat, Jerry Lee Lewis consiguió afianzar su incipiente calidad. Cantando y trabajando en cualquier ocupación, su oportunidad se presenta en 1955, cuando lee un anuncio de una editora de Memphis llamada Sun Records. Sun Records, que acababa de vender el contrato de Elvis Presley a RCA y tenía dinero para invertir en nuevas estrellas, buscaba savia joven. Jerry se presentó en Memphis e hizo una prueba.
Su estilo, demasiado country and western, no impresionó a Sun. Elvis Presley era ya nº 1 en Estados Unidos con Heartbreak hotel y lo que imperaba era el rock and roll. Jerry Lee Lewis, no perdió, sin embargo, su oportunidad. Su facilidad para adaptar cualquier estilo o canción a su propia concepción musical hizo que a los pocos días volviera a Sun con la idea del rock and roll asimilada por completo. Su primer disco fue Crazy arms, en 1956.
Su gran momento comenzó en 1957. con Whole lotta shakin´goin´on, que fue su primer disco de oro, y se consolidó ese mismo año con Great balls of fire, uno de los temas de la película Jamboree, la primera en la que intervino, y a la que siguieron High school confidenitial, en1958, y Young and deadly, en1960