Ella Fitzgerald vs. Billie Holiday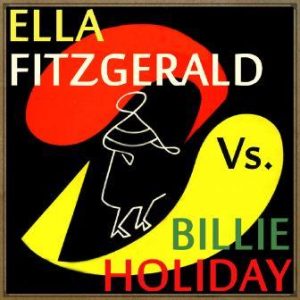 Label: Ella Fitzgerald vs. Billie Holiday
Release date: 2013-05-14
Ella Jane Fitzgerald (Newport News, 25 de abril de 1917 – Beverly Hills, 15 de junio de 1996), conocida como Ella Fitzgerald y apodada Lady Ella y The First Lady of Song (La primera dama de la canción), fue una cantante estadounidense de jazz. No obstante esta condición básica de jazzista, el repertorio musical de Ella Fitzgerald es amplísimo e incluye swing, blues, bossa nova, samba, gospel, calypso, canciones navideñas, pop, etc.
Junto con Billie Holiday y Sarah Vaughan, Ella Fitzgerald está considerada como la cantante más importante e influyente de la historia del jazz (y, en general, de la canción melódica popular). Estaba dotada de una voz con un rango vocal de tres octavas, destacando su clara y precisa vocalización y su capacidad de improvisación, sobre todo en el scat, técnica que desarrolló en los años cuarenta y que anunció el surgimiento del bop.
En los años cincuenta sentó cátedra con su concepción de la canción melódica, en paralelo a la obra de Frank Sinatra, con sus versiones de los temas de los grandes compositores de la canción popular estadounidense (los songbooks de Duke Ellington, Cole Porter, Johnny Mercer, etc.). El único reparo que se le ha puesto a su talento interpretativo es cierta incapacidad para adaptarse emocionalmente a letras con contenido dramático.
---
Billie Holiday (1915-1959), cantante de jazz y blues, una de las intérpretes más importantes del siglo XX, también conocida como Lady Day. Nació en Baltimore, Maryland, y su verdadero nombre era Eleonora Holiday.
Billie Holiday creció en un ambiente humilde y se trasladó a Nueva York a finales de la década de 1920, ciudad donde comenzó a cantar en clubes nocturnos. Se dio a conocer tras una grabación que realizó en 1935, organizada por el pianista Teddy Wilson y en la que también intervinieron el saxofonista Ben Webster y el trompetista Roy Eldridge. De estas sesiones sobresalen temas como "I Wished on the Moon" y "Miss Brown to You".
A partir de ese momento Billie Holiday cantó en varias orquestas, entre ellas las de Count Basie y Artie Shaw, y compartió varias grabaciones con el saxofonista Lester Young, con el que siempre mantuvo una gran amistad y empatía musical.

Favorites
Your favorites will be here.
Género