The Piano Man, Eddie Heywood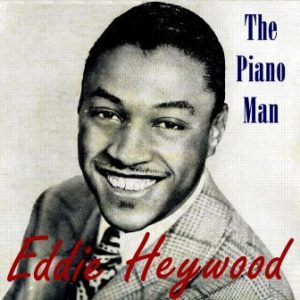 Add to favorites
Title: The Piano Man
Artist: Eddie Heywood
Country: USA
Date: 2010-03-19
Eddie Heywood (nacido Edward Heywood, Jr., 4 de diciembre de 1915, Atlanta , Georgia – 3 de enero de 1989, Miami Beach , Florida ) fue un pianista de jazz pianista muy popular en la década de los 40. Su padre, Eddie Heyward, Sr. era también un  músico de jazz durante  la  década de los 20.
Eddie Heywood , Jr. tocó con varios músicos de jazz muy populares como Wayman Carver en 1932, Clarence Amor de 1934 a 1937 y Benny Carter 1939 a 1940 después de mudarse a Nueva York .
Eddie Heywood crea su banda y de vez en cuando hacve grabaciones con Billie Holiday en 1941. En 1943, Heywood graba con The Coleman Hawkins Quartet (incluyendo " The Man I Love ") y forma su primer sexteto , incluyendo a Doc Cheatham y Vic Dickenson .
Posteriormente, en 1944, su versión de " Begin the Beguine "se convirtió en un éxito al igual que ocurrio con su carrera durante los tres años siguientes.
Entre 1947 y 1950, Eddie Heywood con una parálisis en sus manos le impisió seguir tocando. Sin embargo, reapareció después de la década. En los años 50, Heywood compuso y grabó " Land of Dreams "y "Soft Summer Breeze". Aunque probablementge, es mejor conocido por su grabación en 1956 de su composición" Sunset canadiense ", grabada con Hugo Winterhalter y su orquesta.
Después de otra parálisis parcial en la segunda mitad de los 60, Eddie Heywood hizo otra remontada y continuó su carrera en los 80.
Eddie Heywood tiene una "estrella" en el 1709 de Vine Street en el Hollywood Walk of Fame .