Dixieland, Phil Napoleón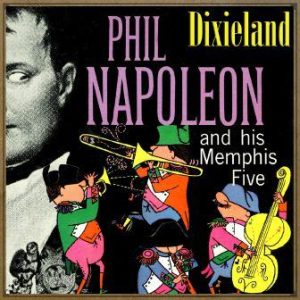 Add to favorites
Title: Dixieland
Artist: Phil Napoleon
Country: USA
Date: 2013-02-04
Phil Napoleón (Filippo Napoli) es un trompetista de jazz estadounidense nacido el 2 de septiembre 1901 en Boston ( Massachusetts ) y murito el 13 de septiembre 1990 en Miami ( Florida ).
Formado como trompetista "clásico", Phil Napoleón, comenzó su carrera profesional en orquestas de baile. A finales de la primera década del siglo XX, fundó, junto al pianista Frank Signorelli , el "Original Memphis Five".
La banda grabó su primer álbum en 1921. Esta formación, que frecuentemente iba cambiando de miembros,  grabó bajo otros nombres: "Lucky Seven de Bailey", el "Southland Six", The "Black Aces Ladd," The "Carolina Jazzbo de Serenaders", The "Charleston Chasers" y hasta The "Napoleon's Emperors".
Llegaron a Tocar junto a este grupo, caras tan conocidas como Red Nichols , Jack Teagarden , Mole Miff , Glenn Miller , Tommy Dorsey , Lennie Hayton , Eddie Lang , Joe Venuti , Gene Krupa , de Dave Tough , …
En los años 30, Phil Napoleón siguió trabajado como músico de estudio. En 1937, formó una big band. De 1943 a 1947  era un miembro de la banda de Jimmy Dorsey . A partir de 1947, trabajó principalmente como músico de estudio, sobre todo para el "  NBC  ", aunque a veces realizaba grabaciones  recuperando a grupo  "The Original Memphis Five".
En 1956, Phil Napoleón se trasladó a Miami. Abrió un club, "la retirada de Napoleón", donde se pone a la cabeza de grupos pequeños. Músico activo hasta la edad de 89 años, Phil Napoleón murió en 1990.