Country & Blues Piano, Floyd Cramer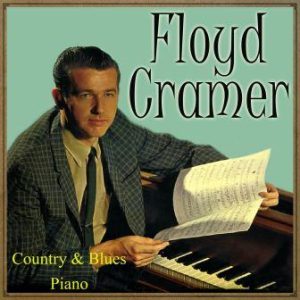 Add to favorites
Title: Country & Blues Piano
Artist: Floyd Cramer
Country: USA
Date: 2014-03-05
Floyd Cramer
El 27 de octubre de 1933 nació en Shreveport (Louisiana) el legendario pianista country Floyd Cramer, considerado uno de los arquitectos del 'sonido Nashville'. Comenzó su carrera en 1953 cuando grabó su primer disco 'Dancin Diane', hecho que llevó a que lo contrataran para acompañar en una gira al entonces desconocido Elvis Presley.En 1955
Floyd Cramer se mudó a Nashville y se convirtió en el pianista más solicitado para las grabaciones. Allí, además de Presley, grabó con Brenda Lee, Patsy Cline, The Browns, George Strait, Jim Reeves, Eddy Arnold, Roy Orbison, Don Gibson y los Everly Brothers, por nombrar sólo unos pocos.
Floyd Cramer publicó álbumes como solista con temas muy populares como 'Last date', 'San Antonio rose' y 'On the rebound', que fue nº1 en el Reino Unido en 1961.
Floyd Cramer murió a los 67 años en la Nochevieja de 1997.
http://efemeridesdelamusica.blogspot.com.es/