Camptown Races, The Jack Halloran Singers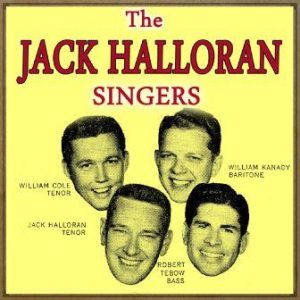 Label: Camptown Races
Release date: 2013-09-07
Jack Halloran (10 en 1916 hasta 24 en 1997) era un compositor y director de coro americano . Murió a los 81 años de un derrame cerebral.
Nacido en Rock Rapids, Iowa en 1916, Jack Halloran obtuvo títulos en música de Morningside Colegio en Sioux City, Iowa y la Universidad de Northwestern .
Jack Halloran cantó con un cuarteto masculino, llamado the Cadets, en varios programas de radio con sede en Chicago, entre ellos "The Breakfast Club whit Don MacNeil."
Más tarde formó The Jack Halloran Quartet, que apareció en los programas de televisión "David Garroway at Large" y "El Buttram Mostrar Pat."
Jack Halloran se mudó a Hollywood y Halloran se convirtió en un director de coro de películas, discos y televisión, trabajando con artistas como Roy Rogers , Pat Boone , Ray Charles , Frank Sinatra y Dean Martin .
Jack Halloran consiguió el trabajo como director coral y arreglista de The Dean Martin Show y trabajó con el cantante en su grabación de "Volare".
Halloran también ofundó The Jack Halloran Singers en el sur de California.
Jack Halloran dirigió la orquesta y el coro de Bing Crosby: en 1959 en el LP Join Bing and Sing Along . Dirigió el coro, en 1.962 en los LPs, Great Standards and I Wish You a Merry Christmas y en 1970 en el  LP A Time to Be Jolly .
Jack Halloran fue también un miembro de los Conniff Singers Ray , apareciendo en álbumes como Speak to Me of Love ( Columbia , 1963).
Jack Halloran fue también  presidente local de la Federación Americana de Artistas de Televisión y Radio