Buddy Greco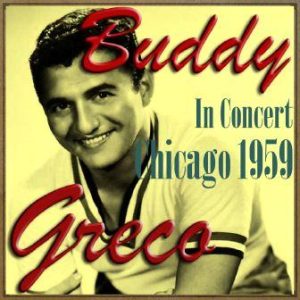 Label: Buddy in Concert, Chicago 1959
Release date: 2012-12-14
Buddy Greco (nacido el 14 de agosto 1926) es un cantante y pianista norteamericano.
Nació como  Armando Greco en Philadelphia , Pennsylvania . comenzó a tocar el piano a la edad de cuatro años. Su primer trabajo profesional fue con la banda de Benny Goodman.
Buddy Greco casi siempre ha estado vinculado al jazz y a otros géneros pop. Ha grabado canciones como "Oh Look A-There, Ain't She Pretty", "The Lady is a Tramp", y "Around the World", y ha publicado cerca de 72 álbumes y 100 singles.
Greco ha tenido una carrera de concertista de piano tocando en salas sinfónicas, teatros, discotecas y salas de Las Vegas . En la década de los 60 hizo apariciones con el Rat Pack .
Buddy Greco interpretó al cantante de cabaret Lucky en la película de 1969 The Girl Who Knew Too Much .
Buddy Greco ha grabado discos para la Columbia / Epic y Reprise además de para otros sellos menores. Sus álbumes más populares fueron On Stage y Buddy's Back in Town.
Su single de mayor éxito fue "The Lady Is a Tramp", que vendió más de un millón de copias y fue galardonado con un disco de oro. Grabó un álbum titulado Movin 'On , que incluía su versión de la Marvin Gaye stándar   "What's Going On".