The French Line, Jane Russell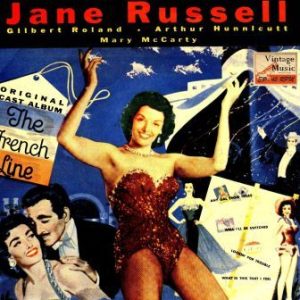 Label: The French Line
Release date: 2010-01-14
Jane Russell (Bemidji, Minnesota, 21 de junio de 1921), actriz estadounidense fundamentalmente recordada por su exuberante físico y su papel protagonista en Los caballeros las prefieren rubias, junto a Marilyn Monroe.
Su nombre real era el de Ernestine Jane Geraldine Russell y era hija de una actriz y de un militar. La influencia de su madre hizo que Jane Russell fuese a estudiar interpretación con la famosa Maria Ouspenskaya, instruyéndose también en canto y piano.
Mientras trabajaba como modelo y secretaria de un médico, Jane Russell fue descubierta gracias a la amplitud de su pecho por el magnate Howard Hughes, quien buscaba a una mujer despampanante para interpretar el polémico western The Outlaw (1943), film conocido también como El forajido. Jane alcanzó el estrellato cinematográfico con su película debut.
Su etapa más prolífica sería la primera mitad de la década de los 50, período en el cual intervino en títulos que principalmente aprovechaban su espléndido físico. Entre ellos, destacan His Kind of  Woman (Las fronteras del crimen, 1951), Macao (1952) y especialmente Gentlemen Prefer Blondes (Los caballeros las prefieren rubias, 1953) junto a Marilyn Monroe. Luego Jane Russell rodó una especie de secuela, Gentlemen Marry Brunettes (Los caballeros se casan con las morenas, 1955) y Hot Blood (Sangre caliente, 1956).