The Coasters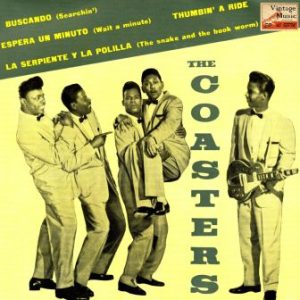 Add to favorites
Title: Thumbin' A Ride
Artist: The Coasters
Country: USA
Date: 2011-07-19
The Coasters es un grupo rhythm and blues y rock and roll vocal que colocó éxitos durante la década de los años 1950 iniciando con Serchin y Young blood, la canción más memorable, escrita por el equipo de producción de Leiber y Stoller. Sus canciones han sido frecuentemente imitadas, dejando un importante legado a la música de los años 1960.
La banda original estaba integrada por Carl Gardner, Bill Guy, Bobby Nunn, cantantes de color con una marcada influencia Country e influido por el Western Norteamericano, sus temas y estilo son generalmente ambientados en el viejo oeste americano.
El equipo de composición Jerry Leiber y Mike Stoller había comenzado Spark Records, Y en 1955 produjo "Smokey Joe´s Cafe" de The Robins (5 º individual con sus Leiber-Stoller). El disco fue tan popular que Atlantic Records Leiber y Stoller ofreció contratos de producción independientes para producir en the Robins para el sello Atlantic. Sólo dos de The Robins – Gardner y Nunn – estaban dispuestos a hacer el cambio a Atlantic, grabando sus primeras canciones en el mismo estudio que había hecho el Robins (Master Recorders).
A finales de 1957, The Coasters se trasladó a Nueva York y sustituye Nunn y Hughes, con Cornelius Gunter y Will "Dub" Jones. El cuarteto de nuevo a partir de entonces con destino en Nueva York (aunque todos tenían las raíces de Los Ángeles).