Christmas Day Is Coming!, The Blue Diamonds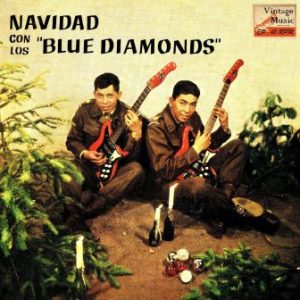 Add to favorites
Title: Christmas Day Is Coming!
Artist: The Blue Diamonds
Country: Indonesia, Holanda
Date: 2011-07-19
The Blue DIamonds. Dueto representante del Rock y del folklore Indonesio que en su momento fue designado con el nombre de Indo-Rock, Consiguieron colocar "Ramona"(1960), un tema que fue éxito a nivel mundial en las listas de popularidad del mundo entero.
The Blue DIamonds. tiene sus orígenes en Batavia (antiguo nombre de Jakarta) Indonesia, de donde Ruud ("Rudy") y Riem de Wolff son originarios. Siendo colonia Holandesa, Indonesia presencio su incursión en el mundo de la musica popular combinando sus orígenes con la nueva musica Rock and Roll que comenzaba a proliferar por todo el mundo. Al poco tiempo emigraron a Holanda.
La temática principal de sus canciones estuvo fuertemente influenciada por The Everly Brothers, Till I Kissed You (Hasta que te besè) fue uno de los temas de los Everly que les doto de cierta fama. No obstante conocerían las mieles del éxito internacional al interpretar una tema original de un filme en el cual participo Dolores del Río llamado "Ramona" (1927), estructurado en dos distintos tiempos la canción inmediatamente se convirtió en un éxito contundente al colocarse rápidamente en las listas de popularidad del Billboard de Estados Unidos y en casi toda la mayoría de los países de Europa.
El éxito notable de The Blue DIamonds. les llevo a efectuar actuaciones por toda Europa y parte de America y Oceania en donde fueron considerados grandes figuras. La popularización de sus canciones en inglés les abrió la puerta para interpretarlos en otros idiomas. En Español The Blue DIamonds.grabaron para Discos Phillips una serie de discos long play que inmediatamente les colocaron en el gusto de la juventud hispanoparlante, llegando a mantener en las distintas radioemisoras de habla hispana diversas canciones que pronto se convirtieron en clasicas de la programación musical.