The Mills Brothers, The Mills Brothers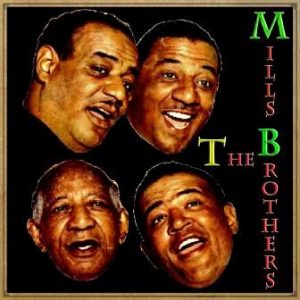 Label: The Mills Brothers
Release date: 2011-06-24
The Mills Brothers
El conjunto vocal formado por los hermanos Mills, nacidos todos en Piqua (Ohio) formaron un grupo muy peculiar. Desde niños ya les gustaban cantar a coro al estilo de los "Barber Shop Quartet". Al principioThe Mills Brothers eran conocidos como los "Four Boys and Kazoo". En 1929, gracias a una audición en la WSAI – una emisora de radio de Cincinnati-, les proporcionaron un contrato de diez meses y una gira por varios estados del Sur.
De la mano del pianista-empresario, Seger Ellis,
The Mills Brothers, se trasladaron a New York y consiguieron grabar entre 1931 y 1933, varios discos para la "Brunswick" y al año siguiente con la DECCA. Firmar con esta ultima compañia los hizo famosos ya que sus discos se exportaban a todo el mundo y tuvieron un éxito enorme. Su estilo, muy jazzistico, hizo que fueran numerosas las bandas de swing que los acompañaron, entre ellas la de Duke Ellington, Cab Calloway o la de Don Redman. Su participación en numerosas películas también les proporcionó una popularidad añadida, siendo la mas famosa de ella la titulada: "The Big Broadcast".
De gira por Europa, en 1934 The Mills Brothers actuaron en el celebre teatro londinense "Palladium" al que volvieron al año siguiente. En 1936, John Mills murió y su padre, que regentaba una barbería pero tenía una buena voz de bajo, se unió a sus hijos para evitar la disolución del grupo. Estuvo con ellos hasta 1956. Con la llegada de la Televisión los Mills Brothers, tuvieron otra gran oportunidad de aparecer ante el publico que los volvió a acoger con cariño y respeto.
En la década de los sesenta, The Mills Brothers, decidieron dejar los escenarios y tuvieron la dignidad de ser siempre fieles a su estilo y muy respetuosos con el jazz. Entre sus temas de mayor éxito cabe destacar: "Paper Doll" de 1943 del que llegaron a venderse miles de copias.
The Mills Brothers, tuvieron papel destacado en la era del swing. Supieron crear su propio universo musical sobre la base de trasmitir en pequeñas miniaturas de gran valor el estilo vocal afroamericano.