Negro Spirituals, The Harmonizing Four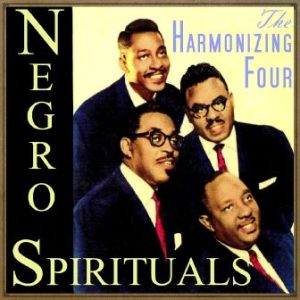 Label: Negro Spirituals
Release date: 2011-09-10
The Harmonizing Four fue un cuarteto negro fundado en 1927 y que tuvo su  pico de popularidad  durante las décadas inmediatamente después de la Segunda Guerra Mundial .
Las fuentes discrepan en cuanto a la composición original de The Harmonizing Four que se estableció en 1927 para cantar en las funciones escolares en Richmond, en el Virginia ´s Dunbar Elementary School.
Algunas fuentes incluyen a Thomas "Cabra" Johnson y Handly Levi como miembros fundadores, otros que indican que se unió al grupo a principios de 1930 después de la salida del primer  tenor  original José Curbelo y el bajo Willie Peyton; del mismo modo, un eventual líder, Joseph "Joe Evangelio" Williams es identificado como un miembro fundador de algunas fuentes,  y otros que afirman que se unió  seis años después. En 1937 The Harmonizing Four agregó Lonnie Smith.
The Harmonizing Four grabó para Decca Records en 1943 y estuvo de gira en los años de posguerra, actuando en  eventos de alto perfil como en 1944 en la Convención Bautista Nacional , con una audiencia de 40.000 espectadores, en  la ceremonia fúnebre por el presidente Franklin Delano Roosevelt en 1945,  y en la ceremonia de la boda del evangelio de estrellas Sister Rosetta Tharpe y Morrison Russell, un evento grabado para un álbum en directo que el grupo contribuyó con cuatro canciones.
Durante este período, The Harmonizing Four grabó para sellos diferentes, incluyendo Chicago, la compañía de grabaciones religiosas, Coleman, y MGM. A partir de la década de 1950, firmaron con los Gotham Filadelfia Records, donde grabaron unas 40 canciones antes de pasar en 1957 a Chicago Vee-Jay Records , donde experimentaron su mayor popularidad.