Ray Charles, Ray Charles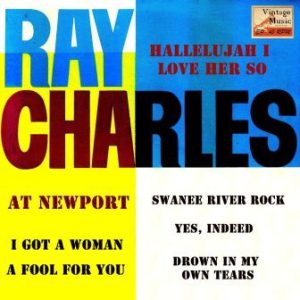 Add to favorites
Title: At Newport
Artist: Ray Charles
Country: USA
Date: 2010-02-13
Ray Charles, (23 de septiembre de 1930 – 10 de junio de 2004) fue un cantante y pianista de soul, R&B y jazz nacido en Georgia (EEUU) y ciego desde la infancia.
Nacido en Albany, Georgia, Ray Charles perdió la vista durante su infancia por un glaucoma. Fue autodidacta del piano, pero también recibió clases de música en braille en la "St Augustine School", un centro para invidentes. Paralelamente, tuvo que ganarse la vida como músico, cuando fallecieron sus padres.
A finales de la década de los cuarenta, Ray Charles consigue colocar un disco en las listas de su país, y en 1951 obtiene su primer Top Ten, gracias a "Baby, Let Me Hold Your Hand" en 1951. Fue criticado por cantar canciones gospel con letras populares, aunque hay una gran tradición al poner letras religiosas a canciones y viceversa. Thomas A. Dorsey, uno de los fundadores de la música gospel, que también tuvo una carrera significativa en la música popular. Solomon Burke y Little Richard incluso se movieron entre los dos estilos.
Después de una aparición en el Newport Jazz Festival Ray Charles logró un éxito importante con "(The Night Time is) The Right Time" y su canción más popular 1959, "What´d I Say". La esencia de esta fase de su carrera se puede escuchar en su álbum en vivo Ray Charles en Persona, grabado ante una gran audiencia Afroamericana en Atlanta en 1959. Este. álbum incluso caracteriza el primer show en vivo de "What´d I Say" se disparó como un éxito en Atlanta, meses antes fue grabada en el estudio una mejor versión en dos partes.
Ray Charles comenzó a ir más allá de los límites de su síntesis blues-gospel mientras seguía con Atlantic que ahora lo llamaba El Genio. El grabó con muchas orquestas y muchos artistas de Jazz como Milt Jackson e incluso hizo su primer cover de música country con el  "I´m Movin´ On" de Hank Snow.
Luego, se cambió a ABC Records. En ABC, Ray Charles tuvo mucho control sobre su música y extendió su enfoque no en proyectos laterales experimentales sino con música pop, dando como resultado la canción "Unchain My Heart" y el número 1 en los listados de Billboard, "Hit the Road, Jack".
En 1962, Ray Charles sorprendió su nueva audiencia externa con su importante álbum Modern Sounds in Country and Western Music, que incluye los temas "I Can´t Stop Loving You" y "You Don´t Know Me". Esto fue seguido por una serie de éxitos, incluyendo "You Are My Sunshine", "Crying Time", "Busted" y "Unchain My Heart".