This Is Swing!, Jerry Fielding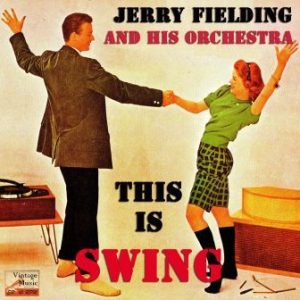 Add to favorites
Title: This Is Swing!
Artist: Jerry Fielding And His Orchestra
Country: USA
Date: 2010-07-23
Desde pequeño Jerry Fielding comenzó a amar la música, ya que su padre era un gran coleccionista de discos que ponía a todas horas. Por ello entra en la Escuela System de Pennsylvania con la intención de aprender trombón, pero el centro no tenía disponible dicho instrumento y se lo cambia por el clarinete, que debido a un instinto natural maneja en poco tiempo.
Sin embargo, el humo y polvo originado por las fábricas del lugar afectan a sus pulmones y le obligan a estar en cama durante dos años, siendo durante este tiempo cuando escucha discos de bandas populares americanas, quedando a su vez maravillado con la música que Bernard Herrmann compuso para el espectáculo radiofónico de Welles, "La Guerra de los Mundos" en 1938.
Cuando Jerry Fielding se recupera de su enfermedad, en 1939, decide aprender las técnicas de las bandas populares o "Big Bands", estudiando junto a Max Adkins y convirtiéndose en un excelente arreglista. Llega a Los Ángeles en 1947 contratado para animar los shows radiofónicos del cómico Jack Parr, y deseoso de aprender técnicas de composición para el cine, estudia música clásica con Ernest Toch y Mario Castelnuevo-Tedesco, cambiando su nombre (Joshua Feldman) por otro más comercial: Jerry Fielding.
Jerry Fielding forma su propia banda de música adquiriendo cierto prestigio como arreglista y director musical, y cuando parece que la suerte le sonríe ve cómo su nombre es incluido en las "Listas negras" del senador McCarthy por sus simpatías comunistas.
Manteniéndose firme en sus principios de honestidad, Jerry Fielding no delata a compañeros ni reniega de sus principios ante el Comité de Actividades Antiamericanas, por lo que ha de exiliarse de Hollywood de 1953 a 1961. Durante este tiempo, trabaja en Las Vegas como director y arreglista de espectáculos con Debbie Reynolds, Eddie Fisher y Betty Hutton; y también en musicales de teatro como "Guys and Dolls", siendo en 1957 cuando Jerry Fielding conoce a Camille, bailarina en el show de César Romero, con la que se acabaría casando seis años después.