Two Weeks With Love, Jane Powell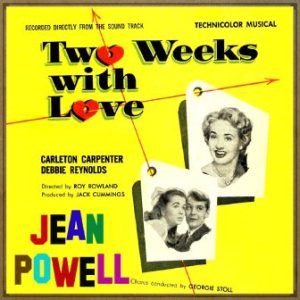 Add to favorites
Title: Two Weeks With Love
Artist: Jane Powell, Carleton Carpenter & Debbie Reynolds
Country: USA
Date: 2011-05-04
Jane Powell nació el 1 de abril de 1929 en Portland, Oregón. A los siete años comenzó a cantar en una emisora local de radio y en 1944 en el cine para la película Song of the Open Road (Sylvan S. Simon).
A comienzos de los 40, su familia se traslada a Los Angeles, donde existían más posibilidades que en Oregón para dar continuidad a su carrera. Allí Jane Powell participó en un importante programa de radio llamado "Hollywood showcase.
Pero su gran oportunidad le llega cuando firma un contrato para la MGM y participa en películas de George Sidney (Festival en México [Hollywood in Mexico] 1946) Norman Taurog (Rich, Youngand Pretty, 1951) y Stanley Donen (Deep in My Heart, 1954).
Son memorables sus actuaciones en dos películas de Donen: Bodas reales (1951) y Siete novias para siete hermanos (1954). Sus últimas películas, rodadas fuera de la MGM, son Eligiendo novio (M. Leisen, 1957) y La isla encantada (A. Dwan, 1958).