Carmen Cavallaro, Carmen Cavallaro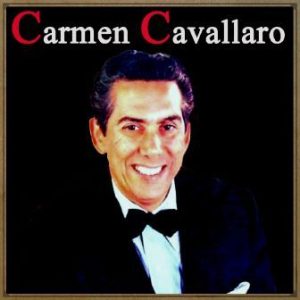 Add to favorites
Title: Carmen Cavallaro
Artist: Carmen Cavallaro
Country: USA
Date: 2010-05-08
Songs:
03 Debe Ser Verdad
Artist: Carmen Cavallaro

Songwriter: Barris, Arnhelm, Clifford

05 Enlloro
Artist: Carmen Cavallaro

Songwriter: O. Morales, Julio Blanco, Sunshine

06 Queriendo Otra Vez
Artist: Carmen Cavallaro

Songwriter: Washington, Stoloff, Sidney

09 Carmen Cavallaro


Artist: La Vie En Rose

Songwriter: Louiguy, Piaf

10 On The Sunny Side Of The Street
Artist: Carmen Cavallaro

Songwriter: McHugh, Fiels

22 Between The Devil And The Deep Blue Sea
Artist: Carmen Cavallaro

Songwriter: Koehler, Arlen

23 Stairway To The Stars
Artist: Carmen Cavallaro

Songwriter: Parish, Malneck, Signorell
Carmen Cavallaro (6 de mayo de 1913 – 12 de octubre de 1989) fue un pianista estadounidense de música ligera, uno de los más expertos y admirados de su generación.
Nacido en la ciudad de Nueva York, era conocido como el "Poeta del Piano".Ya con tres años mostraba aptitudes musicales, tocando melodías con un piano de juguete. Sus padres estimularon su talento musical y estudió piano clásico en los Estados Unidos, viajando y tocando más adelante por muchas capitales de Europa.
En 1933 Carmen Cavallaro entró a formar parte de la Orquesta de Al Kavelin, donde rápidamente pasó a ser su solista. Tras cuatro años trabajó en una serie de otras big bands, entre ellas la de Rudy Vallee en 1937. Además, tocó brevemente con Enrico Madriguera y Abe Lyman.
Carmen Cavallaro formó su propia banda, un combo de cinco instrumentos, en San Luis (Misuri), en 1939. Su fama fue creciendo y su grupo llegó a ser una orquesta de 14 instrumentos, editando unos 19 álbumes para Decca con el paso de los años. Aunque su banda viajó tocando por todo el país, destacó por sus actuaciones en el Hotel Mark Hopkins de San Francisco (California), su local favorito, y también favorito de George Shearing y Mel Tormé.
Otros locales en los cuales reunía a gran cantidad de público fueron el Waldorf-Astoria de Nueva York, el Palmer House Hilton de Chicago y el Hotel Ambassador de Los Ángeles. En 1963 consiguió un millonario éxito de ventas con la grabación de la canción Sukiyaki. La grabación en single más vendida de Cavallaro fue su versión pop de una Polonesa de Chopin.

Easy Listening Instrumental Piano Vintage Music Collection
Favorites
Your favorites will be here.
Apple
Deezer
Género