YMA SUMAC
Biographie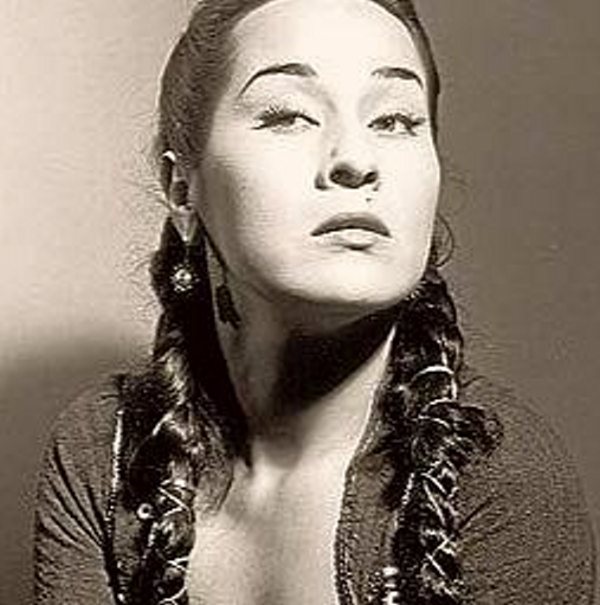 Yma Sumac. September 13, 1922 – November 1, 2008) was a noted Peruvian singer. In the 1950s, she was one of the most famous proponents of exotica music. She became an international success based on her extreme vocal range, which was said to be "well over four octaves" and was sometimes claimed to span even five octaves at her peak
Zoila Augusta Emperatriz Chávarri del Castillo was born on September 13, 1922, in Callao, a seacoast city in Peru.
Stories published in the 1950s claimed that she was an Incan princess, directly descended from Atahualpa. Her New York Times obituary reported that "the largest and most persistent fabrication about Ms. Sumac was that she was actually a housewife from Brooklyn named Amy Camus, her name spelled backward. The fact is that the government of Peru in 1946 formally supported her claim to be descended from Atahualpa, the last Incan emperor".
Chávarri adopted the stage name of Imma Sumack (also spelled Ymma Sumack and Ima Sumack) before she left South America to go to the United States. The stage name was based on her mother's name, which was derived from Ima Shumaq, Quechua for "how beautiful!" although in interviews she claimed it meant "beautiful flower" or "beautiful girl".
Yma Sumac first appeared on radio in 1942. Sumac and orchestra and bandleader Moisés Vianco were married that year. She recorded at least 18 tracks of Peruvian folk songs in Argentina in 1943. These early recordings for the Odeon label featured Moisés Vivanco's group, Compañía Peruana de Arte, a group of 46 Indian dancers, singers, and musicians.
In 1946 Sumack and Vivanco moved to New York City, where they performed as the Inka Taky Trio, Sumack singing soprano, Vivanco on guitar, and her cousin Cholita Rivero singing contralto and dancing. She was signed by Capitol Records in 1950, at which time her stage name became Yma Sumac.
During the 1950s, Yma Sumac produced a series of lounge music recordings featuring Hollywood-style versions of Incan and South American folk songs, working with the likes of Les Baxter and Billy May. The combination of her extraordinary voice, exotic looks, and stage personality made her a hit with American audiences. Sumac appeared in a Broadway musical, Flahooley, in 1951, as a foreign princess who brings Aladdin's lamp to an American toy factory to have it repaired. The show's score was by Sammy Fain and E. Y. "Yip" Harburg, but Sumac's three numbers were the work of Vivanco with one co-written by Vivanco and Fain.
Capitol Records, Sumac's label, recorded the show. Flahooley closed quickly, but the recording continues as a cult classic, in part because it also marked the Broadway debut of Barbara Cook.
During the height of Sumac's popularity, she appeared in the films Secret of the Incas (1954) and Omar Khayyam (1957). She became a U.S. citizen on July 22, 1955. In 1959 she performed Jorge Bravo de Rueda's classic song "Vírgenes del Sol" on her album Fuego del Ande.
In 1957 Yma Sumac and Vivanco divorced, their dispute making news in Los Angeles. They remarried that same year, but divorced again in 1965.
Apparently due to financial difficulties, Yma Sumac and the original Inka Taky Trio went on a world tour in 1961, which lasted for five years. They performed in 40 cities in the Soviet Union, and afterward throughout Europe, Asia, and Latin America. Their performance in Bucharest, Romania, was recorded as the album Recital, her only "live in concert" record. Yma Sumac spent the rest of the 1960s performing sporadically.
In 1971 she released a rock album called Miracles, and then returned to live in Peru. She performed in concert from time to time during the 1970s in Peru and later in New York at the Chateau Madrid and Town Hall. In the 1980s she resumed her career under the management of Alan Eichler and had a number of concerts both in the United States and abroad, including the Hollywood Roosevelt's Cinegrill, New York's Ballroom in 1987 (where she was held-over for seven weeks to SRO crowds) and several San Francisco shows at the Theatre on the Square among others.
In 1987, she also recorded the song "I Wonder" from the Disney film Sleeping Beauty for Stay Awake, an album of songs from Disney movies, produced by Hal Willner. She sang "Ataypura" during a March 19, 1987 appearance on Late Night with David Letterman, appearing alongside Jan Hooks and Sam Donaldson. She also recorded a new German "techno" dance record, "Mambo ConFusion".
In 1989 she sang once again at the Ballroom in New York and returned to Europe for the first time in 30 years to headline the BRT's "Gala Bertjes" TV special in Brussels as well as the "Etoile Palace" program in Paris hosted by Frederic Mitterrand. In March 1990, she played the role of Heidi in Stephen Sondheim's Follies, in Long Beach, California, her first attempt at serious theater since Flahooley in 1951.
She also gave several concerts in the summer of 1996 in San Francisco and Hollywood as well as two more in Montreal, Canada, in July 1997 as part of the Montreal International Jazz Festival.