XAVIER CUGAT
Biographie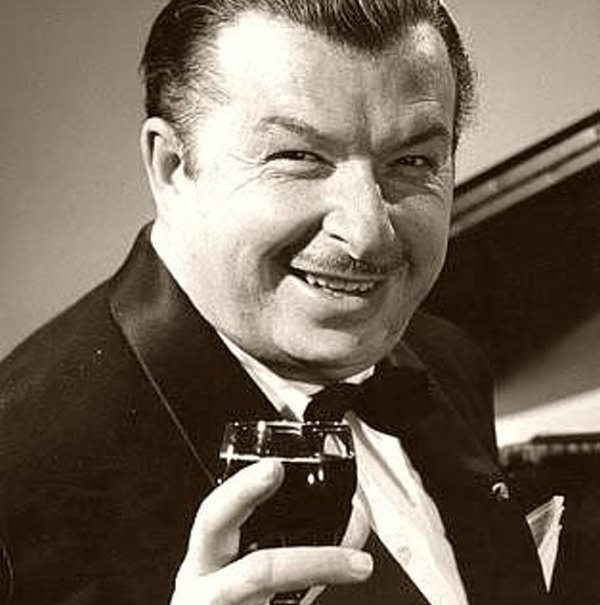 Xavier Cugat (1 January 1900 – 27 October 1990) was a Spanish-American bandleader who spent his formative years in Havana, Cuba. A trained violinist and arranger, he was a personality in the spread of Latin music in United States popular music. He was also a cartoonist. In New York, his was the leader of the resident orchestra at the Waldorf-Astoria before and after World War II.
The personal papers of Xavier Cugat are preserved in the Biblioteca de Catalunya.
Xavier Cugat was born as Francesc d'Asís Xavier Cugat Mingall de Bru i Deulofeu in Girona, Spain. His family emigrated to Cuba when Xavier was five. He was trained as a classical violinist and played with the Orchestra of the Teatro Nacional in Havana. On 6 July 1915, Cugat and his family arrived in New York as immigrant passengers on board the S.S. Havana.
Xavier Cugat was married five times. His first marriage was to Rita Montaner (1918–1920); his second was to Carmen Castillo (1929–1944); his third to Lorraine Allen (1947–52); his fourth to singer Abbe Lane (1952–64); and his fifth to Spanish guitarist and comic actress Charo (1966–78).
Entering the world of show business, he played with a band called The Gigolos during the tango craze. Later, he went to work for the Los Angeles Times as a cartoonist. Cugat's caricatures were later nationally syndicated. His older brother, Francis, was an artist of some note, having painted the famous cover art for F. Scott Fitzgerald's novel, The Great Gatsby.
In the late 1920s, as sound began to be used in films, he put together another tango band that had some success in early short musical films. By the early 1930s, he began appearing with his group in feature films. He took his band to New York for the 1931 opening of the Waldorf Astoria Hotel, and he eventually replaced Jack Denny as the leader of the hotel's resident band. One of his trademarks was to hold a Chihuahua while he waved his baton with the other arm.
For 16 years Cugat helmed the Waldorf-Astoria Hotel's orchestra. He shuttled between New York and Los Angeles for most of the next 30 years.
Xavier Cugat recorded on Columbia Records (1940s and 1950s, also Columbia's Epic label), RCA Victor (1930s and 1950s), Mercury Records (1951–1952 and 1960s) and Decca Records (1960s). Dinah Shore made her first recordings as a vocalist with Cugat in 1939 and 1940 (Victor Records). In 1940, his recording of "Perfidia" became a big hit. Xavier Cugat followed trends closely, making records for the conga, the mambo, the cha-cha-cha, and the twist when each was in fashion. Several of the songs he recorded, including "Perfidia", were used in the Wong Kar-wai films Days of Being Wild and 2046. In 1943, "Brazil" was a big hit, reaching No. 17 in the Billboard Top 100.
Xavier Cugat died of heart failure, at the age of 90, in Barcelona and was buried in his native Girona.