TONY MARTIN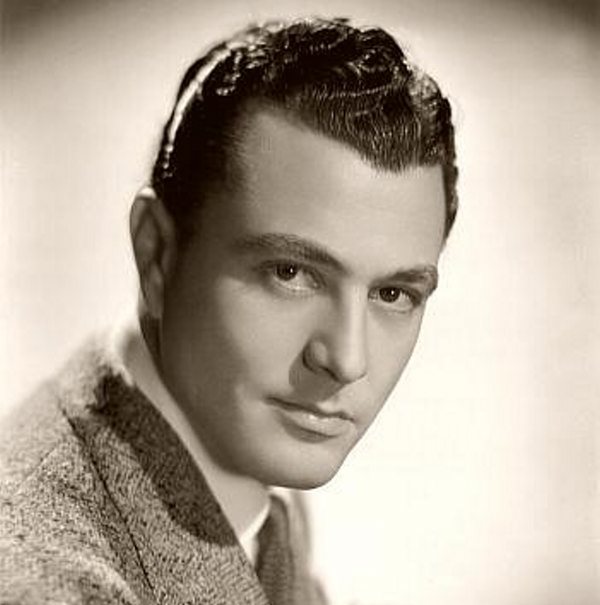 Biography
Tony Martin
(born Alvin Morris; December 25, 1913 – July 27, 2012) was an American actor and singer who was married to performer Cyd Charisse for 60 years.
Tony Martin was born as Alvin Morris in San Francisco, California, the son of Hattie (née Smith) and Edward Clarence Morris. His family was Jewish, and all of his grandparents had emigrated from Eastern Europe. He received a saxophone as a gift from his grandmother at the age of ten.
In his grammar school glee club, he became an instrumentalist and singer. He formed his first band, named "The Red Peppers", when he was at Oakland Technical High School, eventually joining the band of a local orchestra leader, Tom Gerun, as a reed instrument specialist, sitting alongside the future bandleader Woody Herman. He attended Saint Mary's College of California during the mid-1930s. After college, he left Gerun's band to go to Hollywood to try his luck in films. It was at that time that he adopted the stage name of Tony Martin. His The Tony Martin Show, a 15-minute variety program, aired on NBC from 1954 to 1956 prior to the evening newscast. One of his guests was Dinah Shore, soon cast in her own hour-long NBC variety program.
He was a featured vocalist on the George Burns and Gracie Allen radio program. On the show Allen playfully flirted with Tony, often threatening to fire him. She'd say things like, "Oh, Tony, you look so tired, why don't you rest your lips on mine?"
In films, he was first cast in a number of bit parts, including a role as a sailor in the movie Follow the Fleet (1936), starring Fred Astaire and Ginger Rogers. He eventually signed with 20th Century-Fox and then Metro-Goldwyn-Mayer in which he starred in a number of musicals. Between 1938 and 1942, he made a number of hit records for Decca. Martin was featured in the 1941 Marx Brothers film The Big Store, in which he played a singer and performed the now infamous (at least with Marx Brothers fans) Tenement Symphony, which was written by Hal Borne, who became his long-time musical director.
In World War II, he first joined the United States Navy, but as a result of rumors that he had gotten an officer's commission through bribery he left the navy and joined the United States Army Air Forces. As a corporal he was assigned to Capt. Glenn Miller's band, then was promoted to technical sergeant in the Air Transport Command and stationed in India, where Brig. Gen. William H. Tunner, commanding the Hump Airlift, put him to work as an entertainer, forming a troupe of amateur talent from the command and taking it around the various bases to perform. He eventually signed with Mercury Records, then a small independent run out of Chicago, Illinois.
He cut 25 records in 1946 and 1947 for Mercury, including a 1946 recording of "To Each His Own" which became a million-seller. This prompted RCA Victor records to offer him a contract, which he signed in 1947 after satisfying his contract obligations to Mercury.
He appeared in film musicals in the 1940s and 1950s. His rendition of "Lover Come Back To Me" with Joan Weldon in Deep in My Heart – based on the music of Sigmund Romberg and starring José Ferrer – was one of the highlights of that film. He also starred as Gaylord Ravenal in the Show Boat segment from the 1946 film Till the Clouds Roll By.
Tony Martin died on the evening of July 27, 2012, of natural causes. He was 98.