TOMMY SANDS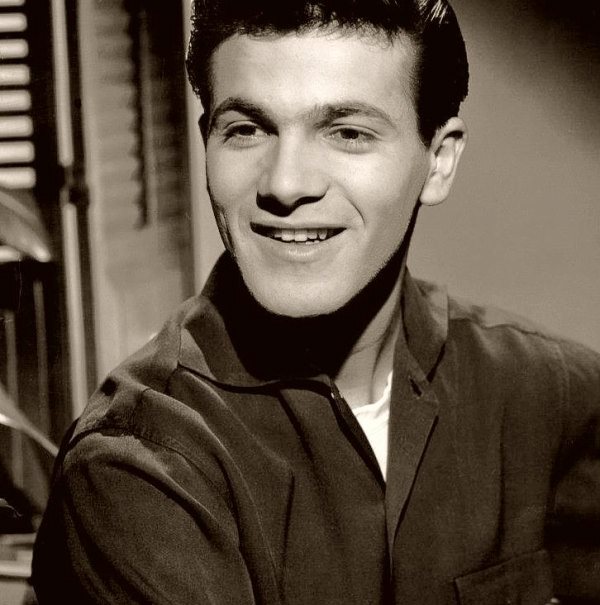 Biography
Tommy Sands, Thomas Adrian "Tommy" Sands (born August 27, 1937) is an American pop music singer and actor. Working in show business as early as 1949 Sands became an overnight sensation and instant teen idol when he appeared on Kraft Television Theater in January 1957 as "The Singin' Idol". The song from the show, "Teen Age Crush" reached No. 2 on Billboard's Hot 100 and No. 1 on Cashbox.
Tommy Sands was born into a musical family in Chicago, Illinois; his father was a pianist and his mother a big-band singer. While still young, he moved with his family to Shreveport, Louisiana. Tommy Sands began playing the guitar at age eight and within a year had a job performing twice weekly on a local radio station.
At the beginning of his teen years, Tommy Sands moved to Houston, Texas. In Houston, he attended Lamar High School and joined a band with "Jimmie Lee Durden and the Junior Cowboys". The band consisted of Sands, Durden, and Billy Reno. They performed on the radio, at county fairs and did personal appearances. He was only 15 when Colonel Tom Parker heard about him and signed him to RCA Records.
Sands' initial recordings achieved little in the way of sales but in early 1957 he was given the opportunity to star in an episode of Kraft Television Theatre. He played the part of a singer who was very similar to Elvis Presley, with guitar, pompadour hair, and excitable teenage fans. On the show, his song presentation of a Joe Allison composition called "Teen-Age Crush" went over big with the young audience and, released as a 45 rpm single by Capitol Records, it went to No.2 on the Billboard Hot 100 record chart and No. 1 on the Cashbox chart. His track, "The Old Oaken Bucket", peaked at #25 in the UK Singles Chart in 1960.
Sands' sudden fame brought an offer to sing at the Academy Awards show and his teen idol looks landed him a motion-picture contract to star in a 1958 musical drama called Sing, Boy, Sing, the feature film version of "The Singin' Idol." About this time, he also appeared on an episode of The Ford Show, Starring Tennessee Ernie Ford. Sands' pioneering contribution to the genre has been recognized by the Rockabilly Hall of Fame. In 1961 Sands and Annette Funicello sang the Sherman Brothers' title song from the Walt Disney release of The Parent Trap.
Tommy Sands performed in several films including Sing, Boy, Sing, the feature film version of "The Singin' Idol" (1958), Mardi Gras (1958), Babes in Toyland (1961), The Longest Day (1962), Ensign Pulver (1964), and None But the Brave (1965), playing a Marine Second Lieutenant, but both his singing and film career had faded by the 1970s.He does still make sporadic public appearances as a singer though.
On May 14, 1963, Tommy Sands appeared, along with Claude Akins and Jim Davis, in "Trapped", one of the last episodes of NBC's Laramie western series. In the story line, series character Slim Sherman (John Smith) finds an injured kidnap victim in the woods, portrayed by Mona Freeman. Dennis Holmes, as series regular Mike Williams, rides away to seek help, but the kidnappers reclaim the hostage. Slim pursues the kidnappers but is mistaken as a third kidnapper by the girl's father, played by Barton MacLane. Tommy Sands plays the girl's boyfriend, who had been ordered by her father to stop seeing her.
Later in 1963, Tommy Sands joined Peter Falk in "The Gus Morgan Story" on ABC's Wagon Train. They appear as brothers who disagree on the route for a railroad that Gus, played by Falk, is building through then snow-covered mountains. Sands, as Ethan Morgan, accidentally shoots wagonmaster Chris Hale, played by John McIntire, while the brothers are in the mountains looking at route options.
Gus makes the decision to leave Hale behind, even choking him and believing that Hale is dead. Ethan has been overcome with oxygen deprivation and needs Gus' assistance to reach safety down the mountain. Unbeknownst to the Morgans, Hale crawls down the mountain through snow determined to obtain revenge against Gus. In time though Hale comes to understand the Hobson's choice made by Morgan, and the brothers reconcile their own differences.
This episode is remembered for its examination of how far a man will persist amid adversity to preserve his own life and that of his brother.
In 1965, Tommy Sands guest starred playing the role as Private Carey on the television series Combat! starring Vic Morrow in Season 3, Episode 19 "More Than A Soldier" "Out of ammo, Saunders is holed up with terrified young Private Carey ('Tommy Sands' ): a pacifistic draftee who can't bring himself to fire on their pursuer, a relentless German sergeant."
Sands appeared twice on the NBC education drama, Mr. Novak, starring James Franciscus in the title role. He had a guest role in the 1968 episode No Blue Skies of Jack Lord's police drama, Hawaii Five-O.
In 1960, Tommy Sands married Nancy Sinatra, from whom he was divorced in 1965. At that point in his career, Frank Sinatra had him "blacklisted" in the entertainment industry. He has a daughter Jessica from his second marriage.