TOMMY DORSEY
Biographie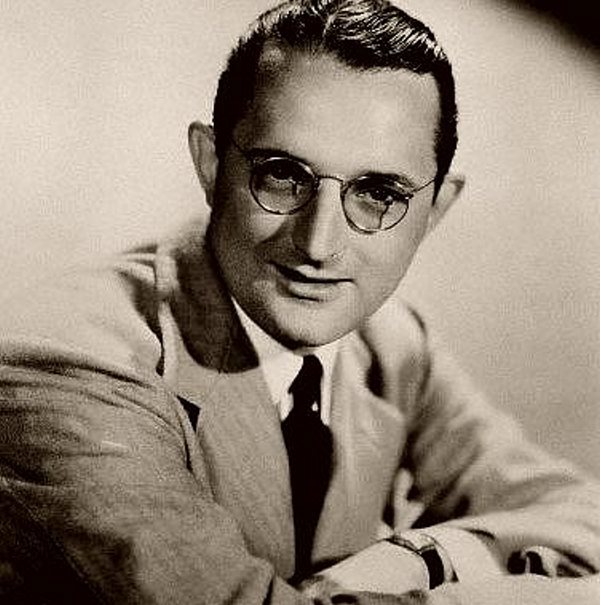 Tommy Dorsey
was born November 27, 1905, to Thomas Frances Dorsey and Theresa Langton; he grew up in an Irish mining community in Schuylkill County. Thomas Dorsey was a self-taught musician and part-time music teacher. He taught both his boys music at a very early age. Dorsey played the cornet and later learned the trombone. Along with his father and brother Jimmy, he formed a own band in the 1920s. Dorsey's fast tempo quickly took form as his own signature style, which eventually led to the demise of their brotherly relationship and musical careers together.
In the beginning, the band they formed was called Dorseys' Wild Canaries. During this period they played at Carlin's amusement park in Baltimore. Around 1923, Jimmy joined the Scranton Sirens and soon persuaded Tommy to join him. After a considerable amount of band-changing and freelancing, the brothers again formed their own band called the Dorsey Brothers Orchestra in 1928. The band used brass instrumentation distinctive for big bands. The band also played bouncy versions of Bing Crosby's songs, such as "Stay on the Right Side of the Road."
Tommy Dorsey married Mildred "Toots" Kraft and they had two children together. The marriage date is unknown but they lived in Freeport, New York. Around 1934, Dorsey moved the family to Bernardsville, New Jersey.
The Dorsey Brothers Orchestra began playing steadily in New England in 1934 with Glenn Miller writing many of the arrangements. Despite their many years of working together, the brothers were fierce rivals and often had disagreements regarding tempo and style, which finally led to the break up of their band in 1935.
Tommy and Jimmy played together only infrequently over the next 18 years. Tommy was a perfectionist and experienced heavy turnover in personnel from the inception of his band, the Tommy Dorsey Orchestra. Bud Freeman was in and out of the band and legendary drummer Buddy Rich joined in 1939.
The orchestra initially was formed mainly from members of the Joe Hayme's band. They made their debut at the Lincoln (later Edison) Hotel in New York. In October of 1935, they recorded Tommy's theme song "I', Gettin' Sentimental Over You." Tommy became famous for his smooth perfectionism on the trombone, a style that earned him the lasting nickname: "the sentimental gentleman of swing." Dorsey also created a series of arrangements, similar to his ever popular "Marie," with Frank Sinatra, such as "Blue Skies" in 1941. In the 1940s, Dorsey began to feature dreamy, romantic performances with Sinatra and the Pied Pipers, whose biggest hit together was "I'll Never Smile Again."
The Tommy Dorsey Orchestra broadcasted nationally in 1936 from Dallas and then the Los Angeles area. Tommy took over the Jack Pearl comedian radio show in 1937. He soon started a newspaper called The Bandstand, which proved to be too expensive and was soon abandoned. In late 1939 his radio sponsorship ended. His work with Sinatra compensated for these losses and the orchestra flourished through the war years. Dorsey's band played as the opening attraction for four weeks at the Hollywood Palladium, which opened on Halloween in 1940.
The orchestra played on soundtracks and appeared in movies for years. Tommy appeared in movies and also formed his own publishing companies, Sun Music and Embassy Music. Tommy divorced his first wife around 1941 and married movie actress Pat Dane in 1943; this marriage also ended in divorce. He soon opened his own Casino Gardens after a money dispute with the Hollywood Palladium in the summer of 1944.
Dorsey again married, this time to Jane New in 1948, and together they had two children. He starred in a fictionalized biography called The Fabulous Dorseys in 1947 with his brother Jimmy. During this period, the brothers also formed a joint publishing company, which moved them to disband temporarily in 1947. However, they later reunited in 1953 due to expenses of the publishing company and formed the Dorsey Brothers Orchestra. The band was soon featured on the Jackie Gleason television series, on which the young star Elvis Presley was introduced.
Tommy Dorsey choked to death on food in November 1956 at his home in Greenwich, Connecticut, after taking an overdose of sleeping pills. Dorsey was most admired for his technical skill on his instrument. His musical tone was pure and smooth; he could play an almost seamless legato line. Dorsey has rarely been surpassed as a player of ballads.