TITO PUENTE
Biographie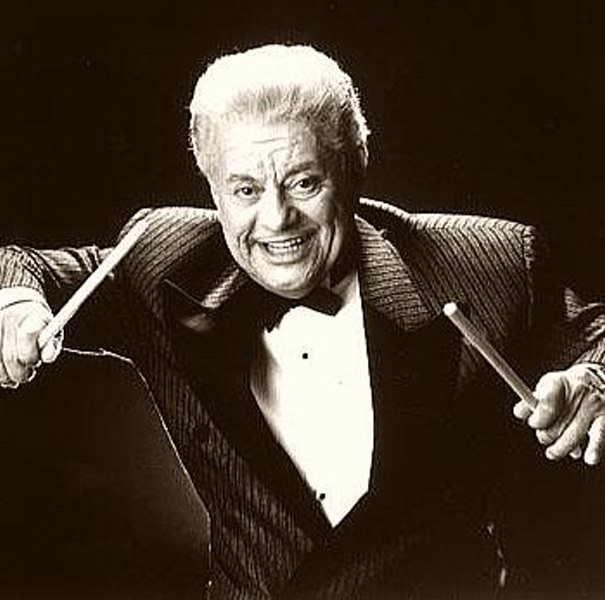 Tito Puente, Ernesto Antonio "Tito" Puente, (April 20, 1923 – June 1, 2000), was a Latin jazz and salsa musician and composer. The son of native Puerto Ricans, Ernest and Ercilia Puente, living in New York City's Spanish Harlem community, Puente is often credited as "El Rey de los Timbales" (The King of the timbales) and "The King of Latin Music". He is best known for dance-oriented mambo and Latin jazz compositions that helped keep his career going for 50 years. He and his music appear in many films such as The Mambo Kings and Fernando Trueba's Calle 54. He guest starred on several television shows including Sesame Street, The Cosby Show and The Simpsons.
Tito Puente was born on April 20, 1923, at Harlem Hospital Center in New York City. His family moved frequently, but he spent the majority of his childhood in the Spanish Harlem area of the city. Puente's father was the foreman at a razorblade factory.
As a child, he was described as hyperactive, and after neighbors complained of hearing seven-year-old Tito Puente beating on pots and window frames, his mother sent him to 25 cent piano lessons.
By age 10, he switched to percussion, drawing influence from jazz drummer Gene Krupa. He later created a song-and-dance duo with his sister Anna in the 1930s and intended to become a dancer, but an ankle tendon injury prevented him pursuing dance as a career. When the drummer in Machito's band was drafted to the army, Puente subsequently took his place.
Tito Puente Sr. served in the Navy for three years during World War II after being drafted in 1942. He was discharged with a Presidential Unit Citation for serving in nine battles on the escort carrier USS Santee (CVE-29). The GI Bill allowed him to study music at Juilliard School of Music, where he completed a formal education in conducting, orchestration and theory.
In 1969, he received the key to the City of New York from former Mayor John Lindsay. In 1992, he was inducted into the National Congressional Record, and in 1993 he received the James Smithson Bicentennial Medal from the Smithsonian.
During the 1950s, Tito Puente was at the height of his popularity, and helped to bring Afro-Cuban and Caribbean sounds, like mambo, son, and cha-cha-cha, to mainstream audiences (he was so successful playing popular Afro-Cuban rhythms that many people mistakenly identify him as Cuban). Dance Mania, possibly Puente's most well known album was released in 1958.
Later, he moved into more diverse sounds, including pop music, bossa nova and others, eventually settling down with a fusion of Afro-Cuban and Latin jazz genres that became known as "salsa" (a term that he disliked). In 1979, Puente won the first of five Grammy Awards for the albums A Tribute to Benny Moré, On Broadway, Mambo Diablo, and Goza Mi Timbal.
In 1990, Tito Puente was awarded the James Smithson Bicentennial Medal. He was also awarded a Grammy at the first Latin Grammy Awards, winning Best Traditional Tropical Album for Mambo Birdland. In 1995, he appeared as himself on the Simpsons episode "Who Shot Mr. Burns?" In early 2000, he shot the music documentary Calle 54, wearing an all-white outfit with his band. After a show in Puerto Rico on May 31, he suffered a massive heart attack and was flown to New York City for surgery to repair a heart valve, but complications developed and he died during the night of May 31 – June 1, 2000. He was posthumously awarded the Grammy Lifetime Achievement Award in 2003.
Tito Puente's name is often mentioned in a television production called La Epoca, a film about the Palladium era in New York, Afro-Cuban music and rhythms, Mambo and Salsa as dances and music and much more. The film discusses many of Tito Puente's as well as Arsenio Rodriguez's contributions, and features interviews with some of the musicians Puente recorded with such as Alfonso "El Panameno" Joseph, Luis Mangual, Julian Lianos and others.
Puente's youngest son, Tito Puente, Jr., has continued his father's legacy by presenting many of the same songs in his performances and recordings, while daughter Audrey Puente is a television meteorologist for WNYW and WWOR-TV in New York City.