THE NICHOLAS BROTHERS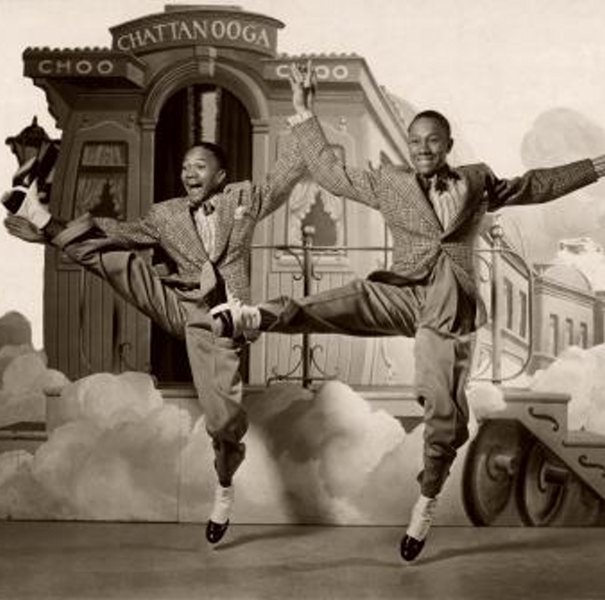 Biography
The Nicholas Brothers
were a famous African American team of dancing brothers, Fayard (1914–2006) and Harold (1921–2000). With their highly acrobatic technique ("flash dancing"), high level of artistry and daring innovations, they were considered by many the greatest tap dancers of their day. Growing up surrounded by Vaudeville acts as children, they became stars of the jazz circuit during the heyday of the Harlem Renaissance and went on to have successful careers performing on stage, film, and television well into the 1990s.
Fayard Antonio Nicholas was born October 20, 1914 in Mobile, Alabama. Harold Lloyd Nicholas was born March 17, 1921 in Winston-Salem, North Carolina.
The Nicholas Brothers grew up in Philadelphia, the sons of musicians who played in their own band at the old Standard Theater, their mother at the piano and father on drums. At the age of three, Fayard was always seated in the front row while his parents worked, and by the time he was ten, he had seen most of the great African American Vaudeville acts, particularly the dancers, including such notables of the time as Alice Whitman, Willie Bryant and Bill Robinson. Neither Fayard nor Harold had any formal dance training.
They became the featured act at Harlem's Cotton Club in 1932, when Harold was 11 and Fayard was 18. They were the only entertainers in the African American cast allowed to mingle with white patrons.
In that exhilarating hybrid of tap dance, ballet and acrobatics, sometimes called acrobatic dancing or "flash dancing," no individual or group surpassed the effect that the Nicholas Brothers had on audiences and on other dancers.
The brothers made their Broadway debut in the Ziegfeld Follies of 1936 and also appeared in Richard Rodgers and Lorenz Hart's legendary musical Babes in Arms in 1937.
By 1940, they were in Hollywood and for several decades alternated between movies, nightclubs, concerts, Broadway, television, and extensive tours of Latin America, Africa, and Europe.
The Nicholas Brothers taught master classes in tap dance as teachers-in-residence at Harvard University and Radcliffe as Ruth Page Visiting Artists. Among their known students are Debbie Allen, Janet Jackson, and Michael Jackson. Several of today's master tap dancers have performed with or been taught by the brothers: Dianne Walker, Sam Weber, Lane Alexander, Mark Mendonca, Terry Brock, Colburn Kids Tap/L.A, Channing Cook Holmes, Chris Baker, Artis Brienzo, Chester Whitmore, Tobius Tak, Carol Zee and Steve Zee. Harold died July 3, 2000 of a heart attack following minor surgery. Fayard died January 24, 2006 of pneumonia after having a stroke.
Fayard
Fayard married three times:
Geraldine Pate (1934 – 1942); two children, Tony and Paul Nicholas
Barbara January (1967–1998) (until her death);
Katherine Hopkins (2000 – 24 January 2006) (until his death)
Fayard was a member of the Bahá'í Faith since 1967.
Upon his death his memorial service was standing room only. Presided over by Mary Jean Valente of A Ceremony of the Heart, the service was a moving collection of personal tributes, music and dance and as appropriate, one last standing ovation.
Two of Fayard's granddaughters dance as the Nicholas Sisters and have achieved awards for their performances.
Harold
Harold was also married three times. He was first married to singer and actress Dorothy Dandridge from 1942 to 1951. The couple had one child, Harolyn Nicholas, who was born severely mentally handicapped. Harold lived on New York's Upper West Side for approximately twenty years (until his death) with his third wife, Swedish-born, Rigmor Alfredsson Newman, a producer and former Miss Sweden.