JACK HALLORAN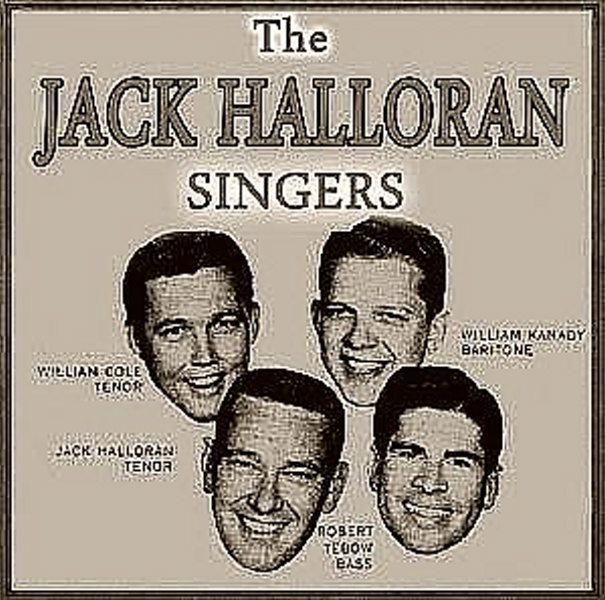 Biography
The Jack Halloran Singers
Jack Halloran (January 10, 1916 – January 24, 1997) was an American composer and choral director. He died at 81 of a stroke.
Born in Rock Rapids, Iowa in 1916, Halloran earned degrees in music from Morningside College in Sioux City, Iowa, and Northwestern Universit
He sang with a male quartet called the Cadets on several Chicago-based radio shows, including "The Breakfast Club With Don MacNeil." He later formed the Jack Halloran Quartet, which appeared on the television programs "Dave Garroway at Large" and "The Pat Buttram Show." Relocating to Hollywood, Halloran became a choral director for films, records and television, working with such entertainers as Roy Rogers, Pat Boone, Ray Charles, Frank Sinatra and Dean Martin.
He landed the job as choral director and arranger on The Dean Martin Show while working with the singer on his recording of "Volare." Halloran also organized the Jack Halloran Singers, which performed throughout Southern California. Halloran directed the orchestra and chorus for Bing Crosby's 1959 LP Join Bing and Sing Along. He directed the chorus for Bing's 1962 LPs Great Standards and I Wish You a Merry Christmas and Bing's 1970 LP A Time to Be Jolly.
He was also a member of the Ray Conniff Singers, appearing on such albums as Speak to Me of Love (Columbia, 1963).
Halloran was also a former local president of the American Federation of Television and Radio Artists.