TED HEATH
Biographie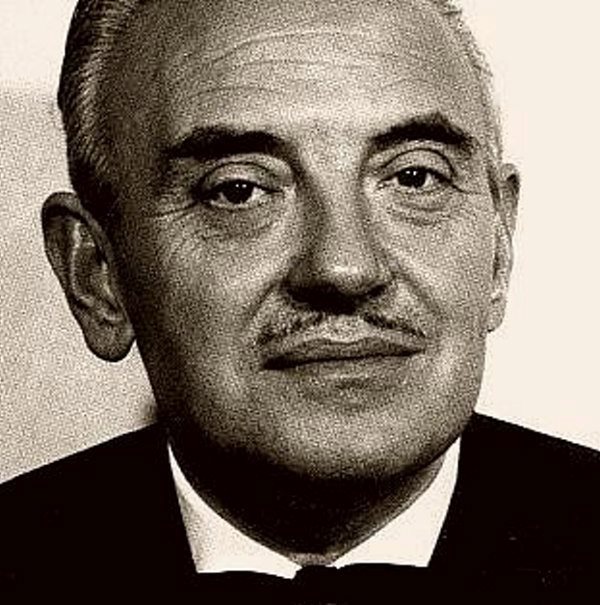 Ted Heath.
George Edward 'Ted' Heath
(30 March 1902 – 18 November 1969) was the most famous English bandleader of the 40s, 50s and early 60s
Ted Heath was born at 76 Atheldene Avenue, Wandsworth, South London. Ted Heath learned to play several instruments while still a child, but settled on the trombone while still in his teens. He began playing on a semi-professional basis in order to supplement the family income.
After gaining sufficient experience to become fully professional he played trombone with a number of orchestras during the 1920s and 1930s. These included some of the best British orchestras of the day including those of Jack Hylton, Bert Ambrose and Geraldo. Then in 1944, he managed to gather round him sufficient musicians with whom he could exploit his own passion for big band swing jazz for BBC broadcasts.
In 1946 they played for London Town, a British musical film.On Thursday 20th February1947 he performed at Kings Hall Belle Vue Ted Heath and his Music The film was an unmitigated disaster, but Heath's career took off, including many hit records ("Swingin' Shepherd Blues" being his biggest success, reaching number three in the charts in 1958), regular work for the BBC, and especially a series – started in 1945 – of Sunday-night concerts at the London Palladium.
He and his band were featured in the film Dance Hall in 1950. During the 1950s his orchestra frequently performed at the Hammersmith Palais de Dance and The Orchid Ballroom in Purley, Surrey. From 1956
Ted Heath 
and his orchestra were regular and popular visitors to the United States.
In its turn the Heath orchestra became host to many musicians who would later form their own units and go on to become famous in their own right. These included Ken Baker, Johnny Dankworth, Jack Parnell and Stanley Black- but there were many others. The Ted Heath orchestra were also supported by several vocalists that went on to stardom- those most familiar to record buyers would probably be Dickie Valentine, Lita Roza, and Dennis Lotis.
The orchestra was on the cusp between dance music and jazz; not only did Heath employ many of the big-name British jazz-musicians at various times, but his staff arranger for a time was Tadd Dameron, and his programmes of straight dance music were supplemented by projects such as his recording of Fats Waller's London Suite. Ted Heath (in common with many other bandleaders at the time) allowed no unrehearsed improvising, however, and the orchestra was known for its note-perfect perfectionism.
His huge worldwide success lasted for about fifteen years, touring the United States on several occasions with outstanding success — a ten minute standing ovation at The Carnegie Hall, New York in front of a stellar audience in 1956 a memorable moment, ended only by the popularity of rock and roll and the advent of The Beatles. The orchestra was disbanded in 1964 when Heath's health started faltering.
Ted Heath died at Virginia Water, Egham UK Nov. 18, 1969. There have been many reunions of several of the musicians involved with the orchestra  until the final concert in 2000.