SUSAN HAYWARD
Biographie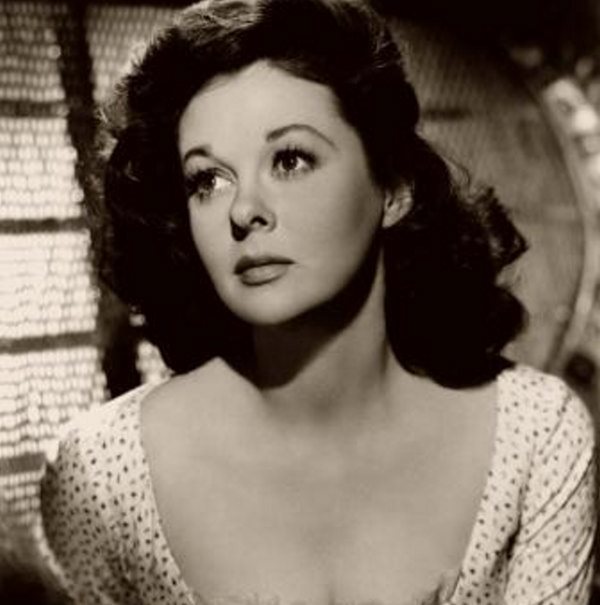 Susan Hayward (June 30, 1917 – March 14, 1975) was an American actress.
After working as a fashion model in New York, Hayward traveled to Hollywood in 1937 when open auditions were held for the leading role in Gone with the Wind (1939). Although she was not selected, she secured a film contract, and played several small supporting roles over the next few years.
By the late 1940s, the quality of her film roles had improved, and she achieved recognition for her dramatic abilities with the first of five Academy Award nominations for Best Actress for her performance as an alcoholic in Smash-Up, the Story of a Woman (1947). Her career continued successfully through the 1950s and she won the Academy Award for Best Actress for her portrayal of death row inmate Barbara Graham in I Want to Live! (1958).
Hayward married and lived in Georgia and following her Oscar-winning performance, her film appearances became infrequent, although she continued acting in film and television until 1972. She died in 1975 of brain cancer.
Susan Hayward was born Edythe Marrenner in Brooklyn, New York, the daughter of Ellen (née Pearson) and Walter Marrenner. Her paternal grandmother was an actress, Kate Harrigan, from County Cork, Ireland. Her maternal grandparents were from Sweden. She began her career as a photographer's model, going to Hollywood in 1937, aiming to secure the role of Scarlett O'Hara in Gone with the Wind.
Although she did not win the role, Susan Hayward  found employment playing bit parts until she was cast in Beau Geste (1939) opposite Gary Cooper. During the war years, she acted with John Wayne twice, as a second lead in Reap the Wild Wind (1942) and as his leading lady in The Fighting Seabees (1944). She also starred in the film version of The Hairy Ape (1944). Later, in 1955, she was cast by Howard Hughes to play Bortai in the historical epic The Conqueror, again opposite John Wayne.
After the war, she established herself as one of Hollywood's most popular leading ladies in films such as Tap Roots (1948), My Foolish Heart (1949), David and Bathsheba (1951), and With a Song in My Heart (1952).
In 1947, she received the first of five Academy Award nominations for her role as an alcoholic nightclub singer in Smash-Up, the Story of a Woman.
During the 1950s she won acclaim for her dramatic performances as President Andrew Jackson's melancholic wife in The President's Lady (1953); the alcoholic actress Lillian Roth in I'll Cry Tomorrow (1955), based on Roth's best-selling autobiography of the same name, for which she received a Cannes award; and the real-life California murderer Barbara Graham in I Want to Live! (1958). Hayward's portrayal of Graham won her the Academy Award for Best Actress.
In 1959, she played the lead, Mary Sharron, in Woman Obsessed, with child actor Dennis Holmes cast as her son, Robbie Sharron. The picture also stars Stephen Boyd, James Philbrook, and Theodore Bikel.
In 1961, Susan Hayward  starred as a working girl who becomes the wife of the state's next governor (Dean Martin) and ultimately takes over that office herself in Ada. The same year, she played Rae Smith in Ross Hunter's lavish remake of Back Street, which also starred John Gavin and Vera Miles. In 1967, Hayward replaced Judy Garland as Helen Lawson in the film adaptation of Jacqueline Susann's Valley of the Dolls.
She received good reviews for her performance in a Las Vegas production of Mame, but left the production. She was replaced by Celeste Holm.
She continued to act into the early 1970s, when she was diagnosed with brain cancer. Her final film role was as Dr. Maggie Cole in the 1972 made-for-TV drama Say Goodbye, Maggie Cole. (The film was intended to be a pilot episode for a weekly television series, but because of Hayward's cancer diagnosis and failing health the series was never produced.) Her last public appearance was at the Academy Awards telecast in 1974 to present the Best Actress award, despite the fact that she was very ill. With Charlton Heston supporting her, she was able to present the award.
Susan Hayward was married to actor Jess Barker for 10 years and they had two children, fraternal twin sons, born February 19, 1945. The marriage was described in Hollywood gossip columns as turbulent. They divorced in 1954. Hayward survived a subsequent suicide attempt after the divorce. During the contentious divorce proceedings, Hayward felt it necessary to stay in the United States and not join the Hong Kong location shooting for the film Soldier of Fortune. She shot her scenes with co-star Clark Gable indoors in Hollywood. A few brief, distant scenes of Gable and a Hayward double walking near landmarks in Hong Kong were combined with the indoor shots.
In 1957, Susan Hayward married Floyd Eaton Chalkley, a Georgia rancher and businessman who had formerly worked as a federal agent. Though he was an unusual husband for a Hollywood movie star, the marriage was a happy one. She lived with him in Cleburne County, just outside of Heflin, Alabama, becoming a popular figure in a state that in the 1950s was off the beaten path for most celebrities. In December 1964, she and her husband were baptized Catholic by Father McGuire at SS Peter and Paul's Roman Catholic Church on Larimar Avenue, in the East Liberty section of Pittsburgh. She had met McGuire while in China and promised him that if she ever converted, he would be the one to baptize her. Chalkley died on January 9, 1966. Hayward went into mourning and did little acting for several years, and took up residence in Florida because she preferred not to live in her Alabama home without her late husband.
Susan Hayward died at age 57 on March 14, 1975, of pneumonia-related complications of brain cancer, having survived considerably longer than doctors had predicted. There is speculation that she may have been affected by radioactive fallout from atmospheric atomic bomb tests while making The Conqueror with John Wayne. Several production members, as well as Wayne himself, Agnes Moorehead, and Pedro Armendáriz, later succumbed to cancer and cancer-related illnesses. She was survived by her two sons from the marriage with Barker. Hayward was cremated and buried beside Chalkley at Our Lady of Perpetual Help Roman Catholic Church in Carrollton.
Susan Hayward has a star on the Hollywood Walk of Fame at 6251 Hollywood Boulevard.