STÉPHANE GRAPPELLI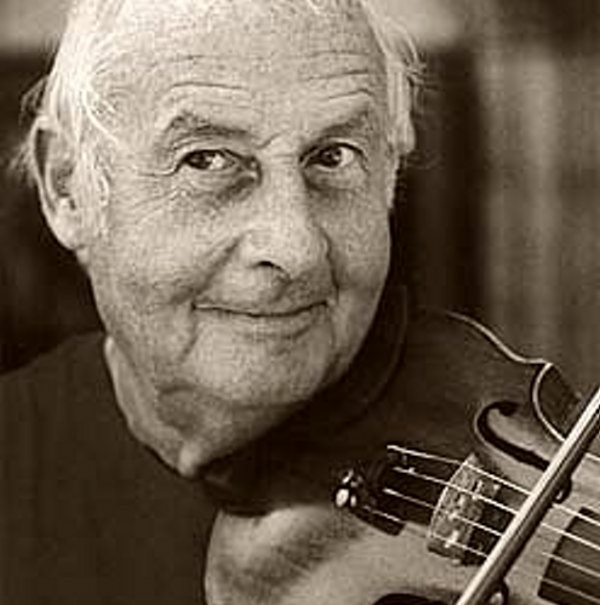 Biography
Stéphane Grappelli (26 January 1908 – 1 December 1997) was a French jazz violinist who founded the Quintette du Hot Club de France with guitarist Django Reinhardt in 1934. It was one of the first all-string jazz bands. He has been called "the grandfather of jazz violinists" and continued playing concerts around the world well into his 80s.
For the first three decades of his career, he was billed using a gallicised spelling of his last name, Grappelly, reverting to "Grappelli" in 1969. The latter, Italian, spelling is now used almost universally when referring to the violinist – even on reissues of his early work.
Stéphane Grappelli was born in Paris, France, to Italian/French parents: his Italian father, marquess Ernesto Grappelli, was born in Alatri, Lazio. His French mother, Anna Emilie Hanoque, from St-Omer, died when he was four, and his father left to fight in World War I. As a result, at six, he was accepted into Isadora Duncan's dance school, where he learnt to love French Impressionist music. Grappelli started his musical career busking on the streets of Paris and Montmartre with a violin. He began playing the violin at age 12 and attended the Conservatoire de Paris studying music theory (1924–28). He made a living busking on the side until he gained fame in Paris as a violin virtuoso. He also worked as a silent film pianist while at the conservatory and played the saxophone and accordion. Grappelli called his piano "My Other Love" and (many years later) released an album of solo piano of the same name.
In 1937, the American jazz singer Adelaide Hall opened a nightclub in Montmartre along with her husband Bert Hicks and called it 'La Grosse Pomme.' She entertained there nightly and hired the Quintette du Hot Club de France as one of the house bands at the club.  For the first three decades of his musical career, Grappelli was billed as Stéphane Grappelly. Grappelli's own explanation for the changed spelling was that he was tired of people mispronouncing his last name as "Grappell-eye". His early fame came playing with the Quintette du Hot Club de France with Django Reinhardt, which disbanded in 1939 at the outbreak of World War II. In 1940, a little-known jazz pianist by the name of George Shearing made his debut as a sideman in Grappelli's band. Shearing went on to enjoy a long career.
After the war he appeared on hundreds of recordings including sessions with Duke Ellington, jazz pianists Oscar Peterson, Michel Petrucciani and Claude Bolling, jazz violinist Jean-Luc Ponty, jazz violinist Stuff Smith, Indian classical violinist L. Subramaniam, vibraphonist Gary Burton, pop singer Paul Simon, mandolin player David Grisman, classical violinist Yehudi Menuhin, orchestral conductor André Previn, guitar player Bucky Pizzarelli, guitar player Joe Pass, cello player Yo Yo Ma, harmonica and jazz guitar player Toots Thielemans, jazz guitarist Henri Crolla, bassist Jon Burr and fiddler Mark O'Connor.
He also collaborated extensively with the British guitarist and graphic designer Diz Disley, recording 13 record albums with him and his trio (which included Denny Wright in its early years), and with now renowned British guitarist Martin Taylor. His Parisian trio of many years included guitarist Marc Fosset and bassist Patrice Carratini.
During the 1960s he played for cocktail hour at the Paris Hilton.
Grappelli recorded a solo for the title track of Pink Floyd's 1975 album Wish You Were Here. This was made almost inaudible in the mix, and so the violinist was not credited, according to Roger Waters, as it would be "a bit of an insult". A remastered version, with Grapelli's contribution fully audible, can be found on the 2011 Experience & Immersion versions of Wish You Were Here.
Stéphane Grappelli  made a cameo appearance in the 1978 film King of the Gypsies, along with noted mandolinist David Grisman. Three years later they performed together in concert, which was recorded live and released to critical acclaim.
In the 1980s he gave several concerts with the young British cellist Julian Lloyd Webber.
In 1997, Stéphane Grappelli received the Grammy Lifetime Achievement Award. He is an inductee of the Down Beat Jazz Hall of Fame.
He died in Paris after undergoing a hernia operation. He is buried in the city's famous Père Lachaise Cemetery.