SPIKE JONES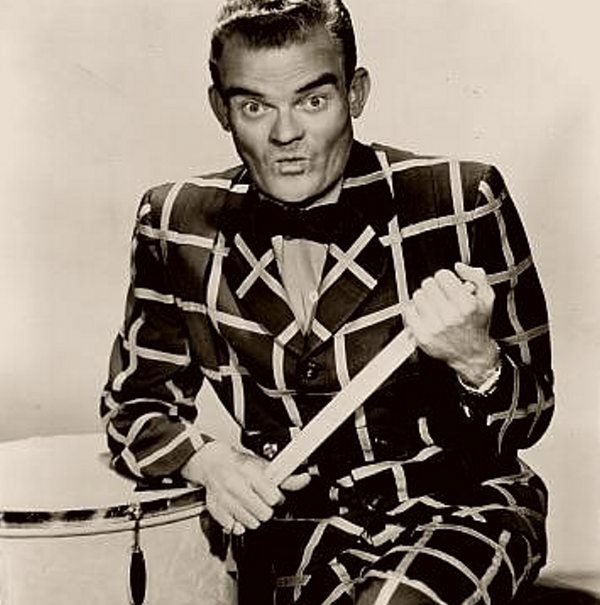 Biography
Spike Jones. Lindley Armstrong "Spike" Jones (December 14, 1911, Long Beach, California – May 1, 1965, Beverly Hills, California) was a popular musician and bandleader specializing in performing satirical arrangements of popular songs.Through the 1940s and early 1950s, the band recorded as Spike Jones and his City Slickers and toured the USA and Canada under the title, The Musical Depreciation Revue.
Spike Jones was a musical genius. In the wild and woolly days before MTV, digital tape and multi-track recording, Spike Jones put together a top-flight musical organization that the world has not seen the likes of since. Known as the City Slickers, the emphasis was on comedy, primarily doing dead-on satires of popular songs on the hit parade and taking the air out of pompous classical selections as well. Not merely content to do cornball renderings of standard material or trite novelty tunes for comedic effect, Jones' musical vision encompassed utilizing whistles, bells, gargling, broken glass, and gunshots perfectly timed and wedded to the most musical and unmusical of source points.  Spike was a strict bandleader and task maker, making sure his musicians were precision tight, adept in a variety of musical styles from Dixieland to classical, with a caliber of musicianship several notches higher than most big bands of the day who played so-called 'straight' music.
Diminutive, silver-haired bandleader Spike Jones didn't intend to gain fame as "the man who murdered music" (as he was described by one biographer); it just turned out that way. During the first 12 years or so of his professional career, Jones, the son of a Long Beach railway station agent, worked as a drummer for radio orchestra leaders Victor Young, Henry King, Cookie Fairchild, John Scott Trotter, and Billy Mills. In 1940 he formed his own group called the City Slickers. Essentially a Dixieland aggregation (one of the best, in fact), Jones and his boys got together on weekends to perform wacky variations on such classics as "The William Tell Overture" and "Dance of the Hours." This peculiar form of musical relaxation became a full-time job when, in 1942, the City Slickers recorded a novelty tune titled "Der Fuhrer's Face." The song caught on like wildfire with the public, its immortality assured when it served as the basis for a Donald Duck cartoon.
By the end of 1942, Jones and company were touring the country with their "musical depreciation revue," performing on such novel musical instruments as the anvilphone and the latrinophone. The City Slickers used cowbells, shotguns, and the gurgling gullet of comedian Mickey Katz (Joel Grey's dad) to slaughter such standards as "Cocktails for Two" (hic!), "Chloe" ("Where are ya, you old bat?"), and "You Always Hurt the One You Love" (kar-RUNCH!). Thanks to constant radio exposure, such City Slickers as Doodles Weaver, Carl Grayson, and Horatio W. Birdbath became as famous as Jones himself. The group made its feature film debut in Thank Your Lucky Stars (1943), making subsequent guest appearances in Bring on the Girls (1945), Variety Girl (1947),and many others.
While they never became movie stars, Jones and his boys continued to flourish on television into the 1960s in such weekly series as Club Oasis, most of these featuring Jones' wife Helen Grayco as vocalist. Spike was a heavy smoker and even though he stopped his body couldn't handle it and at age 53 the man who played guns, washboards, vibes and even drums (that's him on Bing Crosby's White Christmas) collapsed at a Lake Tahoe concert and died a few weeks later from emphysema on 1 May 1965.. After his death, the band made a few sporadic appearances under the baton of Spike Jones, Jr.