SKITCH HENDERSON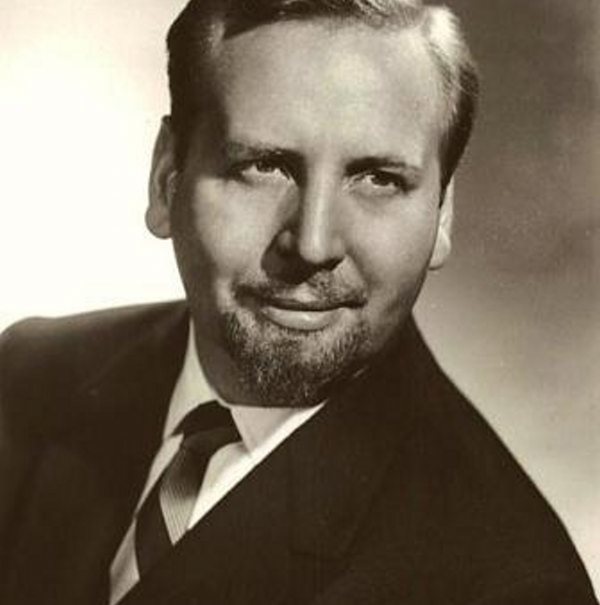 Biography
Skitch henderson
Lyle Russell Cedric "Skitch" Henderson (January 27, 1918 – November 1, 2005) was a pianist, conductor, and composer. His nickname ("Skitch") reportedly derived from his ability to quickly "re-sketch" a song in a different key.
Skitch Henderson was born on a farm near Halstad, Minnesota, to Joseph and Josephine Henderson, both of Norwegian descent. His mother died shortly after his birth, and he was then sent to live with his Aunt Hattie Henderson Gift and Uncle Frank Gift, who raised him. She taught him piano, starting at the age of four.
Although he didn't receive formal conservatory education in music, Skitch henderson received classical training under Fritz Reiner, Albert Coates, Arnold Schoenberg, Ernst Toch and Arturo Toscanini, who invited him to conduct the NBC Symphony Orchestra. Henderson would later recount his learning the ropes by playing in taverns with popular singers of the day.
He started his professional career in the 1930s playing piano in the roadhouses of the American Midwest, his major break being as an accompanist on a 1937 MGM promotional tour featuring Judy Garland and Mickey Rooney. Skitch henderson later said that as a member of MGM's music department, he worked with Garland to learn "Over the Rainbow" during rehearsals for The Wizard of Oz and played piano for her first public performance of the song at a local nightclub before the film was finished. However this account is at odds with the memoirs of the tune's composer, Harold Arlen, who said he first performed the song for the 14-year-old Garland.
After the war, he worked for NBC Radio, where he was the musical director for Frank Sinatra's Lucky Strike Show. He was also accompanist on Philco Radio Time with Bing Crosby on the new ABC network. Henderson also played on Bob Hope's Pepsodent Show.
The origin of his nickname is often traced to this period, with Skitch henderson crediting the invention to Bing Crosby who said he (Henderson) should have a nickname. Crosby settled on "Skitch", which came from "The Sketch Kid", referring to Henderson's ability to quickly transcribe music to a written score. Other reports, however, claim that the name came from something that a young Skitch and his buddies would say to act cool and hip, "skitchadudawawa", long before he met Crosby.
He was indicted on July 2, 1974, on charges of tax evasion for the years of 1969 and 1970 for claims about the value (allegedly $350,000) of a music library he donated to the University of Wisconsin–Madison. He further claimed that he had consulted on the value of his collection with Leonard Bernstein and Henry Mancini, both of whom denied the claims. A signature on an acceptance letter from the library director was also deemed a forgery.
Skitch henderson was sentenced on January 17, 1975 to 6 months in prison and fined $10,000. He began serving his sentence at a minimum-security Federal prison on April 9, 1975 and was released after four months, on August 4, 1975.
Skitch henderson married television personality Faye Emerson in 1950. They were divorced seven years later. He then married Ruth Einsiedel in 1958 and raised two children, Hans and Heidi. Hans was married to Sandra Watson for 18 years, before divorcing in 2000. Heidi was married to actor William Hurt from 1989 to 1992, and they have two sons. Skitch and Ruth Henderson owned and operated "The Silo," a renowned store, art gallery, and cooking school in New Milford, Connecticut from 1972 until his death.
In 2003 Ruth and Skitch Henderson co-founded the Hunt Hill Farm Trust, an effort to preserve their farm's land and buildings and to celebrate Americana in music, art and literature through the creation of a living museum.