SIDNEY BECHET
Biographie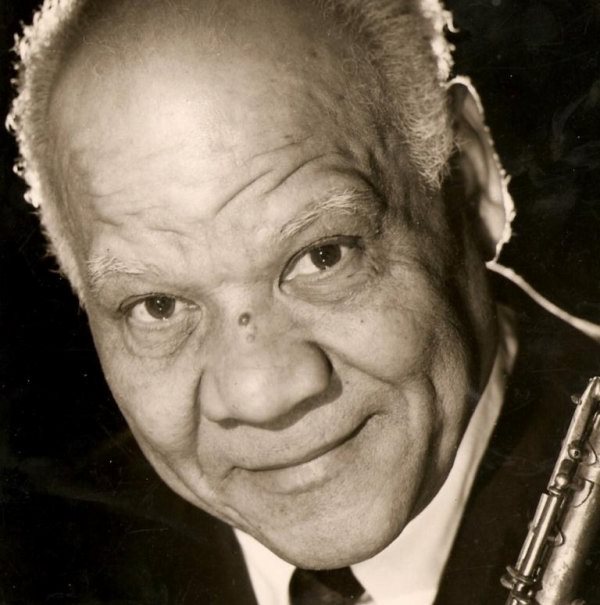 Sidney Bechet
(May 14, 1897 – May 14, 1959) was an American jazz saxophonist, clarinetist, and composer.
He was one of the first important soloists in jazz (beating cornetist and trumpeter Louis Armstrong to the recording studio by several months and later playing duets with Armstrong), and was perhaps the first notable jazz saxophonist. Forceful delivery, well-constructed improvisations, and a distinctive, wide vibrato characterized Bechet's playing.
Bechet's erratic temperament hampered his career, however, and not until the late 1940s did he earn wide acclaim.
Sidney Bechet was born in New Orleans in 1897 to a middle-class Creole of color family. Sidney's older brother Leonard Bechet (1877–1952) was a part-time trombonist and bandleader. Sidney Bechet quickly learned to play several musical instruments kept around the house, mostly by teaching himself; he soon decided to specialize in clarinet. At the age of six, Sidney started playing along with his brother's band at a family birthday party, debuting his talents to acclaim. Later in his youth, Bechet studied with such renowned Creole clarinetists as Lorenzo Tio, "Big Eye" Louis Nelson Delisle, and George Baquet.
Soon after, Sidney Bechet began to play in many New Orleans ensembles, improvising with what was "acceptable" for jazz at that time (obbligatos, with scales and arpeggios, and "variating" the melody). These ensembles included parade work with Henry Allen's celebrated Brass Band, the Olympia Orchestra, and John Robichaux's "genteel" dance orchestra. In 1911-1912, Bechet performed with Bunk Johnson in the Eagle Band of New Orleans, and in 1913-1914, with King Oliver in the Olympia Band.
Although Sidney Bechet spent his childhood and adolescence in New Orleans, from 1914 to 1917 he was touring and traveling, going as far north as Chicago, and frequently teaming up with Freddie Keppard, another notable Creole musician. In the spring of 1919, Bechet traveled to New York, where he joined Will Marion Cook's Syncopated Orchestra. Soon after, the orchestra journeyed to Europe where, almost immediately upon arrival, they performed at the Royal Philharmonic Hall in London.
The group was warmly received, and
Sidney Bechet
was especially popular, attracting attention near and far.
While in London, Bechet discovered the straight soprano saxophone, and quickly developed a style quite unlike his warm, reedy clarinet tone. His saxophone sound could be described as "emotional", "reckless", and "large". He would often use a very broad vibrato, similar to what was common for some New Orleans clarinetists at the time.
After being convicted of assaulting a woman, Sidney Bechet was imprisoned in London from September 13 to 26, 1922. He was deported back to the United States, leaving Southampton on November 3 and arriving in New York on November 13, 1922.
On July 30, 1923, he began recording; it is some of his earliest surviving studio work. The session was led by Clarence Williams, a pianist and songwriter, better known at that time for his music publishing and record producing. Bechet recorded "Wild Cat Blues" and "Kansas City Man Blues". "Wild Cat Blues" is in a multi-thematic ragtime tradition, with four themes, at sixteen bars each, and "Kansas City Man Blues" is a genuine 12-bar blues. Bechet interpreted and played each uniquely, and with outstanding creativity and innovation for the time.
On September 15, 1925, Sidney Bechet and other members of the Revue Nègre, including Josephine Baker, sailed to Europe, arriving at Cherbourg, France, on September 22. The revue opened at the Théâtre des Champs-Élysées, Paris, on October 2. Bechet toured Europe with various bands, reaching as far as Russia in mid-1926. In 1928, he led his own small band at the famous Bricktop's Club in Montmartre, Paris.
Sidney Bechet
was jailed in Paris when a woman passer-by was wounded during a shoot-out. The most common version of the story, as related in Ken Burns's jazz documentary, reports that the initial shoot-out started when another musician/producer told Bechet that he was playing the wrong chord. Bechet challenged the man to a duel. Other sources assert that Bechet was essentially ambushed by a rival musician.
After his release, Bechet was deported to New York. Having arrived right after the stock-market crash of 1929, Bechet joined Noble Sissle's orchestra. They returned to Europe to tour in Berlin, Germany and Russia.
In 1932, Sidney Bechet returned to New York City to lead a band with trumpeter Tommy Ladnier. The band, consisting of six members, performed at the Savoy Ballroom. He went on to play with Lorenzo Tio, and also got to know Roy Eldridge, another trumpeter.
Over time
Sidney Bechet
had increasing difficulty finding musical gigs; he eventually started a tailor shop with Ladnier. During this time, they were visited by various musicians, and played in the back of their shop. Throughout the 1940s, Bechet played in several bands, but his financial situation did not change until the end of that decade.
By the end of the 1940s, Sidney Bechet tired of struggling to make music in the United States. His contract with Jazz Limited, a Chicago-based record label, was limiting the events where he could perform, for instance excluding the 1948 Festival of Europe in Nice. He believed that the jazz scene in the US had little left to offer him and that was getting stale.
Sidney Bechet relocated to France in 1950 after performing as a soloist at the Paris Jazz Fair. His performance at the fair resulted in a surge in his popularity in France. After that, Bechet had little problem finding well-paid work in France. In 1953, he signed a recording contract with French Vogue, which lasted for the rest of his life. He recorded many hit tunes, including "Les Oignons", "Promenade aux Champ Elysees," and the international hit "Petite Fleur". He also composed a classical ballet score in the late Romantic style of Tchaikovsky, called La Nuit est sorcière (The Night Is a Witch). Existentialists in France called him "le dieu".