SHIRLEY TEMPLE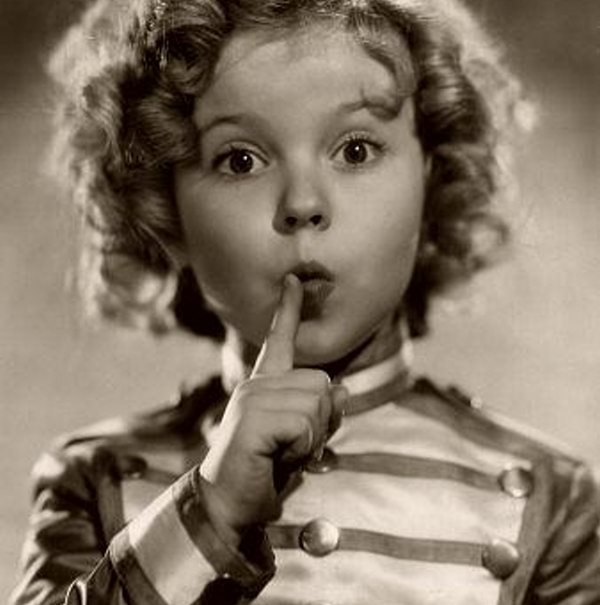 Biography
 Shirley Temple (1928- ), American motion-picture actress, considered among the most successful child stars in the history of film. She was born Shirley Jane Temple in Santa Monica, California. Propelled by an ambitious mother, Temple made her film debut at the age of three, and at age six she was featured in Stand Up and Cheer (1934).
Known for her blond ringlets and her appealing lisp, and recognized for her ability to sing and tap-dance, Temple became a celebrity in 1934, when she starred in four films: Now and Forever, Little Miss Marker, Baby Take a Bow, and Bright Eyes. At the end of that year she was given a special Academy Award "in grateful recognition of her outstanding contribution." During the Great Depression of the 1930s, Temple was celebrated by an adoring public.
A sophisticated performer who often seemed more mature than the adults around her,  Shirley Temple had no difficulty upstaging her experienced costars, among them such veteran performers as Lionel Barrymore, Adolph Menjou, Sidney Blackmer, Alice Faye, Robert Young, Cesar Romero, Jimmy Durante, and C. Aubrey Smith.
Among the films Temple made for Fox Film Corporation (her studio for all but her first two pictures) in the 1930s were The Little Colonel, Curly Top, and The Little Rebel, in 1935; Poor Little Rich Girl, Dimples, and Stowaway, in 1936; Wee Willie Winkie and Heidi, in 1937; Rebecca of Sunnybrook Farm and Little Miss Broadway, in 1938; and The Little Princess and Susannah of the Mounties, in 1939. At the height of her popularity, from 1935 to 1938,  Shirley Temple was the biggest box-office attraction in Hollywood, and the large gross revenues from her films helped to make Fox a major film studio.
 Shirley
Temple 
made a number of films as a teenager-among them Miss Annie Rooney (1942), I'll Be Seeing You (1944), Since You Went Away (1944), The Bachelor and the Bobbysoxer (1947), and Fort Apache (1948)-but her appeal had faded, and the films were not successful. In 1949 she retired from acting.
The name "Shirley Temple" conjures up the image of a golden-hairdo moppet tap- dancing her way through a sugar-coated career. This, despite the facts that Temple herself — Shirley Temple Black since her 1950 marriage — endured several professional setbacks, pursued an impressive second career in politics, and, as a child, was a driven actress who despite her age, conducted herself like a studio professional.
Unlike the eerily adult kids who populate today's films,  Shirley Temple was unapologetic about being a child. Soon after came Margaret O'Brien and Natalie Wood, both knowing and prescient. The floodgates were open for brilliant but non-childlike performances by Tatum O'Neal, Jodie Foster and Home Alone's sensation Macaulay Culkin. Encouraged to be wise beyond their years, mouthing adult lines and thrust into grown-up situations, many of today's junior stars develop egos that are allowed to grow unchecked.
However, during her six years at Fox and 20th-Century-Fox, Temple was sheltered by both her studio and parents from the harsh realities of the Depression.
Indeed, she seems to have been one of the last child actresses allowed to be a child. Ironically,
 Shirley
Temple 
began her career playing adult roles in a series of 1932 "Baby Burlesks," short subjects that today would be considered highly inappropriate. She played characters named "Morelegs Sweet-trick" (a pun on Marlene Dietrich) and "Mme. Cradlebait." But when Fox signed her in 1934, the studio abandoned the infant sexpot image and let her be what she really was — an energetic, resilient, good-natured little girl. Fox needed a star. In the first years of the Depression, the studio was in serious financial trouble. With such lighthearted charmers as The Little Colonel (1935; April 23) and Rebecca of Sunnybrook Farm (1938; April 23),
 Shirley
Temple 
became the No. 1 box-office attraction in Hollywood between 1934 and '38, single-handedly pulling her studio out of the red. A typical early hit was Bright Eyes (1934; April 23), costarring one of her favorite leading men, James Dunn, and introducing her signature hit, "On the Good Ship Lollipop" (an airplane — not a boat, as is usually assumed).
Like many young stars,  Shirley Temple learned early to rely on herself. In her first films, she was banished to a black box if she behaved — at age 4! — childishly. Rather than becoming petulant and rebellious, Temple later wrote that this "lesson of life was profound and unforgettable. Time is money. Wasted time means wasted money means trouble. Time spent working is more fun than standing in an icy black box and getting an earache." Time started to catch up to Temple, who began to age before the public's eyes. She was also maturing in her approach to her career. In her own favorite film, the Kipling adaptation of Wee Willie Winkie (1937), a 9-year-old Temple worked hard to impress director John Ford.
The tough-minded. veteran filmmaker won her eternal love by treating her as a grownup, brooking no girlish nonsense and brushing off her attempts at charm. This was just the thing for the coddled child star; she delighted in doing her own stunts, drilling with the troops and working harder than everyone else. When Ford finally muttered, "Nice kid, that," his gruff comment made her day. Her hardworking professionalism extended to other shoots. When a little boy wearing her dress served as a body double for the goat-butting scene in Heidi (1937; April 23), the star protested. Temple preferred to do her own stunts, arguing that the hard work made her feel like "one of the gang."
By the end of the decade, Temple was no longer the baby of the lot. After her Fox contract ended in 1940, Temple went on to make a handful of modest films, including Since You Went Away in 1943 and The Bachelor and the Bobby-Soxer in 1947.
However, her priority was to act (at last!) her age. Her teen years were happy ones, she recalled. Brushing out her famous curls, Temple enrolled in Westlake School for Girls and delighted in the joys of sodas, sock hops and even schoolwork. "Westlake was my spring latch to another world,"
she said. "I could hardly wait, catch-up homework notwithstanding."
The prospect of becoming a has-been before puberty has driven many a child star to distraction and destruction. But thanks to Temple's strengths, one innate (self-discipline) and the other learned (studio-style professionalism), this star expected no less from herself on her way out than she did on her way up. In the late '40s, Temple departed gracefully from Hollywood.
Two decades later, she re-emerged into the spotlight by announcing her candidacy for Congress. She lost the election, but Temple displayed her trademark tenacity and went on to enjoy a long and successful career with the United Nations and the State Department. Currently retired, she reports that she is at peace with her life and proud of her accomplishments in two of the nation's most influential arenas.
"If I had to do it all over again," Shirley Temple Black recently declared, "I wouldn't change anything."