SAMMY DAVIS JR.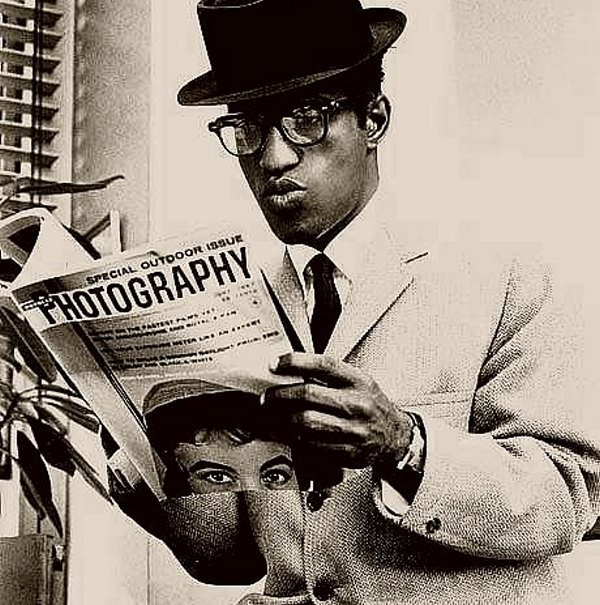 Biography
Sammy Davis Jr., born on December 8, 1925, began performing almost as soon as he could walk. Both of his parents, Elvera Sanchez and Sammy Davis Sr., were vaudevillians who danced with the Will Mastin Troupe. Sammy Jr. became the Mastin Troupe's youngest member at age three. He became a regular at age five and traveled with his father on the shrinking vaudeville circuit. Sammy Jr. was able to dance very quickly in a style called "flash dancing." He danced so well that once, competing against older children, he won a silver cup and ten dollars. By the time he was eight years old he had appeared in two movies.
Sammy Jr.'s demanding schedule of travel, practice, and performances left little time for formal education. When he could afford it, his father hired tutors. But Sammy Jr. could not read much more than comic books until he grew up and joined the army. His unconventional childhood did provide him with important lessons, however. Young Sammy learned how to please an audience, how to tap dance like a master, and how to move people with a smile and a song.
Few vaudeville acts in the 1930s survived the competition from the growing motion picture industry. The Mastin Troupe decreased gradually until it became a three-person act—Sammy Davis Sr., Will Mastin, and Sammy Davis Jr. By 1940 Sammy Jr. had become the star attraction. The act was popular enough to receive billings in larger clubs, and in that environment Davis met other performers such as Bill "Bojangles" Robinson (1878–1949), Frank Sinatra (1915–1998), and various big band leaders.
Sammy Davis was drafted into the United States Army in 1943, when he turned eighteen. An African American sergeant, who taught him how to read, befriended him. He was constantly mistreated by white troops, however, with whom he shared living quarters. Transferred to an entertainment regiment, Davis eventually found himself performing in front of some of these same soldiers. He discovered that his energetic dancing and singing could
Sammy Davis went solo in 1950 after signing a recording contract with Decca Records. His first two albums, Starring Sammy Davis, Jr. and Just for Lovers, sold well. Soon Davis was a headliner (main performer) in Las Vegas and New York, as well as a guest star on numerous television shows.
On November 19, 1954, Davis nearly lost his life in an automobile accident in the California desert. The accident shattered his face and caused him to lose his left eye. While recovering, he spent hours discussing philosophy (the study of humans and their place in the universe) with a rabbi (Jewish spiritual leader) on staff at the hospital. Shortly thereafter he converted to Judaism. Upon Davis's return to the stage he sold out every performance and received thunderous applause. Some critics suggested that he might have had hidden motives for converting to Judaism. Others, however, especially African Americans, applauded his thoughtful observations about Jews, African Americans, and oppression.
Sammy Davis began the 1960s as a certified superstar of stage and screen. He had turned "Mr. Wonderful" into a successful Broadway show, and he earned critical raves for his performance in the film Porgy and Bess. As a member of the high-profile "Rat Pack," he associated with Frank Sinatra, Dean Martin (1917–1995), Peter Lawford (1923–1984), and Joey Bishop (1918–) at fashionable nightclubs in Las Vegas and Los Angeles, California.
In 1965 Sammy Davis starred in another Broadway play, Golden Boy, and in two movies, A Man Called Adam and Sweet Charity. He also starred in two television shows during the same years, The Sammy Davis, Jr. Show and The Swinging World of Sammy Davis, Jr.
Davis's "swinging world" had its dangers, however. Many people disapproved of his 1960 interracial marriage to Swedish actress Mai Britt. His "Rat Pack" habits of drinking and partying threatened his health. Further, heavy spending nearly bankrupted (lost all one's money) him, even though he earned more than a million dollars a year.
Throughout the 1960s Davis had been a vocal supporter of the Black Power movement and other left-wing (liberal) causes. In the early 1970s he lost support of some liberals and members of the African American community when he embraced President Richard M. Nixon (1913–1994) and performed in Vietnam, which was the site of the Vietnam War (1955–75; a war between the communist forces of North Vietnam and United States-backed South Vietnam). By that time Davis had developed liver and kidney trouble and spent some months in the hospital early in 1974.
Sammy Davis recorded albums throughout his career and performed a number of signature songs. Chief among these were his tribute to Bill Robinson, "Mr. Bojangles," the ballads "What Kind of Fool Am I" and "I've Gotta Be Me," and his biggest hit, the upbeat "Candy Man." Davis's singing was like everything else in his performance—energetic, spirited, and played to maximum effect.
The last fifteen years of Davis's life were conducted at the performer's usual hectic pace. In 1978 he appeared in another Broadway musical, Stop the World—I Want To Get Off. He occasionally served as a stand-in host for the popular "Tonight Show," and he returned to the casino stages. Even hip surgery failed to stop Davis from performing. His best-known act in the 1980s was a musical review with his friends Sinatra and Liza Minnelli (1946–), which played to sold-out crowds in the United States and Europe just a year before Davis's death.
Doctors discovered a tumor in Davis's throat in August of 1989. The performer underwent painful cancer treatment that at first seemed successful. Within a few months the cancer returned, however. Davis died on May 16, 1990, only eight weeks after his friends honored him with a television special.
Davis's long career in show business was even more remarkable because he managed to break color barriers in an era of segregation (the separation of a race from the rest of society) and racism (the belief that some races are better than others). He was one of the very few stars, African American or white, to receive Emmy, Tony, and Grammy Award nominations. His many honors and awards, including a prestigious Kennedy Center medal for career achievement, serve as reflections of the affection his fans felt for him.
During his lifetime Sammy Davis Jr. was not universally adored. Some observers accused him of shamelessly flattering his audiences to win their admiration. Those sentiments were forgotten, however, when Davis died at the relatively young age of sixty-four. In eulogies (public speeches for a person who has recently died) across the country, entertainers and others cited Davis as a mentor and a pioneer who reached mainstream audiences even though he hailed from minority groups in both race and religion.