SACHA DISTEL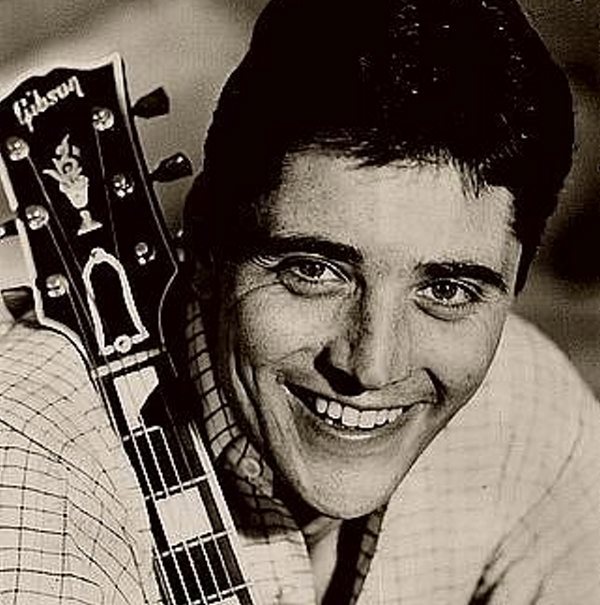 Biography
Sacha Distel (29 January 1933 – 22 July 2004) was a French singer and guitarist who had hits with a cover version of the Academy Award-winning "Raindrops Keep Falling On My Head" (originally recorded by B. J. Thomas), "Scoubidou", and "The Good Life". He was born in Paris.
Sacha Distel, born Alexandre Distel, was a son of Russian White émigré Leonid Distel. Sacha's uncle, Ray Ventura, was a prominent jazz promoter. In the 1930s Ventura promoted and participated in the development of swing in France. When his uncle settled in Paris with his orchestra, "Les Collégiens", Distel gave up his piano for the guitar.
In 1948, Ventura invited Sacha Distel to listen to Dizzy Gillespie perform with his orchestra, along with Bruno Coquatrix, Paul Misraki and André Hornez. Distel's efforts led to the orchestra's split, which gave birth to two rival bands: Guy Wormser's New Orleans die-hards and the cool jazz and bebop aficionados led by Sacha Distel .
After meeting Hubert Damisch, a saxophone player, Sacha founded the band that would allow him to be up with the leaders. With help from Jean Marie Ingrand (bass), Mimi Perrin (piano) and Jean Louis Viale (drums), the band won the Coliseum's Night of Jazz "Meilleur Petit Orchestre Moderne" award, with Damisch and Distel winning prizes as musicians on the same night. Distel became a professional jazz guitarist. Over his career he worked alongside Dizzy Gillespie and Tony Bennett and appeared on The Ed Sullivan Show in the late 1950s after establishing himself as a French crooner.
In the 1960s, he composed "La Belle Vie", a tune that made its way across the Atlantic as "The Good Life", most famously performed by Tony Bennett. French lyrics were added in the 1970s and it became Distel's signature tune. During the 1960s, he had his own variety show on French television. During the 1970s, he became popular outside France, and once hosted the Miss World contest in London. During this decade, he spent more time in the UK than in France.
In August 1980, in honour of Queen Elizabeth, The Queen Mother, Sacha Distel performed at Buckingham Palace to mark the Queen Mother's 80th birthday. The Queen Mother was said to have been impressed by Distel's moving voice and later in the night she requested "You Must Have Been a Beautiful Baby", a song that had been recorded by Perry Como, one of her favourite singers.
Sacha Distel remained reasonably popular in France in the 1980s and 1990s, including a new show named after his song La Belle Vie.[citation needed] In 2000, Distel had a part as lawyer Billy Flynn in the London production of Chicago.
Sacha Distel was involved with actress Brigitte Bardot in 1958, having invited her to his birthday party in St Tropez. The relationship ended in 1959, it being reported that Distel had allegedly refused Bardot's proposal of marriage. Distel reported that she had ended the affair in a press release in 1959. He was also romantically involved with singer Dionne Warwick. He married championship Olympic skier Francine Bréaud in 1963. Distel publicly stated that he remained faithful to his wife, saying "Anything I want in a woman I can get at home." They had two sons.
Sacha Distel died on 22 July 2004, aged 71, after a long illness, in Rayol-Canadel, southeast France. Just two weeks before his death, he could be seen on TV participating to the charity TV show Qui veut gagner des millions?.