RUTH FERNÁNDEZ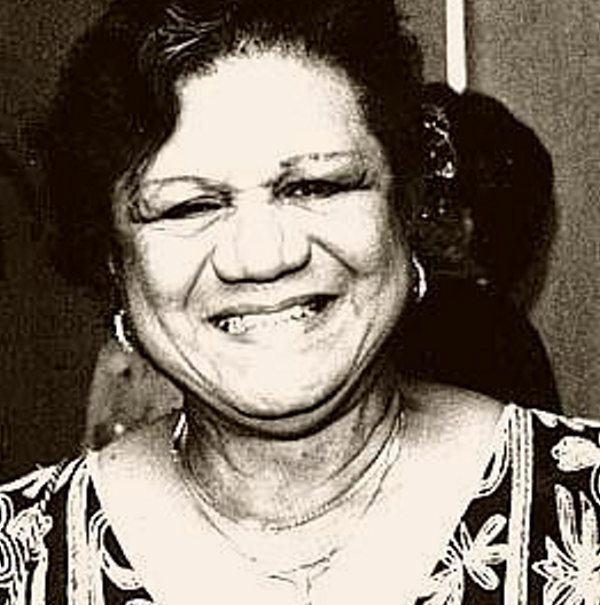 Biography
Ruth Fernandez was born on 23 May 1919 in Ponce, Puerto Rico, the youngest duaghter of Santiago Fernández and Rosa María Cortada. She was a noted songstress known and loved widely throughout Puerto Rico and internationally. In her homeland, she is affectionately known as "El alma de Puerto Rico hecha canción" meaning "The soul of Puerto Rico made song". Despite her fame as a songstress, she is also well respected as a Senator of many years in the Puerto Rican legislature.
She studied piano in her youth and showed signs of her talent in various school and community activities. By the age of 14 she started her professional career, signing on broadcasts from two radio stations, when she was discovered by the most famous orchestra at that time. Fernandez was signed to a contract with that orchestra: Mingo and his Whoopee Kids. She spent the next eight years singing in clubs, hotels and events throughout Puerto Rico.
Her first recording was on the Colombia label in 1941, which helped her get a contract singing in the Latin Theater in New York City. She returned to Puerto Rico and rejoined Mingo and His Whoopee Kids while she studied at the University of Puerto Rico and had other singing engagements throughout South America and the Caribbean. Her talents gained her the acclaim she needed to become a successful soloist, singing during the war years (World War II and Korean Conflict) in many tours to entertain the soldiers at military bases throughout the West Indies with songs like Lo de Aqui. She also had her own television show in Puerto Rico: "The Ruth Fernández Show" that was part of the famous "Show de las 12". She also inaugurated the "Libby Show" which was the first broadcast television show dedicated to music in Puerto Rico.
Artistically, Fernandez was a leading figure as a woman in the music industry, with a long list of "firsts": first woman as lead singer in an orchestra, first woman to sing popular music at the Metropolitan Opera House in New York City, and many more. Perhaps more important to her, was her dedication to fighting racial discrimination. Fernandez herself was a victim of such discrimination on many occasions, even as a noted professional singer.
Her career brought her international fame and often took her abroad from her native Puerto Rico. She spent much time in the United States singing for the CBS radio network, which broadcast her performances across the entire country. Fernandez also sang at New York's Carnegie Hall to rave reviews in the Latin press. She also sang concerts in many countries throughout Latin America and Europe, including France, Spain, Italy and Norway, where she waqs asked to stay for four months after being contracted for only three weeks! She made annual trips to Cuba to perform at the Tropicana Hotel, the Teatro América and the CMQ radio station.
Her personal life was highlighted by two marriages and friendships with many famous artists. Her first marriage was to Juan Guilbe, a noted professional baseball player of the times. She divorced Guilbe after three years and later married composer Tito Henríquez. Her second marriage lasted 14 years. Her friends included such notables as Pablo Casals who composed a song for her in 1963 entitled "Ven a mí".
Fernandez has received many honors throughout her illustrious career and has been recognized by various countries, such as Panamá, Venezuela, the United States, and, of course, her native Puerto Rico for her contributions. The Puerto Rico National Commission, sponsor of Puerto Rico's 500th Centennial celebration, honored Fernandez as one the three most influential musical artists that have helped foster unity in Latin America, along with Libertad Lamarque and Pedro Vargas. In 1990, Imagen magazine honored her as one of the ten most influential Puerto Rican women in the country's history.
With the advent of the second millenium, the honors and accolades continued. Fernandez was the honoree at a special concert in San Juan's Bellas Artes concert hall. Many noted performers such as Rocío Jurado, Sophy and Choco Orta and others attended the emotionally moving event where she was named the "Singer of the Century", in Puerto Rico.