RAY CHARLES
Biographie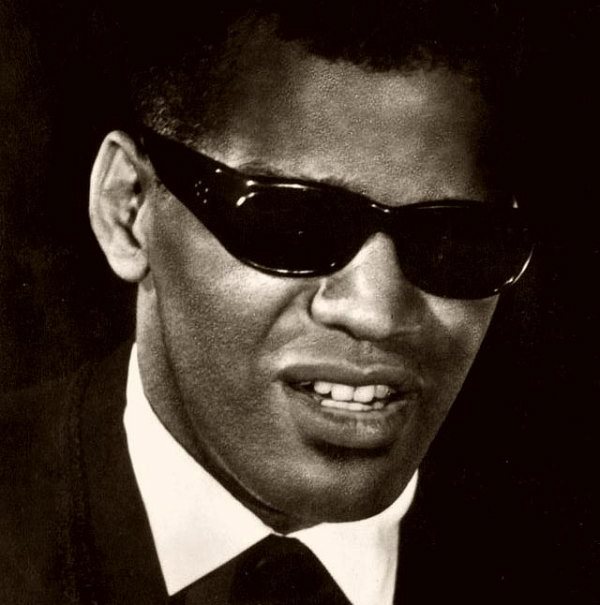 Born in 1930, Ray Charles (nee Ray Charles Robinson) in Albany, Georgia grew up in Greenville, Florida.  At age six he started to lose his sight from glaucoma after traumatically watching watching his brother drown in the washtub his mother used for take-in laundry. At the age of seven, from 1937 to 1945 he attended the St. Augustine School for the Deaf and Blind, where he learnedpiano, and later clarinet and alto saxophone, compose for big bands, as well as learning to read and write music in Braile.
Orphaned at fifteen, Ray Charles struck out on his own performing in bands around Florida. In 1948 at the age of seventeen Charles took his $600 savings and moved to Seattle. There he formed the Maxim trio, a group grounded in the style of Nat "King" Cole and Charles Brown. The Maxim Trio had a major R&B hit in 1949 with "Confession Blues" on the Downbeat (later Swing Time) label. It was during this time that he first began using Heroin. Charles toured with blues artist Lowell Fulson in the early '50s, having R&B hits with "Baby Let Me Hold Your Hand" and "Kiss Me Baby" on the small Los Angeles based Swingtime Label.
In 1952 Atlantic Records purchased Charles's recording contract from Swingtime for $2500.   Ray Charles give up the Nat "King" Cole stylization and began adapting gospel music techniques to blues lyrics. He soon had a hit with "It Should Have Been Me."  In 1954 he arranged and played piano on Guitar Slim's top R&B hit "The Things I Used to Do" for Specialty Records and formed his own band. In 1955 Charles had a hit in both the R&B and pop fields with his own composition "I've Got a Woman." Using top flight studio musicians Charles had hits consistently on the R&B charts through the late '50s with "A Fool for You," "Drown In My Own Tears," :Hallelujah I Love Her So," and "Lonely Avenue," The recording debut of his female backup group the Raelettes. He also became popular with jazz fans, recording two highly acclaimed records and performing a set at the 1958 Newport Jazz festival in 1959. Charles established himself as a popular recording artist and a pioneer of soul music with the release of his own top R&B/pop hit composition "What I Say."
Sensing that Atlantic was still basically an R&B organization, Charles moved to ABC-Paramount Records in late 1959. Through 1961, he had top pop hits with "Georgia On My Mind," "Hit the Road Jack," "Ruby," and "Unchain My Heart."He also recorded Genius + Soul = Jazz for Impulse (ABC's jazz subsidiary label), yielding a near smash pop/ top R&B hit with the instrumental "One Mint Julip," This album and one recorded with Betty Carter for ABC-Paramount brought him increasing popularity with jazz fans, black and white.
In 1962 Charles formed Ray Charles Enterprises, comprised of Tangerine Records, Tangerine Music, and Racer Music Company, opening studios and offices in Los Angeles in 1963. By then he was using forty piece orchestras and full vocal choruses for his recordings. With his full commercial sound, his Modern Sounds in Country and Western became phenomenally popular producing crossover smashes with "I Can't Stop Loving You," "Born to Lose," and "You Don't Know Me." Within a year volume two was released and had crossover hits "You Are My Sunshine," "Your Cheating Heart," and "Take These Chains From My Heart." On ABC Charles had major pop hits with "Busted," "That Lucky Old Sun," "Crying Time," and "Together Again."
During the 60s Ray Charles became involved in films, appearing in the 1962 film Swinging Along, and the 1966 British film Ballad in Blue, and recording the soundtracks for The Cincinnati Kid (1965) and In the Heat of the Night (1967). By this time he was performing on the nightclub circuit, touring with his own package revue from 1969 into the '70s.
In 1973 Charles left ABC Records, retaining the rights to his ABC material and transferring his Tangerine operation to the new label Crossover. During 1976 he recorded Porgy and Bess with Cleo Laine for RCA Records. In 1977 he returned to Atlantic, moving to Columbia in the '80s and Warner Brothers in the '90s. In 1978 Dial Press published his autobiography and in 1980 appeared in The Blues Brothers movie and scored a minor country hit for his duet with Clint Eastwood, "Beers to You, from the film Any Which Way You Can. Charles had a major country hit with "Born To Love Me" in 1982 and later recorded duets with country stars on Friendship. The album yielded five country hits, including "We Didn't See a Thing" (with George Jones), "Seven Spanish Angels"( with Willie Nelson) and "Two Cats Like Us" (with Hank Williams JR,). Charles also played a major role in the recording of USA for Africa's "We Are the World" single in 1985.
Ray Charles also appeared at two Presidential inaugurations in his lifetime. In 1985, he performed for Ronald Reagan's second inauguration, and in 1993 for Bill Clinton's first. In the late 1980s/early 1990s, Charles made appearances on the Super Dave Osbourne TV show, where he performed and appeared in a few vignettes where he was somehow driving a car, often as Super Dave's chauffeur. During the sixth season of Designing Women, Charles sang "Georgia on My Mind", instead of the song being rendered instrumentally by other musicians as in the previous five seasons. He also appeared in 4 episodes of the popular TV comedy The Nanny in Seasons 4 & 5 (1997 & 1998) as 'Sammy', in one episode singing "My Yiddish Mamma" to December romance and later fiancee of character Gramma Yetta, played by veteran actress Ann Guilbert. From 2001-2002, Charles appeared in commercials for the New Jersey Lottery to promote its "For every dream, there's a jackpot" campaign.
In 2003, Ray Charles headlined the White House Correspondents Dinner in Washington, D.C. where the President, First Lady, Colin Powell and Condoleezza Rice attended. He also presented one of his greatest admirers, Van Morrison, with his award upon being inducted in the Songwriters Hall of Fame and the two sang Morrison's song "Crazy Love". This performance appears on Morrison's 2007 album, The Best of Van Morrison Volume 3. In 2003 Charles performed "Georgia On My Mind" and "America the Beautiful" at a televised annual electronic media journalist banquet held in Washington, D.C. His final public appearance came on April 30, 2004, at the dedication of his music studio as a historic landmark in the city of Los Angeles.
Ray Charles died on June 10, 2004 at 11:35 a.m. as a result of liver failure/hepatitis C at his home in Beverly Hills, California, surrounded by family and friends. He was 73 years old. His body was interred in the Inglewood Park Cemetery.