PETER VAN WOOD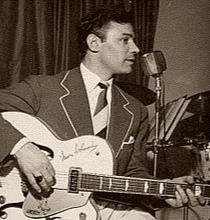 Biography
Peter Van Wood (19 September 1927, The Hague, Netherlands – 10 March 2010, Rome, Italy), was a Dutch guitarist, singer, songwriter, actor and astrologer.
Peter Van Wood was born as Peter van Houten in The Hague, Netherlands on 19 September 1927. He began playing guitar at a very early age when he was fourteen years old, and he studied at the Royal Conservatory of The Hague. At the same time, he started listening to great Jazz guitar players and began playing in small groups in and around the Netherlands.
He was among the first to use the electric guitar and special effects such as echo and reverb. In 1946, he performed at the London Palladium, and in 1947 and 1948 he toured all over the world, including concerts at the Olympia theatre at 28, Blvd. des Capucines, in the 9th arrondissement of Paris, and at the Carnegie Hall in Midtown Manhattan in New York City.
There he earned is trademark "signature" guitar, a unique "custom" Gretsch White Falcon (allegedly a personal gift, or maybe an "endorsing", from Fred Gretsch, and humorously dubbed by an Italian TV host "the texan milkman's guitar")
In 1949 he moved to Italy. After a series of concerts and shows in Naples, he was contacted by pianist and singer Renato Carosone, who was asked to put together a group for a club's opening night, and the Trio Carosone, with Gennaro "Gegè" Di Giacomo on drums, was formed. The trio recorded several albums for the Pathé record label, and shortly became a quartet with the Hungarian Gypsy musician Elek Bacsik on bass, guitar and violin.
In 1954 Peter Van Wood leaves the Trio Carosone and decides to devote himself to his solo career. He formed his quartet, which signed for Fonit and released many successful records.
The highlights of his musical career are too numerous to list but the pinnacle is: "Butta la chiave", a song that was very famous especially for the dialogue between Van Wood's voice and his "singing" guitar mimics as the negative responses of a wife who let his husband outside home. It is unclear if he made use of a rudimentary "wah-wah" pedal, an Alvino Rey a-like singin' guitar device or simply made use of vibrato-bar to achieve that effect, which astonished Italian audiences as an absolute novelty. Followed "Via Montenapoleone", a song about one of the most renowned streets of Milan, "Tre numeri al lotto", "Mia cara Carolina", and "Capriccio".
In the 1960s he decided to dedicate himself to astrology, and started making horoscopes for various Italian newspapers and magazines, while continuing to make recordings. He also opened a nightclub, Amsterdam 19, in Galleria Passarella in Milan (the city where he moved from Naples), where he often performed as a singer and guitarist.
In 1974, he recorded an instrumental album, Guitar Magic, for Vedette Phase-6 record label, which highlights his skills as a guitarist.
In 1982, Van Wood recorded the theme song of the Italian television show La Domenica Sportiva.
He came again to prominence in the Italian Television when he participated to the transmission Quelli che… il Calcio, conducted by Fabio Fazio. Along the lines of his last name, in an ironic and humorous sense, was created a football team called Atletico Van Goof.
Then he had quite regular appearances as guest in RAI television shows, offering his skills in his lifelong passion, astrology.
In October 2007, he required one million euros to Coldplay as compensation, claiming that the song "Clocks" is a plagiarism of his song "Caviar and Champagne".
Peter Van Wood died on 10 March 2010 at the Agostino Gemelli University Polyclinic in Rome after a long illness.