PETE FOUNTAIN
Biographie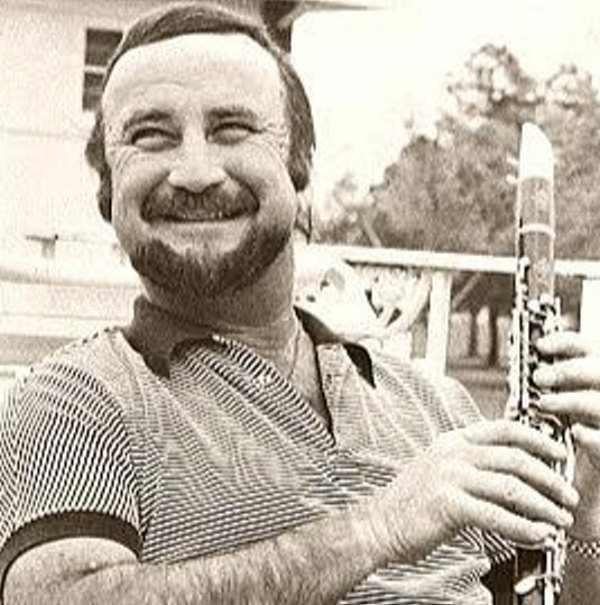 Pete Fountain (born Pierre Dewey LaFontaine, Jr., July 3, 1930), is an American clarinetist based in New Orleans. He has played jazz, Dixieland and Creole music.
His name was originally Pierre Dewey LaFontaine, Jr.,[ and he was born on White Street between Dumaine and St. Ann in a small Creole French frame house that sat right on the street in New Orleans. His father later changed his own name to Peter Dewey Fountain, and Junior followed suit.
He started playing clarinet as a child at McDonogh 28. As a child, young Pete Fountain was very sickly, frequently battling respiratory infections due to weakened lungs. He was given expensive medication but it proved to be not very effective. During a pharmacy visit, Pete's father began a discussion with a neighborhood doctor who was also there shopping and talked with him about his son's condition.
The doctor agreed to see the boy the following day. After a short exam, the doctor confirmed the weak lung condition and advised the father to try an unorthodox treatment: purchase the child a musical instrument, anything he has to blow into. The same day, they went to a local music store and, given his choice of instruments, Pete chose the clarinet (after first wanting the drums, which his father declined per the doctor's orders). At first, Pete Fountain was unable to produce a sound from the instrument, but he continued to practice and eventually not only made sounds and eventually music, but greatly improved the health of his lungs.
He took private lessons but also learned to play jazz by playing along with phonograph records of first Benny Goodman and then Irving Fazola. Early on he played with the bands of Monk Hazel and Al Hirt. Pete Fountain founded The Basin Street Six in 1950 with his longtime friend, trumpeter George Girard .
After this band broke up four years later, Pete Fountain was hired to join the Lawrence Welk orchestra and became well known for his many solos on Welk's ABC television show, The Lawrence Welk Show. Fountain was rumored to have quit when Welk refused to let him "jazz up" a Christmas carol. In an interview, Fountain said he left Welk because "Champagne and bourbon don't mix.". Fountain was hired by A&R head of Decca Charles "Bud" Dant and went on to produce 42 hit albums with Dant.
Pete Fountain returned to New Orleans, played with The Dukes of Dixieland, then began leading bands under his own name. He owned his own club in the French Quarter in the 1960s and 1970s. He later acquired "Pete Fountain's Jazz Club" at the Riverside Hilton in downtown New Orleans.
The New Orleans Jazz Club presented "Pete Fountain Day" on October 19, 1959, with celebrations honoring the pride of their city, concluding with a packed concert that evening. His Quintett was made up of his studio recording musicians, Stan Kenton's bassist Don Bagley, vibeist Godfrey Hirsch, pianist Merle Koch and the double bass drummer Jack Sperling. Fountain brought these same players together in 1963 when they played the Hollywood Bowl. Pete would make the trek to Hollywood many times, appearing on The Tonight Show Starring Johnny Carson 56 times.
Pete Fountain opened his club, the French Quarter Inn, located in the heart of the famed French Quarter district at 800 Bourbon Street in the spring of 1960. His group members were Oliver "Sticks" Felix on bass, John Probst on piano, Paul Guma on guitar, Godfrey Hirsch on vibes, and Sperling on drums. In no time at all major entertainers found their way there. Cliff Arquette and Jonathan Winters were there on opening night and performed their comedy routines.
Over the next few years Frank Sinatra, Phil Harris, Carol Lawrence and Robert Goulet, Keely Smith, Robert Mitchum and Brenda Lee, among many others, came to the club. Many would perform with the band, and Brenda Lee's sit-in resulted in a duet record album recorded by her and Pete. Benny Goodman came to the club twice, but without bringing his clarinet.
His greatest friendly rivalry was with trumpeter Al Hirt, whose club was down the street from Fountain's. They stole musicians from each other, and sometimes came into each other's clubs and played together. They were good friends who came up together and later recorded several albums together.
In 2003 Pete Fountain closed his club at the Hilton with a performance before a packed house filled with musical friends and fans. He began performing two nights a week at Casino Magic in Bay St. Louis, Mississippi where he had a home (later destroyed by Hurricane Katrina).
After heart surgery in 2006, he performed at JazzFest, and helped reopen the Bay St. Louis Casino in Bay St. Louis, MS. It has been renamed the Hollywood Casino. He performed his last show at the Hollywood Casino on December 8, 2010