OLGA GUILLOT
Biographie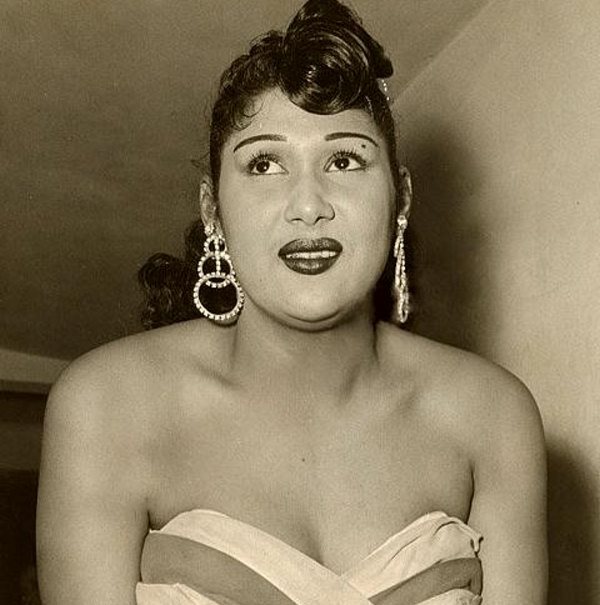 Olga Guillot (October 9, 1922 – July 12, 2010) was a Cuban singer who was known as the 'queen of bolero'. She was a native of the Cuban city of Santiago.
Daughter of Catalan artists who moved to Cuba, Olga Guillot and her family moved to Havana, Cuba when she was a small child. As a teenager, she and her sister, Ana Luisa, performed as the "Duo Hermanitas Guillot".
It wasn't until 1945 that her talent as a bolero singer was discovered, when Facundo Rivero, an influential man in the Cuban music scene of the era, heard her sing for the first time and helped her make her professional singing debut at a famous Havana night club. Soon after, Olga Guillot met Miguelito Valdés, who took her to New York City, where Guillot was able to record her first album with the Decca label.
Olga Guillot traveled to Mexico in 1948. There, she established herself as an international singer and actress, appearing in various films and making her second album. In Mexico, Guillot began to enjoy much popularity for the first time in her career.
In 1954, she recorded her song "Miénteme" ("Lie to Me") which became a hit across Latin America and earned her three consecutive awards back home in Cuba as Cuba's best female singer.
1958 proved to be an important year for Olga Guillot , as she toured Europe for the first time, performing in Italy, France, Spain and Germany. She sang alongside the legendary Édith Piaf at a concert held in Cannes.
Olga Guillot kept a house in Cuba as she travelled around the world, along with her house in Mexico. But Guillot opposed Fidel Castro's regime, and in 1961 she decided to leave Cuba for good and establish herself in Venezuela. Not long after that, she left Venezuela, making Mexico her only permanent country of residence .
Meanwhile, she kept touring around the world, singing in places such as Israel, Japan and Hong Kong. In 1963, Olga Guillot was given the Golden Palm award as "best bolero singer of Latin America". She received the award in Hollywood, California. Guillot sang in 1964 at New York's famed Carnegie Hall, becoming the first Latin artist to sing there.
Olga Guillot continued touring for the next forty years, releasing over fifty albums and winning numerous awards for her achievements in the music world. She was very good friends with Celia Cruz, whom she often referred to as "(her) sister". When Cruz died from cancer, Guillot was very bereaved over the loss of her close friend and compatriot. She was the godmother of the iconic singer José José. Olga Guillot lived mainly in Mexico and had another home on Miami Beach, Florida.
On July 12, 2010, she died of an infarction at the age of 87 in the city of Miami Beach. She is survived by one daughter, Olga Maria Touzet-Guillot, born from her relationship with pianist and composer, René Touzet.