NINO ROTA
Biographie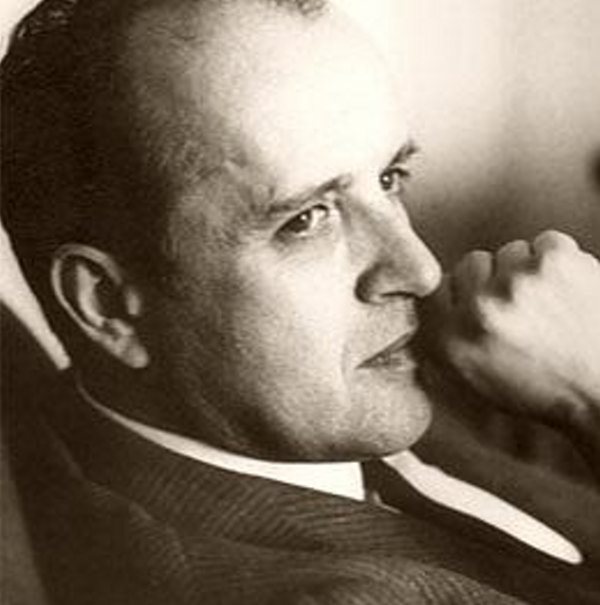 Nino Rota
(December 3, 1911 – April 10, 1979) was an Italian composer and academic who is best known for his film scores, notably for the films of Federico Fellini and Luchino Visconti. He also composed the music for two of Franco Zeffirelli's Shakespeare films, and for the first two films of Francis Ford Coppola's Godfather trilogy, receiving the Academy Award for Best Original Score for The Godfather Part II (1974).
During his long career Nino Rota was an extraordinarily prolific composer, especially of music for the cinema. He wrote more than 150 scores for Italian and international productions from the 1930s until his death in 1979—an average of three scores each year over a 46 year period, and in his most productive period from the late 1940s to the mid-1950s he wrote as many as ten scores every year, and sometimes more, with a remarkable thirteen film scores to his credit in 1954. Alongside this great body of film work, he composed ten operas, five ballets and dozens of other orchestral, choral and chamber works, the best known being his string concerto. He also composed the music for many theatre productions by Visconti, Zeffirelli and Eduardo De Filippo as well as maintaining a long teaching career at the Liceo Musicale in Bari, Italy, where he was the director for almost 30 years.
Born Giovanni Rota Rinaldi, into a musical family in Milan, Rota was a renowned child prodigy—his first oratorio, L'infanzia di San Giovanni Battista, was written at age 11 and performed in Milan and Paris as early as 1923; his three-act lyrical comedy after Hans Christian Andersen, Il Principe Porcaro, was composed when he was just 13 and published in 1926. He studied at the Milan conservatory there under Giacomo Orefice and then undertook serious study of composition under Ildebrando Pizzetti and Alfredo Casella at the Santa Cecilia Academy in Rome, graduating in 1930.
Encouraged by Arturo Toscanini, Nino Rota moved to the United States where he lived from 1930 to 1932. He won a scholarship to the Curtis Institute of Philadelphia, where he was taught conducting by Fritz Reiner and had Rosario Scalero as an instructor in composition. Returning to Milan, he wrote a thesis on the Renaissance composer Gioseffo Zarlino. Rota earned a degree in literature from the University of Milan, graduating in 1937, and began a teaching career that led to the directorship of the Liceo Musicale in Bari, a title he held from 1950 until 1978.
In his entry on Nino Rota in the 1988 edition of The Concise Baker's Biographical Dictionary of Composers and Musicians, music scholar Nicholas Slonimsky described Rota as "brilliant" and stated that his musical style:
"… demonstrates a great facility and even felicity, with occasional daring excursions into dodecaphony. However his most durable compositions are related to his music for the cinema; he composed the sound tracks of a great number of films of the Italian director Federico Fellini covering the period from 1950 to 1979."
During the 1940s, Rota composed scores for more than 32 films, including Renato Castellani's Zazà (1944). His association with Fellini began with The White Sheik (1952), followed by I vitelloni (1953) and La Strada (1954). They continued to work together for decades, and Fellini recalled:
The most precious collaborator I have ever had, I say it straightaway and don't even have to hesitate, was Nino Rota — between us, immediately, a complete, total, harmony … He had a geometric imagination, a musical approach worthy of celestial spheres. He thus had no need to see images from my movies. When I asked him about the melodies he had in mind to comment one sequence or another, I clearly realized he was not concerned with images at all. His world was inner, inside himself, and reality had no way to enter it.
The relationship between Fellini and Nino Rota was so strong that even at Fellini's funeral Giulietta Masina, Fellini's wife, asked trumpeter Mauro Maur to play Rota's Improvviso dell'Angelo in the Basilica di Santa Maria degli Angeli e dei Martiri in Rome.
Rota's score for Fellini's 8½ (1963) is often cited as one of the factors which makes the film cohesive. His score for Fellini's Juliet of the Spirits (1965) included a collaboration with Eugene Walter on the song, "Go Milk the Moon" (cut from the final version of the film), and they teamed again for the song "What Is a Youth?", part of Rota's score for Franco Zeffirelli's Romeo and Juliet.
The American Film Institute ranked Rota's score for The Godfather #5 on their list of the greatest film scores. His score for War and Peace was also nominated for the list.
In all, Nino Rota wrote scores to more than 150 films.