NARCISO YEPES
Biographie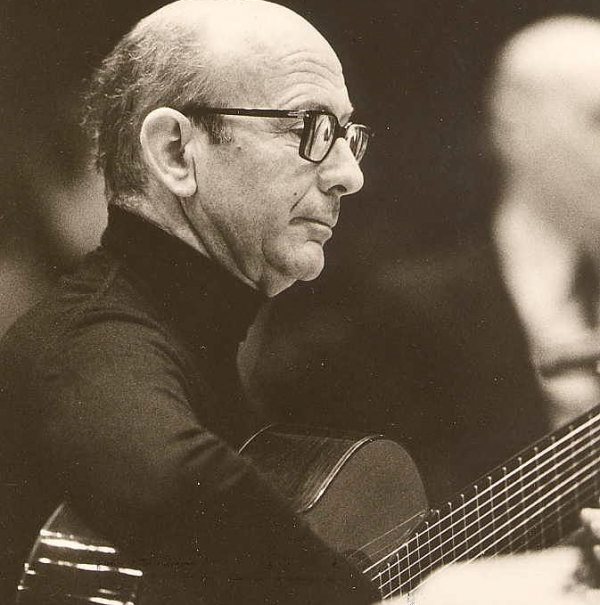 Narciso Yepes was born into a family of humble origin in Lorca, Region of Murcia. His father gave him his first guitar when he was four years old, and brought the boy five miles on a burro to and from lessons three days a week. He took his first lessons from Jesus Guevara, in Lorca. Later his family moved to Valencia when the Spanish Civil War started in 1936.
When he was 13, he was accepted to study at the Conservatorio de Valencia with the pianist and composer Vicente Asencio. Here he followed courses in harmony, composition, and performance. According to Yepes, Asencio "was a pianist who loathed the guitar because a guitarist couldn't play scales very fast and very legato, as on a piano or a violin. 'If you can't play like that,' he told me, 'you must take up another instrument.'" Through practice and improvement in his technique, Yepes could match Asencio's piano scales on the guitar. "'So,' he [Asencio] said, 'it's possible on the guitar. Now play that fast in thirds, then in chromatic thirds.'" Allan Kozinn observed that, "Thanks to Mr. Asencio's goading, Mr. Yepes learned "to play music the way I want, not the way the guitar wants."
On 16 December 1947 he made his Madrid début, performing Joaquín Rodrigo's Concierto de Aranjuez with Ataúlfo Argenta conducting the Spanish National Orchestra. The overwhelming success of this performance brought him renown from critics and public alike. Soon afterwards, he began to tour with Argenta, visiting Switzerland, Italy, Germany and France. During this time he was largely responsible for the growing popularity of the Concierto de Aranjuez, and made two early recordings, both with Argenta – one in mono with the Madrid Chamber Orchestra (released between 1953 and 1955), and the second in stereo with the Orquesta Nacional de España (recorded in 1957 and released in 1959).
In 1950, after performing in Paris, he spent a year studying interpretation under the violinist George Enescu, and the pianist Walter Gieseking. He also studied informally with Nadia Boulanger. This was followed by a long period in Italy where he profited from contact with artists of every kind.
On 18 May 1951, as he leant on the parapet of a bridge in Paris and watched the Seine flow by, Yepes unexpectedly heard a voice inside him ask, "What are you doing?" He had been an unbeliever for 25 years, perfectly content that there was no God or transcendence or afterlife. But that existential question, which he understood as God's call, changed everything for him. He became a devout Catholic, which he remained for the rest of his life.
In 1952 a work (Romance), Narciso Yepes claims to have written when he was a young boy, became the theme to the film Forbidden Games (Jeux interdits) by René Clément.
Despite Yepes's claims of composing it, the piece (Romance) has often been attributed to other authors; indeed published versions exist from before Narciso Yepes was even born, and the earliest known recording of the work dates from a cylinder from around 1900. In the credits of the film Jeux Interdits, however, Romance is credited as "Traditional: arranged – Narciso Yepes." Yepes also performed other pieces for the Forbidden Games soundtrack. His later credits as film composer include the soundtracks to La Fille aux yeux d'or (1961) and La viuda del capitán Estrada (1991). He also starred as a musician in the 1967 film version of El amor brujo.
In Paris he met Marysia Szumlakowska, a young Polish philosophy student. They married in 1958 and had two sons, Juan de la Cruz (deceased), Ignacio Yepes, an orchestral conductor and flautist, and one daughter, Ana Yepes, a dancer and choreographer.
In 1964, Yepes performed the Concierto de Aranjuez with the Berlin Philharmonic Orchestra, premièring the ten-string guitar, which he invented in collaboration with the renowned guitar maker José Ramírez III.
The instrument made it possible to transcribe works originally written for baroque lute without deleterious transposition of the bass notes. However, the main reason for the invention of this instrument was the addition of string resonators tuned to C, A#, G#, F#, which resulted in the first guitar with truly chromatic string resonance – similar to that of the piano with its sustain/pedal mechanism.
After 1964, Narciso Yepes used the ten-string guitar exclusively, touring all six inhabited continents, performing in recitals as well as with the world's leading orchestras, giving an average of 130 performances each year. He recorded the Concierto de Aranjuez for the first time with the ten-string guitar in 1969 with Odón Alonso conducting the Orquesta Sinfonica R.T.V. Española.
Apart from being a consummate musician, Yepes was also a significant scholar. His research into forgotten manuscripts of the sixteenth and seventeenth centuries resulted in the rediscovery of numerous works for guitar or lute. He was also the first person to record the complete lute works of Bach on period instruments (14-course baroque lute). In addition, through his patient and intensive study of his instrument, Narciso Yepes developed a revolutionary technique and previously unsuspected resources and possibilities.
He was granted many official honours including the Gold Medal for Distinction in Arts, conferred by King Juan Carlos I; membership in the Academy of "Alfonso X el Sabio" and an Honorary Doctorate from the University of Murcia. In 1986 he was awarded the Premio Nacional de Música of Spain, and he was elected unanimously to the Real Academia de Bellas Artes de San Fernando.
In the 1980s, Narciso Yepes formed Trio Yepes with his son Ignacio Yepes on flute and recorder and his daughter Ana dancing to her own choreography.
After 1993, Narcisco Yepes limited his public appearances due to illness. He gave his last concert on 1 March 1996 in Santander (Spain).
He died in Murcia in 1997, after a long battle with lymphoma.