MONGO SANTAMARÍA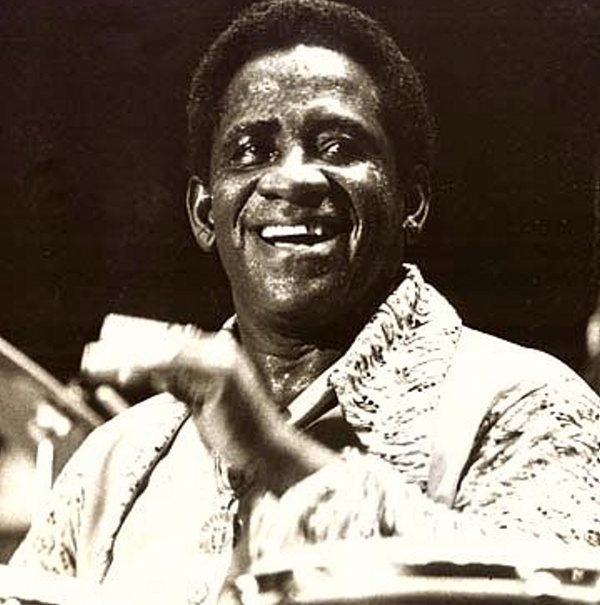 Biography
Mongo santamaría, Ramón "Mongo" Santamaría Rodríguez (April 7, 1922, in Havana, Cuba – February 1, 2003 in Miami, Florida) was a rumba quinto master and an Afro-Cuban Latin jazz percussionist. He is most famous for being the composer of the jazz standard "Afro Blue," recorded by John Coltrane among others. In 1950 he moved to New York where he played with Perez Prado, Tito Puente, Cal Tjader, Fania All Stars, etc. He was an integral figure in the fusion of Afro-Cuban rhythms with R&B and soul, paving the way for the boogaloo era of the late 1960s. His 1963 hit rendition of Herbie Hancock's "Watermelon Man" was inducted into the Grammy Hall of Fame in 1998.
Mongo Santamaría was one of a handful of Cuban congueros ("conga players") who came to the United States in the 1940s and '50s. Other notable congueros who came to the U.S. during that time include Armando Peraza, Chano Pozo, Francisco Aguabella, Julito Collazo, Carlos Vidal Bolado and Modesto Durán. Many consider Santamaría to have been the greatest conga drummer of the twentieth century.
Mongo Santamaría inspired the stage name of Japanese actor Yūsuke Santamaria. Additionally, his name is used as a pun in the film Blazing Saddles. When the character Mongo enters a scene, a Spanish-speaking peasant cries, "Mongo! Santa Maria!" before fleeing in terror.
He is buried in Woodlawn Park Cemetery and Mausoleum (now Caballero Rivero Woodlawn Park North Cemetery and Mausoleum) in Miami, Florida.
Mongo Santamaría learned rumba as a kid in the streets of Havana's Jesús María barrio. He reminisced: "In the neighborhood where I came from we had all kinds of music, mostly from Africa. We did not leave it alone; we changed it our way. The music we made dealt with religion and conversation. The drum was our tool and we used it for everything" (1979: 19). Gerard points out: "Santamaría, like other drummers of his generation, learned music in the streets by observing different drummers. When he started playing professionally, he learned on the job. His approach was utilitarian, not theoretical" (2001: 29). Santamaría was mentored on bongos and rumba quinto by Clemente "Chicho" Piquero, who played in Beny Moré's band. He recalled: "I would go with Chicho and play the tumbadora and also the [quinto]. I would play everything because I learned a lot from Chicho—because he could play everything" (2001: 137).
When Mongo Santamaría soloed in jazz, you heard brilliant phrasing with roots firmly in the folkloric rumba, the authentic rumba of the street where he grew up. In addressing that authenticity, he once told Downbeat Magazine: "You can't learn to play things like guaguancó here…. You have to have been where it came from…. You can't listen to records and get those feelings" (1977: 48). Mongo Santamaría recorded some of the very first recorded folkloric rumbas. Because he recorded for mainstream jazz labels, his folkloric records were consistently available to the public. Santamaría's albums tended to list the personnel and their instruments; so record buyers came to know other Cuban rumberos, such as Armando Peraza, Francisco Aguabella, Julito Collazo, Carlos Vidal Bolado, Modeto Duran and Pablo Mozo. The 10 inch 33 1/3 rpm phonorecord Afro-Cuban Drums by Santamaría was recorded in SMC's New York City studios on November 3, 1952. Santamaría's next recordings with folkloric rumba were on Changó (re-issued as Drums and Chants) recorded in New York (1954). Yambú (1958), Mongo (1959), and Bembé (1960) followed.
Santamaría's quinto phrasing was dynamic and creative; he had an unmistakable sound, that was uniquely his own. He did not analyze his personal style: "When I play I don't know how I do it, or what I do … I just play" (2001: 29). The following example is an excerpt from a quinto performance by Santamaría on his composition "Mi guaguancó" (1959). The excerpt shows variations on two main motifs, marked as A and B. Santamaría's repetition of what is typically a secondary phrase (B), makes it the primary motif here.