MILES DAVIS
Biographie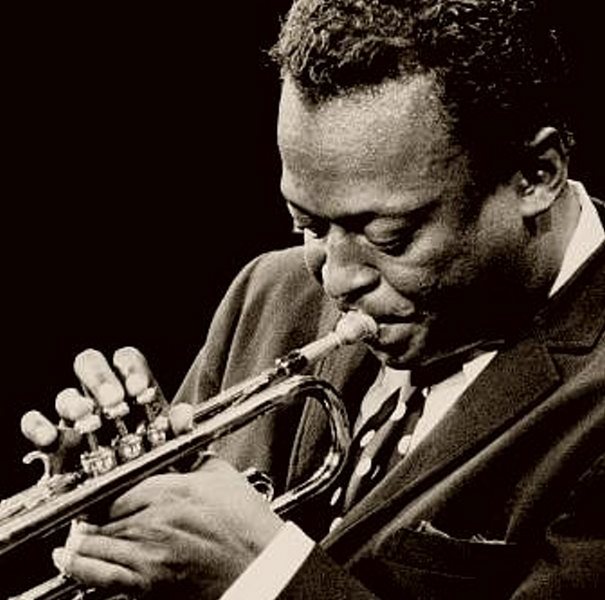 Miles Davis, Miles Dewey Davis was born on May 25, 1926 in Alton, Ill. and moved to East St. Louis, Ill. when he was a child. By the age of 10 Davis was playing trumpet, later performing in his high school band and several local jazz groups.
In 1944 at the age of 18, Miles Davis traveled to New York to study at the Julliard School of Music. Shortly after his arrival, he was playing in clubs with Charlie Parker, and by 1945 he had abandoned his academic studies for a full-time career as a jazz musician, initially joining Benny Carter's band and making his first recordings as a sideman. He played with Eckstine throughout 1946-1947 and was a member of Parker's group in 1947-1948, making his recording debut as a leader on a 1947 session that featured Parker, pianist John Lewis, bassist Nelson Boyd, and drummer Max Roach. In January 1949 he recorded "Birth of the Cool", his first great album with arranger Gil Evans, Gerry Mulligan, Lee Konitz, J. J. Johnson and pianist John Lewis. However, Columbia did not release the LP until February of 1957.
During the early 1950s, Davis struggled with an addiction to heroin and released a string of albums recorded in the innovative style of hard bop. In 1955, he kicked his drug habit and began a comeback that was marked by an appearance at the Newport Jazz Festival. In 1958, Davis was reunited with Coltrane in a sextet, also including bassist Paul Chambers, pianist Bill Evans, alto saxophonist Cannonball Adderly, and drummer Philly Joe Jones. With this classic backing band, Davis recorded "Milestones" and "Kind of Blue". He was reunited with Gil Evans in a series of discs including "Porgy and Bess" and "Sketches of Spain" that pitted Davis's solo trumpet against a large jazz orchestra.
In the 1960s he formed a new quintet with Wayne Shorter, Herbie Hancock, Ron Carter and Tony Williams that set the standard for the decade's small group jazz, and it drew him towards a freer approach to rhythm and his first experiments with rock beats. In the late 1960s with new bandmembers Chick Corea Keith Jarrett, Dave Holland and Jack DeJohnette, he moved into a period of further experiment with free jazz and fusion including the discs "In A Silent Way" and "Bitches Brew".
In 1975, Miles Davis abruptly announced his retirement, which was reportedly due to his poor health after years of drug and alcohol abuse. Nevertheless, he returned in 1981 with a new band and released a series of popular electrified funk arrangements of jazz. After emerging from retirement, Davis toured and recorded intermittently throughout the 1980s. In 1989, he published an acclaimed autobiography, Miles, written with the poet Quincy Troupe. He played right through the summer of 1991 at various international events, including – for virtually the only time in his career – reunions with members of his former bands, as well as a Montreux concert of his Gil Evans collaborations.
In September 1991, Miles Davis went into hospital in Santa Monica, California for, what he described to his friends, as a 'tune-up'. On the 28th of that month, he died from pneumonia and a respiratory failure