MIKLÓS RÓZSA
Biographie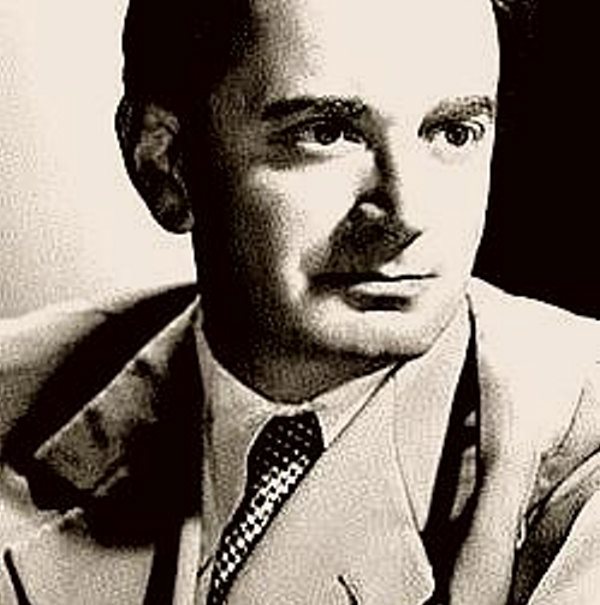 Miklós Rózsa
  (18 April 1907 – 27 July 1995) was a Hungarian-born composer trained in Germany (1925-1931), and active in France (1931 – 1935), England (1935-1940), and the United States (1940-1995), with extensive sojourns in Italy from 1953. Famous for his nearly one hundred film scores, he nevertheless maintained a steadfast allegiance to absolute concert music throughout what he called his "double life."
Miklós Rózsa  achieved early success in Europe with his orchestral Theme, Variations, and Finale (Op. 13) of 1933 and became prominent in the film industry from such early scores as The Four Feathers (1939) and The Thief of Bagdad (1940). The latter project brought him to America when production was transferred from wartime Britain, and Rózsa remained in the United States, becoming an American citizen in 1946. His notable Hollywood career earned him considerable fame, including Academy Awards for Spellbound (1945), A Double Life (1947), and Ben-Hur (1959), while his concert works were championed by such major artists as Jascha Heifetz, Gregor Piatigorsky, and János Starker.
Miklós Rózsa was born in Budapest and was introduced to classical and folk music by his mother, Regina Berkovits, a pianist who had studied with pupils of Franz Liszt, and his father, Gyula, a well-to-do industrialist and landowner who loved Hungarian folk music. Rózsa's maternal uncle Lajos Berkovits, violinist with the Budapest Opera, presented young Miklós with his first instrument at the age of five. He later took up the viola and piano. By age eight he was performing in public and composing. He also collected folksongs from the area where his family had a country estate north of Budapest in an area inhabited by the Palóc Hungarians.
Miklós Rózsa  found Budapest culture constraining and sought to study music in Germany. He enrolled at the University of Leipzig in 1925, ostensibly to study chemistry at the behest of his father. Determined to become a composer, he transferred to the Leipzig Conservatory the following year. There he studied composition with Hermann Grabner, a former student of Max Reger. He also studied choral music with (and later assisted) Karl Straube at the Thomaskirche, where Johann Sebastian Bach had once been the organist. Rózsa emerged from these years with a deep respect for the German musical tradition, which would always temper the Hungarian nationalism of his musical style.
Rózsa's first two published works, the String Trio, Op. 1, and the Piano Quintet, Op. 2, were published in Leipzig. In 1929 he received his diplomas cum laude.[3] For a time he remained in Leipzig as Grabner's assistant, but at the suggestion of the French organist and composer Marcel Dupré, he moved to Paris in 1932.[4]
In Paris, Rózsa composed classical music, including his Hungarian Serenade for small orchestra, Op. 10 (later revised and renumbered as Op. 25) and the Theme, Variations, and Finale, Op. 13, which was especially well received and was performed by conductors such as Charles Munch, Karl Böhm, Georg Solti, Eugene Ormandy, and Leonard Bernstein.
Miklós Rózsa  was introduced to film music in 1934 by his friend, the Swiss-born composer Arthur Honegger. Following a concert which featured their respective compositions, Honegger mentioned that he supplemented his income as a composer of film scores, including Les Misérables. Rózsa went to see it and was greatly impressed by the opportunities the motion picture medium offered.
However, it was not until Rózsa moved to London that he was hired to compose his first film score, that for the film Knight Without Armour, produced by his fellow Hungarian Alexander Korda. After his next score, for Thunder in the City, he joined the staff of Korda's London Films.
In 1939
Miklós Rózsa
  travelled with Korda to Hollywood to complete the work on The Thief of Bagdad. The film earned him his first Academy Award nomination. A further two followed in 1940 for his scores to Lydia and Sundown. In 1943 he received his fourth nomination for Korda's Jungle Book.
In 1944, Rózsa scored Double Indemnity, the first of several collaborations with acclaimed director Billy Wilder. This score, and that for Woman of the Town, earned him Academy Award nominations in the same year. The Oscar, however, was won by Max Steiner for Since You Went Away.
In 1945 Miklós Rózsa  was hired to compose the score for Alfred Hitchcock's film Spellbound, after Bernard Herrmann became unavailable due to other commitments. The score, notable for pioneering the use of the theremin, was immensely successful and earned him his first Oscar. However, Hitchcock disliked the score, saying it "got in the way of his direction". Two of his other scores, The Lost Weekend and A Song to Remember, were also nominated that year. Rózsa, who also reportedly hated the interruptions and interference by producer David O Selznick, never worked for either Hitchcock or Selznick again.
Miklós Rózsa
  earned another Oscar nomination for scoring The Killers (1946). He received his second Oscar the following year for A Double Life. In 1947 he and Eugene Zador orchestrated music by Nikolai Rimsky-Korsakov for the film Song of Scheherazade, about a fictional episode in the composer's life. Rózsa also wrote original music for the film.
Madame Bovary (1949) was Rózsa's first important score for Metro-Goldwyn-Mayer, which produced most of the future films that he scored. Other popular scores that he composed for MGM pictures include Quo Vadis (1951), Ivanhoe (1952), Ben-Hur, King of Kings and The V.I.P.s. For Ben-Hur he received his third and final Oscar. His final two nominations (one each for Best Original Score and Best Original Song) were for the Samuel Bronston film El Cid.
In 1968 Rózsa was asked to score The Green Berets, after Elmer Bernstein turned it down due to his political beliefs. Rózsa initially declined the offer, saying, "I don't do westerns." However, he agreed to compose the score after being informed, "It's not a Western, it's an 'Eastern'." He produced a strong and varied score, which included a night club vocal by a Vietnamese singer Bạch Yến. However, one cue which incorporated stanzas of "Onward Christian Soldiers" was deleted from the final edit of the film.
Rózsa's last film score was for Dead Men Don't Wear Plaid (1982), a comic homage to the film noir of the 1940s, a genre to which Rozsa himself had contributed decades earlier. Although Rózsa's career as a composer for films ended following a stroke he suffered while on holiday in Italy later that year, he continued to compose various concert pieces thereafter. He returned to California at the behest of his son, and remained sequestered at his home for the remainder of his life.
Miklós Rózsa  died on 27 July 1995 and is buried at Forest Lawn in the Hollywood Hills