MARLENE DIETRICH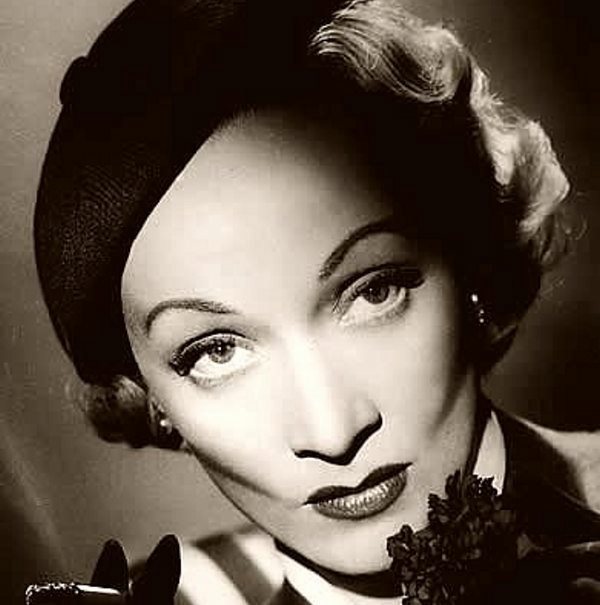 Biography
Marie Magdalene Dietrich,  Marlene Dietrich ( Berlin, 27 of December, 1901 – Paris, 6 of May, 1992 ) was one Singing actress and German that adopted the American nationality . of is considered like one of Myths Seventh Art .
Been born in the district Berliner from Schöneberg, Germany, was daughter of Louis Erich Otto Dietrich and Wilhelmina Elisabeth Josephine Felsing. It was a sister two years old older than Elisabeth call. Marlene Dietrich touched Violin before entering the school of interpretation of Max Reinhardt in 1921 . Cinema made its debut in later two years (although Historians insist on which Dietrich appeared like extra in German Filme of 1919 ). After beginning his race in German films (while danced in addition in choirs to Night club and some smaller works), it obtained a paper in the first European film sonorous, the blue angel ( 1930 ), directed by Josef Von Sternberg .
Josef von Sternberg constructed around Marlene Dietrich the myth of Diva, since public devotion rendered to him.
Traveled to Hollywood to roll Morocco (1930), by which received its unique nomination to the prize Oscar . Its contribution to History of the remembered cinema more is as stars in several films directed by Bon Sternberg at the beginning of Years 1930, such as Imperial Whim and Expreso de Shanghai, in which femmes interprets to fatal . In Weak is to they woman ( the Devil was woman ), based on a story of Pierre Louys, incarnated to one Spanish " of it breaks and it tears ", with topical manifolds that motivated the protests of the government of II Spanish Republic ; the film was prohibited in the country.
Gradually Marlene extends its repertoire in Arizona, Berlin the West and Witness of position (under the direction of Billy Wilder ), Thirst of evil ( evil Touch of ) and Winning or overcome . was possessing of the title of the perfect legs, as much that they were assured by a million dollars. was the unique star able to make shade to the colossal sparkle of Greta Garbo, with which lived a lésbica relation in its youth. Their overwhelming undeniable presence and Glamor did of authentic Marlene one of divas in the history of the cinema.
Marlene Dietrich sang in several of its films; very señaladamente in the blue angel, of Bon Sternberg, in which he sings again Enamoring to me (in German, Ich bin Bon Kopf twice Fuss auf Liebe eingestellt ), recorded in Germany in 1920s . After a loose stage in its race, recorded several discs for Decca, Elektrola, EMI and Columbia . Its characteristic voice was soon satirized in some songs . In addition, in Winning or overcome it has a beautiful scene in which walks by the street with the actor Spencer Tracy and listen to like basic music of a German tavern the famous song Lili Marlene that it popularized and who she herself translates to the English in the film.
In 1937, at the same time as its cinematographic race paused, Dietrich nationalized North American. In 1941, during World War II, Dietrich was one of first stars in collecting American bonds military, besides entertaining to the troops in the front, and was very well-known by its strong political convictions. One firm anti was Nazi that despised the anti-semitic policies of its time. even recorded several antiNazi discs in German, including Lili Marlene, a peculiar example of a song transcending hatreds of the war. In addition was called on musical mountain range to entertain the troops and sang for the allies in Algeria, France and in Germany with the generals James M. When they asked to him it had done why it in spite of the evident danger, " answered its famous phrase already; aus Anstand" (" by decencia").
Unlike his professional life, carefully handled, it maintained his personal life remote of the public. Marlene was famous by his pulcra appearance, its good one for dressing (imposed the fashion of the feminine pants) and its image of femme fatale, was icon of the elegance and glamor, always appeared like part of the jet hollywodense Seth.
Rudolf Sieber married with the director assistant, catholic that later became director of Paramount Pictures in France .
Her unique daughter, Maria Elisabeth Sieber (name as a married person, Maria Riva ), was born 13 from December, 1924 . When Maria Riva gave to light to a son in 1948, Dietrich received the nickname of " the glamourosa grandmother of mundo". The great love of the actress, nevertheless, was the actor and hero French Military man Jean Gabin .
Maria Sieber (Riva, when married), presented one controverted and impressive biography her mother " Marlene Dietrich by its daughter, Maria Riva ", where it emphasizes several sexual privacies of the actress, facets unknown of her and the hollywoodiense atmosphere of the time.
Additionally, Dietrich demonstrated to be Bisexual and had romances with Women Mercedes of Acosta, Claudette Colbert and, supposedly, mythical Greta Garbo and Maria Felix, besides many Men like Yul Brynner . Which was even said of her that never it liked Sex really, was confirmed when the book of its daughter was published, Maria Sieber in who speaks of the sexual tastes of her famous mother. In spite of having numerous lovers, the practice of the sexual act never liked absolutely to Dietrich.
Of Years 1950 in the middle of Years 1970, Dietrich made international tours like great actress of Night club . Its repertoire included songs of its films, as well as folksongs of that one then. Until half of Years 1960, its musical director was the famous composer Burt Bacharach . Their adjustments helped to disguise his limited voice rank and they allowed him to interpret its songs to the maximum degree of dramatic effects.
Spectacular clothes (of Jean Louis ), suits of Latex, carefully used lights, and – one rumors slight unexpected face strechings (stretching his tight skin when becoming and tense sensual braids and soon putting Wigs helped, it to still conserve their glamorosa image to certain age.
In 1968, received Tony Prize by its spectacle of theater, and this one was transmitted by television in 1973 .
Its race in Spectacle finished in 1974, when broke one Leg in Scene . briefly appears in the film Gigoló, 1979 . In addition, it wrote and it contributed to several Books in Years 1980 . in rest in its apartment in the Montaigne avenue mainly spent its last Decade of Paris, France, time in which was not seen in public, but was very become fond of to write letters and to call by telephone. Maximilian Schell persuaded it to be interviewed for its documentary of 1984 Marlene, but it did not appear in screen. It was not much in contact with the enemy with its daughter, Maria Riva, that competed with her in the same scopes, but with its grandson, Peter Riva. Its husband, Rudolf Sieber, died of Cancer 24 of June of 1976 .
In an interview for German Magazine Der Spiegel in November of 2005, their daughter and grandson affirmed that Marlene Dietrich was politically " activa" during those years; it maintained telephone contact with prominent governors, spending more than 3,000 monthly dollars in telephone calls. Their contacts included Ronald Reagan and Mijaíl Gorbachov, although its influence exceeds they is not known. Dietrich died 6 of May calmly of 1992, to the 90 years, in Paris .
His funeral courtship was realized in the church of the Madeleine of Paris before 3,500 dolientes and one multitude outside the temple. Its body, place setting with one North American Flag, was sent to Berlin where was buried in Cemetery policeman of Berlin-Schöneberg, its birthplace. Marlene Dietrich said to the friend who accompanied to him in the dormitory of his luxurious house in Paris, just before dying: "We wanted everything to It, we obtained and it, it is not truth"
In 1994, his Memorabilia was sold to the Film library of the German Foundation (after North American institutions did not show to interest in her) where they were the center of attention of exhibición of the Sony Center of Potsdamer Platz, Berlin .