MARILYN MONROE
Biographie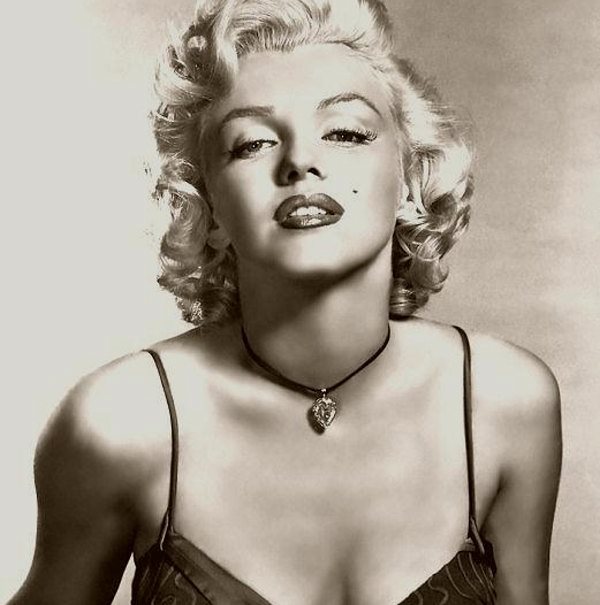 Marilyn Monroe
( Los Angeles, 1 of June of 1926 – 5 of August of 1962 ), whose name of birth was Norm Jeane Mortenson and baptized Jeane Norm Baker, was one American Actress . Considered as one of more important Myths of Seventh Art has happened to be considered like the maximum Sex symbol of Century XX and like the feminine icon of the Culture MGP .
Although Marilyn never mentioned the name of its father, knows that her mother, Gladys Monroe, had several pairs while RKO worked like cutting of Negative in the cinema producer . Among them, the most known he is Martin E. Mortenson, a Norwegian immigrant from whom Marilyn received last name, which takes to deduce that it was his father.
Due to emotional problems of its mother, Marilyn was given in adoption of intermittent way, from the 6 weeks to be born and to the 7 years of age, when her mother took it to a small house that she had bought. A year later Gladys was boarding school in psychiatric by possible suicidal tendencies, which inherited of its father, who passed away in similar circumstances. Marilyn lived obsessed with the idea on to have inherited this disease, especially after being boarding school in several occasions due to its crises of pair. During the psychiatric crises of its mother, the young Jean Norm lived with the Bolender marriage, with neighbors of its grandmother, in an orphanage or with some adoptive family.
In November of 1938, to the 12 years, Monroe shared room with Edith Ana Lower, its friend and aunt of its adoptive mother, to whom it wanted deeply. To the 16 years, and according to the own Monroe, animated by his Edith friend, it decided to marry to be able to leave the orphanage. " lucky " was James E. Dougherty, Irish of 21 years, employee of a aircraft factory. Monroe was given to the task of being a good housewife, until World War II exploded . His husband got up Navy and was sent like instructor to the island Catherine, against Los Angeles . Marilyn accompanied months to him, but later he embarked towards Australia. They would divorce in 1946.
In 1945 a photographer of Navy visited the factory where she worked with her mother-in-law, to make a news article on the work of the women during the war. Monroe was chosen to appear in the photos. The magazine Yank proposes to him to become model. Next is contracted by the agency of models Blue Book.
Possibly it is in those years when Marilyn clears the underworld of Prostitution . Marlon Brando would assure, decades later, that it knew in the streets New York, when she vagaba looking for which gave food him in exchange for sex. It could be then when Pornographic Short recorded, concealed by company, where Felación practiced one to a unknown man. A copy left on sale in 2008, but Fan of the star bought by 1.5 million of Dollars with the promise of never spreading it.
Monroe began its race like model represented by Emmeline Snively, that advised to him to dye the hair to a blond platinum and it said to him that she would be a great seducer for the public. In order to perfect its characteristics, Marilyn sharpened its eyebrows and had an operation Nose .
In 1945 left in the cover more than 30 magazines. She was well-known as " the dream of the photographers ". In July of that same year, Horseradish tree Lyons, head of distribution of 20th Century Fox accedes to interview it and is fascinated. Shortly after the contract by 125 dollars to the week. It changes the name to him by the one of " Marilyn Monroe ": Marilyn was chosen "" in honor to a previous actress, and " Monroe " was the last name as a single person of its mother.
Joe Schenk obtained to its second paper protagonist to him in Ladies of the Chorus ( 1948 ). A year later Monroe accepted to put naked for photographer Tom Kelley, for a calendar that later would be the definitive impulse for its consecration. In 1951 participated in the delivery of Oscar . In 1952 appears in the cover of the magazine Life . In 1953 immortalized its tracks in the cement of the entrance in Hollywood Boulevard, along with Jane Russell .
In December of 1953 appeared in the cover of the first number of Playboy being, therefore, first small of the month of the magazine, with the famous photography gilded Dreams where it showed its measures of 37-23-36 (in Centimeters 94-58-92). This magazine dedicated to five times the cover to him, and the last occasion was in the edition of December of 2005, which has recent information on its death.
Although Monroe radiated sensuality and before the cameras it appeared like a safe woman, in fact suffered a pathological insecurity. This insecurity and its delays and absences caused great losses to the producers, that began to get exasperated. In 1954 began to study scenic arts with Lee Strasberg, director of Actor's Studio in New York . In that same year next to photographer Milton Green created Marilyn Monroe Productions, to secure to major control on its contracts. Its new company produced Bus Stop ( 1957 ) and the prince and corista ( 1957 ), this last one directed and cocarried out by Laurence Olivier . In 1955 the Fox interposes a demand to him by contract breach, but in that same year it again signs with this study, receiving finally 8 million dollars by a total of seven films. In 1956 Monroe married with the dramatist Arthur Miller, that especially wrote for Monroe script of The Misfits . This would be its last film. Still married with Arthur Miller, Monroe fell in love with Yves Montand, husband of Simone Signoret, with that shared poster in the multimillionaire . Monroe and Arthur Miller divorced in 1961 .
In 1960 Monroe was awarded with Gold Globe to best Actress of comedy . In 1961 is boarding school in Clinical psychiatric Payne of New York by a depressive crisis.
The following year bought its house in Santa Monica, in Los Angeles . In that year the running of its last film begins, unfinished Something's Got to Give, cocarried out by Dean Martin and directed by George Cukor . The Fox trusted this project to adjust his economy, since the company threatened to break, due to the extreme expenses that the film was generating Cleopatra . Not in vain Monroe had been during one decade the most profitable star of the Fox from Shirley Temple . But Monroe was delicate of health, with frequent sinusitis, bronchitis, and symptoms more and more marked of insecurity. Their absences caused that the film was delayed more and more, and the Fox could not be allowed more losses.
In 1962 took place, in New York, the finery by the birthday of the president John F. Kennedy, in which Monroe sang " to him; Happy Birthday Mr. President " (Happy Birthday), that he would become so famous. In order to go to this finery, Monroe it was absented during 7 days of the running, although the Fox demanded to him that it remained to fulfill his work. In 1962 the Fox terminates its contract due to its repeated absences and delays, dismissing it of the running of Something's Got to Give, that directed George Cukor . The Fox tries to complete the film using to another actress, but Dean Martin is against, reason why to the Fox it does not have left more remedy than to re-admit to Monroe.
In 1962 appears the last interview of Monroe in the magazine Life . 4 of August of that same year had been very contented. To 9 at night it gave good night its servant, Eunice Murray.
To the 10:30 hours an ambulance parked near the place. The actress still was alive; she does not explain herself therefore that made that ambulance in that one place, 5 hours before the death of the actress.
Before his death, according to it is said, Robert F had lived a romance with . Kennedy, and the sudden decision of this last one to leave it could it have impelled to consume an overdose of Barbiturates . The fact is that the clan Kennedy never accepted that John and Robert Kennedy were related to her, fundamentally by the intervention of J. Edgar Hoover, that suspected that the actress maintained dangerous relations with Communists of the time, who increased themselves while she maintained his friendship with the Kennedys. It, supposedly, owned information that could affect them seriously.
Its decease was covered with I pull ahead of mystery. It was found without life by his servant, tended on the bed undresses and mouth down, with the offed-hook telephone (never it was known to whom treatment to call), in its house 5 of 3 August of 1962 to and average of the dawn, at the age of 36 years. The ambulance, that took parked 5 hours, nurses left, who entered escorted by personages of the government and went first in entering the department. An adviser of the department believed to recognize Robert Kennedy. The police report described the event like probable suicide, although other possibilities have been shuffled, including the one as the murder. A witness affirmed that, while the body was distant, one of the presumed nurses applied an injection between the chests of the actress already passed away. Many conjectures of murder have pointed at the family Kennedy and J. The autopsy never revealed the smaller barbiturate sign in the stomach of the actress, and their vital organs, that were extracted for a more concientious analysis, disappeared mysteriously.
Three days later, Joe DiMaggio, its second husband, celebrated the funeral in private. Lee Strasberg pronounced the following words of goodbye: " it cannot say goodbye to Marilyn, never liked to say goodbye. But, adopting its particular way to change the things thus to be able to face the reality, I will say "good bye". Because all we will visit the country someday for where it has divided ".
Their rest are in Cemetery Westwood Memorial Village Park of Los Angeles, Californian .