MARAIS & MIRANDA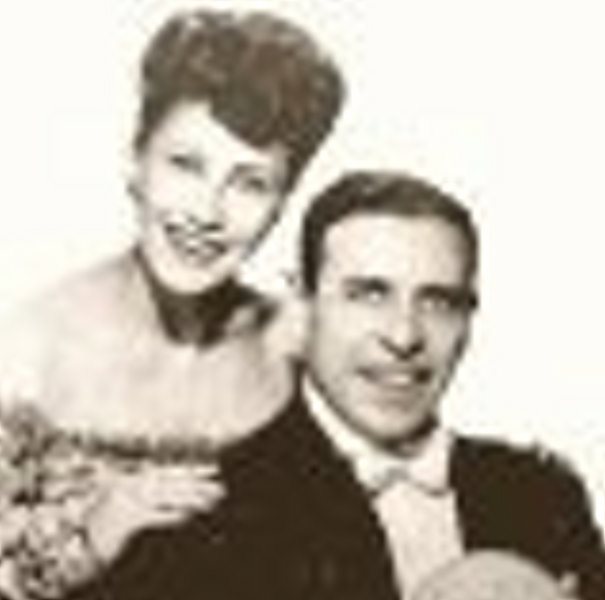 Biography
Marais & Miranda
first met in New York City in the early 1940's.
He was a native of South Africa, working in the Office of War Information (OWI) on the South African desk, although he was also an accomplished ballad singer of some renown.
She was an immigrant from the Netherlands named Rosa de Miranda. They met when she applied for a job as a Dutch translator, although she was also a talented singer with a rich musical heritage.
They were brought together by the similarity of the tongues they spoke, little knowing that they also shared the more potent language of song.
Rosa (who Josef Marais then referred to as "Miss Miranda,") wore a bright red, feathered hat to her job interview. Mr. Marais, the supervisor conducting the interview, looked at the hat with some skepticism, and gave "Miranda" a particularly rigorous translation to execute on an old Remington typewriter. Miranda passed the test with flying colors.
It is ironic that Miranda worked with him for the next three years, as news editor and translator for the Afrikaans and Dutch division, without Josef's knowledge that she was even remotely connected with music.
Josef had been doing a regular weekly radio broadcast, "African Trek," on the NBC Blue Network, in which he and his Bushveld Band performed South African favorites. It was not only broadcast in the US, but also short-waved to Africa. The program probably had the support of OWI, who wished to entice Afrikaners to tune in to the equivalent of the "Voice of America" and remain on the allied side, and in this it was successful.
One day, when Josef was rehearsing with the Bushveld Band, Miranda entered the studio, and, upon hearing some of her beloved Dutch songs, impulsively joined in. Instead of being annoyed at her presumption, Josef encouraged her. She improvised harmonic counterpoint and her exemplary musicianship further intrigued Josef. Ultimately, Josef invited "Miss Miranda" to join him in recording a few songs in several languages, as duets.
As time went on, the couple fell in love. Rosa was a married woman with two children, but the marriage had been failing for some time. The stress of establishing life in a new country, and of their relatives being trapped in Europe as the Nazis swept through had taken its toll on Rosa and her husband Bram.(See Miranda's biography.) When the US entered the war, he had volunteered, and although he was honorably discharged in 1943, the separation doubtless had its effect too. The already shaky marriage was now totally undermined and the two childhood sweethearts were divorced in 1944, in the state of New York.
Josef and Rosa became singing partners in a new professional relationship. Rosa had decided to use the last part of her former married name as a single name. On the first record album she made with Josef, in 1946, the artist credits read "Josef Marais and His Bushveld Band, with Miranda." Later releases were labeled "Josef Marais And Miranda." When the couple later did marry, her legal name became Miranda Marais.
Also, in July of 1946, Josef's radio program "African Trek" was brought back on the ABC radio network (the successor to the old NBC Blue Network) as a 15 minute broadcast on Saturdays at 10:15 PM. It continued until March 15, 1947.
When that recording, the first by this new union, was released it received enthusiastic public support. Josef and Miranda now felt encouraged to explore a career together as Balladeers.
Their first audition was for an appearance at New York City's "Village Vanguard". The ensuing booking was so successful that the initial 6 week engagement was renewed several times. Then followed similar engagements at other N.Y. night clubs: "The Blue Angel", and "Le Ruban Bleu".
But there were other considerations which made the couple somewhat reluctant to continue exclusively in night clubs. Josef and Miranda decided to make a daring investment and give a recital at N.Y. "Town Hall", a prestigious venue, and one of considerable challenge for the inexperienced couple. Although the hall was not full, the performance was a resounding success and the glowing reviews which followed that first concert performance were so positive that the couple decided to follow a concert career. Their image was one of young lovers who sang romantic ballads together, which were interspersed with humorous tunes, and native African songs.
In the latter part of 1947, Josef & Miranda moved, with the two children, to Los Angeles. Miranda's first husband, Bram was engaged upon a new and separate life. Because Josef and Miranda's west coast career was just beginning, they agreed to postpone their ambitious goal of focusing on concerts until they were more widely known. To that end, they accepted various theater dates which included a run at the Coronet Theater, and one at the Las Palmas Theater.
In 1948 they were offered a role in a Hal Wallis film, "Rope of Sand," which starred Burt Lancaster, Paul Henreid, Claude Rains, Peter Lorre, Corinne Calvet, and Sam Jaffe. They portrayed themselves, as nightclub singers in a South African dinner club, and performed two of Josef's compositions, "The Zulu Warrior" and "As the Sun Goes Down". The fee for their performance in the film was enough to provide the down payment on a simple California bungalow in the Franklin Hills of Los Feliz.
In 1948, while performing in the San Francisco area, they approached Humphrey Bogart, who was having dinner at the same restaurant. A conversation ensued with the result that they were invited aboard his yacht. They sang some songs and were reinvited, along with Miranda's son, the next day.
With continuing success on the west coast, they were approached by the impresario, Mary Bran about a recital at the Wilshire Ebell Theater in Los Angeles. That theater was exactly the type of venue the couple sought, and their appearance there was repeated virtually every other year for perhaps 12 years. They also had a long run on a radio show, The Meredith Wilson Show. Mary Bran continued to represent them locally for several years when they were approached by NCAC, and later Columbia Artists management for subscription concert offerings. They performed for both agencies and spent years "on the road" gaining a loyal following in the U.S.
Miranda was uncomfortable flying, so virtually all travel was done by train. On one concert tour, they found themselves in a tiny town where they needed to make a quick train connection to another small town. The train was "The Chief", the famous line from Chicago to the West Coast that had been a mainstay of transcontinental travel since well before the commercial aviation era. (The saying among vaudevillians of an earlier era had been, "Never buy anything you can't take on The Chief.") When they inquired at what time "The Chief" would stop for them, the station master said, "The Chief don't never stop in this here town, … never has, 'n' never will." Upset, but also undaunted, they remained intent upon catching "The Chief". The next afternoon they arrived at the empty train platform, for there was no station as such. Several loyal fans from town, grateful for the preceding evening's performance gathered pessimistically in the desperate hope that some miracle would intervene. In the distance the rumble of the train could be heard, and when it finally appeared, it stopped, for the first time ever in that little town, to admit only two passengers, Josef, and Miranda Marais.
Josef and Miranda enjoyed many years of successful concertizing. They even sang for President Truman. They had many articles written about them, including one in Esquire magazine, and of course, they made numerous records for various major labels.
Around 1950, they were engaged by the Turnabout Theater to substitute for Elsa Lanchester. Their run there lasted several months and was highly successful. (To learn more about The Turnabout Theater, go to http://dbase1.lapl.org/turnabout/)
In May of 1950, the University of Southern California established "Idyllwild School Of Music And The Arts", (Isomata) as a summer camp for young people. Max Krone, the Dean at that time of the U.S.C. Music Dept., was the director. He engaged Josef and Miranda to be on the staff. They gladly accepted, and became a fixture there, every summer, for many years.
Josef wrote the music for a "folk opera", "Tony Beaver," in 1952, with libretto by Max Berton. Both of Miranda's children were enlisted to perform in the premier at Isomata, in the San Bernardino mountains of southern California.
In 1953 Josef wrote the music for another play, "African Heartbeat," the story for which was written by Charles ( Blackie ) O'Neal. ("Blackie" is the father of actor Ryan O'Neal.) "African Heartbeat" was a love story based upon the Boer War in South Africa. Again, Miranda's daughter, Yvonne, was selected to perform the female lead opposite Paul Mayo.
Marais & Miranda had a close friend, Adrian Van der Horst who was a bohemian in the truest sense of the word. Adrian spent years with the Spanish gypsies, learning their culture, and music. As a result of their confidence, he was called Arai by them, which means something like "one of us in spirit, though not of our blood". When he returned to Los Angeles, he lived above a candle shop in the famous Olvera Street, and made a living by selling hand crafted leather and silver items. But he was also encouraged by Josef to write a beginner's book for would be guitarists. Josef wrote the forward to Arai's book, "Learning the Classic Guitar" which was published by G. Schirmer in 1954.
Marais and Miranda, at home in Los Angeles with Marcel de Miranda and his wife, Jutta
Click for larger image
During a transatlantic crossing, Miranda, ever flirtatious, asked Josef if he would mind if she asked a tall handsome bearded man on board, to dance. Josef said fine, and when Miranda asked with whom she had the pleasure of dancing, the man answered, Burt Lancaster. She hadn't recognized him with a beard, but reminded him that she and Josef worked on the same film, "Rope of Sand,", with him in 1949.
In October of 1955 a TV special on Albert Schweitzer offered Josef the opportunity to continue writing for larger groups. His music, which was based on indigenous African themes served the film very well. At Isomata, Josef took the role of the painter, Tintoretto in a play about that artist. This provided a taste of theatrical roles to come later through their collaboration with the renowned author, Norman Corwin in "Overkill And Megalove,".
Later in their career, Miranda thought she would give try to learn to play the Berda, a bass guitar about the size of a cello. Because the strings were very tight, Miranda felt some physical discomfort. Josef was startled to hear the audience laugh when unbeknownst to him, Miranda played the Berda wearing a leather glove! She was the only Berda player listed in the musician's union book.
In 1961 Marais and Miranda produced an album for MGM called, "A European Folk Song Festival." The following quote is of Josef's words as printed on the record jacket: "In this program of the unexpected, there is one switch from the usual. If you think you hear Miranda singing harmony with herself, you have a pretty keen ear. However, the voice is that of a new ballad singer in the family, daughter Yvonne. In keeping with the spirit of the occasion, her debut is the result of some spontaneous family singing. When she heard her father and mother singing The Holiday Song (which closes this program), she joined in and blended perfectly…."
That same year, they collaborated on two unusual albums, "Nature Songs" and "More Nature Songs," tunes about animals, plants and the natural world – which espoused environmentalism more than a decade before that concept became publicly popular – created by the noted song-writers Hy Zaret and Lou Singer for the "Singing Science" series on Motivation Records. While it was a departure for Marais and Miranda, one of the few times they performed material not stemming from the folk tradition, it is indicative of their continuing interest in the relationship between music and education.
Josef and Miranda spent so many summers in Idyllwild, teaching at Isomata, that they decided, in 1962, to build a small mountain home there, on Double View Drive. During construction of the fireplace, friends and fans were invited to contribute their special rocks, which became mortared in place and provided a unique quality to their home where they spent many summers, teaching.
Because they were on tour for so much of the year, they had little time to check the house. Once, to their surprise, they returned to find grass growing in the living room carpet, a sight so unusual it brought photographers to document this aberration. The grass seeds which inevitably get tracked in to a home in the "wilds" had lodged in the carpet. A leaky roof had supplied ample moisture to germinate the seeds.
Because so many of their albums were out of print by 1963, the couple decided to produce their own tapes in the music studio attached to their L.A. Home. These tapes filled a need for a loyal following who wished to have some record of Marais and Miranda.
In October of 1965, at the Bowman Arts Theatre in Idyllwild, Josef and Miranda produced their own recording, "Open Air Concert." The beginning introduces four limericks by, "Norman, (Corwin ) our dearest friend…" Another recording in the 60's was "Our House is Upside Down" (1969), with the addition of the vocal talents of Carol Merrill.
In the ensuing years, Josef pursued a broader range of musical composition. Their close friend Norman Corwin, (the writer often considered the finest practitioner of radio drama) was a frequent collaborator. Their work together included Corwin's play "Overkill and Megalove" (1967) and the film "Land of the Book" (1968, directed by Ray Garner). Other stage works featuring Josef's music were Robert Lowell's "Old Glory" (1966) and "Long Live The Bruegel People" (1972). Josef's other compositions included "The Hebraic Rhapsody" and the "Paul Gauguin Suite."
They continued to be actively involved in education. One unusual outgrowth of this interest was their contribution to the Singing Science project for Motivation Records. The two albums "Nature Songs" and "More Nature Songs," were an attempt to stimulate science education with music.
In 1973-4, they toured Europe and Israel for 1 1/2 years. In October 1975, they celebrated the 30th anniversary of their joint singing career. It had taken them a long way, geographically, artistically, and emotionally. The following year, Josef and Miranda decided to bid farewell to professional concertizing, although they continued to perform in schools.
Josef died in Los Angeles on April 27th, 1978, following surgery. Norman Corwin spoke at his memorial service on May 21st, 1978.
In 1979, the "Souvenir Album," a selection of personally produced studio recordings, was released on LP. It would prove to be the last commercial LP release of their music.
Miranda was now living mostly at the house in Idyllwild, accompanied by two cats, Tupac, and Yupanqui. She survived her beloved Josef by eight years, and passed away on April 20th 1986. Again, Norman Corwin spoke at the memorial service.
It is now over half a century since Josef and Miranda began singing together, and more than 20 years since their last record was released, but they still have a surprising number of admirers. Many of their original fans remember them with great affection. The baby boomers who, as children, were exposed to their music often hold it among their most cherished memories. For Josef and Miranda, who worked so long and hard to give listeners a musical experience worth holding onto, this is the greatest possible validation of their efforts.