LOUIS PRIMA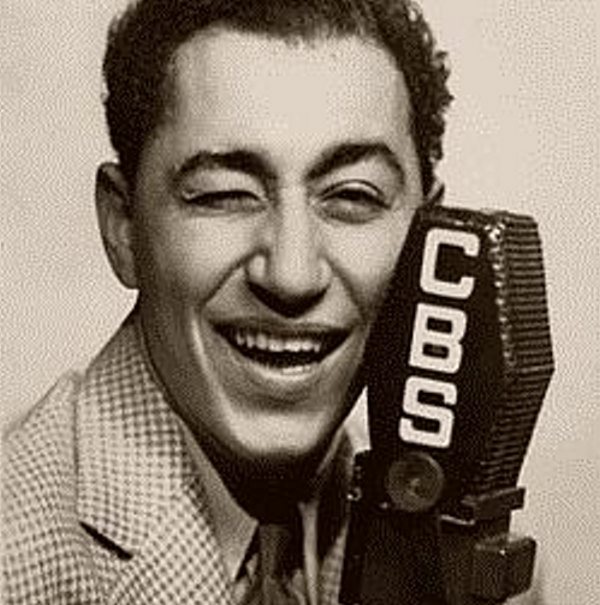 Biography
Louis Prima. Born Louis Leo Prima, December 7, 1911, in New Orleans, LA; died of complications following a brain tumor, August 24, 1978, in New Orleans; son of Anthony Prima (a soda-pop distributor) and Angelina Caravella (a housewife); married Louise Polizzi, June 25, 1929 (marriage dissolved, c. 1936); children: Joyce; married Alma Ross, July 25, 1936 (marriage dissolved, c. 1947); married Tracelene Barrett, c. June, 1948 (marriage dissolved, June 18, 1953); married Dorothy Jacqueline Keely, July, 1953 (dissolved October 3, 1961); children: Toni, Louanne; married Gia Maione, February, 1963; children: Lena Ann and Louis, Jr.
During the peak of his career in the mid-1950s, Louis Prima summed up the appeal of his act to Down Beat in one word–variety. "The audience never knows what comes next," explained Prima, "and to tell the truth, neither do we. We're always throwing 'em surprises, and they love it!"
By the time Louis Prima uttered those words, he had been a veteran of show business for three decades. Louis Leo Prima was born on December 7, 1911 in New Orleans, the city with the most Italian and Sicilian immigrants in the United States. Young Louis took examples from both of his parents that would eventually serve him well; his father Anthony was a hardworking beverage distributor, and doting mother Angelina was a strong-willed housewife, church activity organizer, and amateur performer. Her advice to Louis was to "always smile, people want to see that you're having a good time."
Angelina insisted that the Prima children take music lessons. Older brother Leon and younger sister Elizabeth took piano lessons and Louis took violin lessons. Louis didn't enjoy playing the violin, despite winning an amateur fiddling contest. The violin's fate was sealed when Leon gave up the piano for the cornet. New Orleans was teeming with jazz musicians; once the elder Prima joined the fold, his younger brother soon followed, also playing the cornet.
By 1931, Louis Prima was becoming well known in his hometown, playing in the orchestra of the Saenger Theatre, where elaborate stage productions filled time between the new talking motion pictures. In 1934, Louis impressed visiting orchestra leader Guy Lombardo, who easily persuaded the impressionable young Prima to move to New York, despite having a wife and child in New Orleans.
Louis Prima spent his first six months fruitlessly seeking employment despite Lombardo's connections. Racial prejudice prevented him from being hired by Leon and Eddie's on 52nd Street, becaue, according to Lombardo, "[Club owner] Eddie Davis, on first seeing olive- skinned and swarthy Louis Prima and knowing that he came from New Orleans, had simply assumed that he was a black man. The shame is not so much that he lost a gold mine, but that he capitulated to the prejudice of the times."
Prima's fortunes improved when he played opening night at the Famous Door. The after-hours musicians' club was named for the door signed by the establishment's famous investors. Louis packed the house and earned glowing reviews. During this time, Prima recorded several hit singles and wrote "Sing Sing Sing," a 1938 hit for Benny Goodman. He also made cameo appearances in films and toured the United States.
By the mid-1940s, Louis Prima became one of the most popular entertainers in the country, performing sell-out engagements across America. During this period, he discovered a new formula for hit records with "Angelina," a song laden with Italian-American slang phrases about a waitress in a pizza parlor. Despite the national sentiment against Italy as a result of World War II, the record became a big hit, and was followed by similar titles like "Please No Squeeza Da Banana," and "Josephine, Please No Lean On The Bell."
Following a series of recordings for the Majestic label, Prima moved to RCA Victor. After he released a Top Ten hit, "Civilization," in 1947, dynamics within the music business caused many big bands' fortunes to plummet. Many disbanded after the war as television gained popularity. Newly married to his third wife, Louis was able to sustain his orchestra through the lean times by concentrating on recording.
During auditions for a female vocalist in Norfolk, Virginia, Louis found the woman who would be his partner for the most successful years of his life. Dorothy Jacqueline Keely, better known as Keely Smith, struck Louis with her lack of movement while she sang. She would prove to be the ideal foil for the hyper-animated Prima. In no time, Prima divorced his third wife Tracelene and married Keely, as the pair began their ascent to stardom. With Keely, Prima did a complete transition from his previous sound to a renewed career using the beat of the latest popular music–rock n' roll.
This revitalization began in the fall of 1954 at the lounge of the Sahara in Las Vegas. As his fame grew he unleashed a new backing combo, the Witnesses, led by Sam Butera, an old sax-playing crony from New Orleans. The line up proved to be a smash hit nationwide. One Variety review in 1956 noted that "Prima's uninhibited verve on stage is instantly communicated to his audience" while Smith's "deadpan makep is used solely as a foil for spouse Prima as he affectionately kids her." Another Variety review esteemed the "zing and zip Butera and the bandsmen added to the place." The band recorded for Capitol Records and enjoyed a major hit in 1959 with "That Old Black Magic".
All seemed to be going well until the usually private Prima took out an angry advertisement in several newspapers denying rumors that his health was failing. Prima also denied having marital problems with Keely, stating that they were "a preposterous lie started by some imbecile." In 1961, however, Keely filed for a divorce. Although Louis continued to perform with the Witnesses, his days with Keely were the yardstick by which his performances were measured.
Prima's final moment in the spotlight was providing the voice for the character King Louie in Disney's animated feature "The Jungle Book". He continued to perform across the United States until he was diagnosed with a brain tumor in 1975. After an operation, Louis slipped into a coma that would last almost three years until his death on August 24, 1978.