LOS PANCHOS
Biographie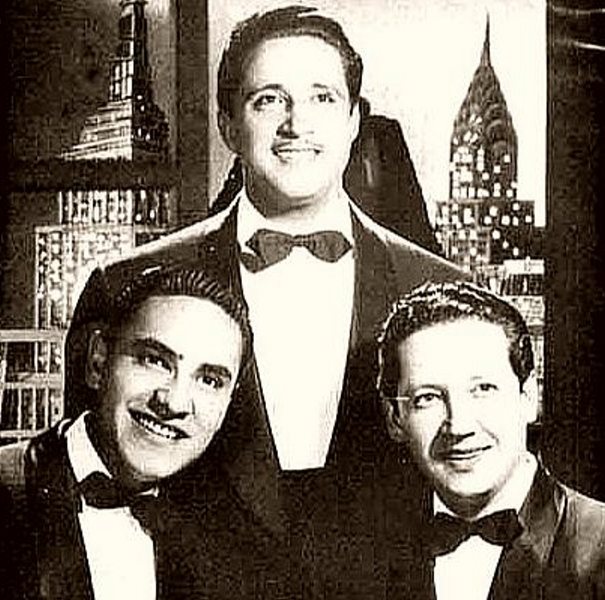 Los Panchos (also known as the Trío Los Panchos) was an internationally famous Latin trío romántico known for its romantic ballads and boleros.
Los Panchos first met in 1944 in New York City. The three original members were Alfredo Gil and Chucho Navarro, both from Mexico, and Hernándo Avilés from Puerto Rico. All three played guitar and contributed vocally.
Los Panchos reached fame with their romantic songs, especially in Latin America where they are still regarded as one of the top trios of all time. They sold millions of records within a few years of being founded.
They also appeared in around fifty movies mostly during the Golden Age of Mexican Cinema.
Los Panchos began touring internationally in 1946 and would relocate later that same year to Mexico City, considered the world capital of Spanish-language music. They were welcomed with open arms and XEW-AM, the most popular radio station in Mexico City, reserved a time slot for their music. In 1951, Los Panchos launched another international tour across Latin America.
Julito Rodríguez joined the group in 1952; he was replaced by Johnny Albino in 1958. Johnny Albino & Chucho Navarro, (Miguel Poventud and Yomo Toro were studio musicians for CBS) famously worked with singer Eydie Gorme on a series of bestselling albums in the 1960s. The Albino era was one of the most prosperous ones for Los Panchos whose classic albums are very popular among Los Panchos fans still. His departure in 1968 was a tumultuous one, as he did not leave on good terms with the group's management.
In 1971, Ovidio Hernández joined the band as lead vocalist, a part he would fulfill until his untimely passing of complications of meningitis in 1976. Following him, Rafael Basurto Lara joined as lead singer.
Alfredo Gil played with Los Panchos until his retirement in 1981 (he died in 1999) and Chucho Navarro played with the group until his death in 1993.
A characteristic instrument of Los Panchos and many more bolero trios after them is the Requinto guitar, which is smaller and tuned higher than a standard guitar, and was invented by Alfredo Gil, founding member of Los Panchos. Requinto soli are typically part of a bolero song.
Today, there are several trios claiming to be the rightful successors to the original trio, with Rafael Basurto Lara, lead singer of the original Trio Los Panchos since 1976 still being the lead voice of one of them. Another Trio Los Panchos is currently under the musical direction of Gabriel Vargas Aguilar, the adopted son of co-founder Gil. This band, now based in Veracruz, Mexico, still continues to perform concerts across Mexico, Latin America, and the United States, with a newer cast of singers.