LOS MACHUCAMBOS
Biographie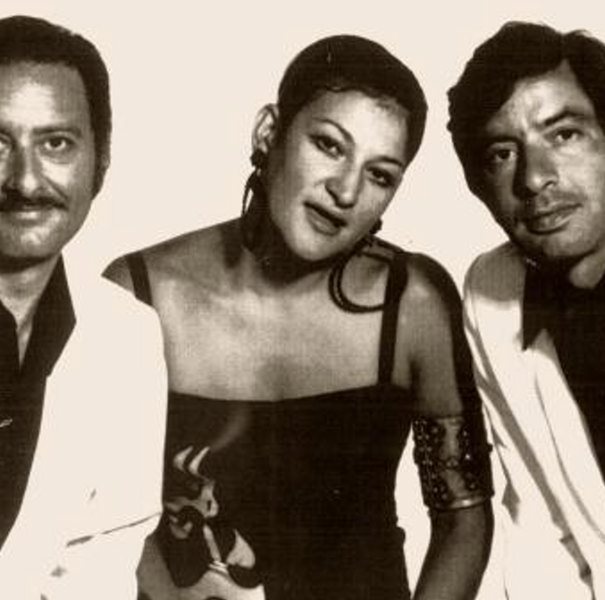 Southern Native Americans made an instrument called a charango from the skin of an animal known in Latin America as a machucambo. Together, Rafael Gayoso, Mathias Romano Zanotti and Julia Cortes are the Machucambos.
Rafael Gayoso had been studying at a music conservatory and travelled in Cuba and Mexico. In Paris he was one third of the Trio Acapulco; they would perform at a bar called L'Scale. With Rafael in this group was Peruvian Milton Zapata and a Mexican man, name unknown. One day the Mexican man could not make it to the show and Costa-Rican singer Julia Cortes, who was also a performer at the bar, was asked to fill in. She put on a female charro suit (typical folkloric Mexican dress) and they started to perform. The crowd loved them and they were such a success that the trio was born.
The original Machucambos founded by Rafael, Milton, and Julia, recorded a couple of records together, and had won the 1959 Grand Prix du Disque de l'Academie du Disques Francais, but after that Romano Zanotti replaced Milton Zapata for unknown reasons. Zanotti had toured for three years with a musical group called the "Guaranis" before joining Los Machucambos. Before this he studied at the College of Fine Arts in Rome followed by a study tour of Central America. The Macucambos' recording of Pepito with Zanotti in the group was a hit all around the world, selling six million copies.
With a wealth of instrumental and song material from Central and South America, and Mexico, Los Machucambos became international stars for their high quality live performance. Transcending cultural and language barriers they played both the Albert Hall in London and The Olympia in Paris; from Europe to the Middle East to all the Americas, the Machucambos were in demand.
Their recording career coincided with the viability of stereophonic reproduction, and those with new stereo hi-fis needed stereophonic discs to play on them. Along with RCA, Capitol/EMI and Columbia, one of the major releasers of quality early stereo records was London/Decca. One of their most reissued albums has to be 1961's Percussive Latin Trio, still usually the first Los Machucambos item most people come across.
This landmark album, while it's stereo effects are somewhat more crudely produced than their next subsequent Phase 4 titles, continues to captivate listeners through the sheer exhuberance and dazzle of the three main Machucambos. Accompanied by two tracks spotlighting Paraguayan harpist Ignacio Alderette, almost every one of the ten other tracks is the best of it's kind.
The familiar "Adios" composed by Madriguera evokes horse travel through twilight ranges. "Subo Subo", an Aztec lament with a modern Machucambos arrangement and powerful three voice harmony is simply unforgettable. Another standard of the day, covered by everyone from Chet Atkins to The Ventures and The Shadows, "Perfidia" is also given new arrangements. "Pepito" among it's many other attributes is also a classic of the cow-bell; no wonder people couldn't get enough of it! "La Bamba" as arranged by Los Machucambos is possibly the definitive recording musicians still refer back to alongside Ricardo "Ritchie" Valensuela's rock guitar masterpiece.
"Granada" soars upward like the green mountains of it's title only to bring you back with earthy rthyms and lush harmonies. Then a new, now a durable cha-cha, "Otorino Laringolo", shows off all three vocalists intricately. "Amor Amor", a delicate romantic classic has Romano Zanotti in the lead giving Mel Torme or Dean Martin some competition. The galloping "La Palomita" shows off the famed charango in a new Machucambo arrangement. And lastly, but first on the LP, "La Cucaracha", if any tune south of the Rio Grande is worn out then this is it, but even this sounds good when done in a percussive based way by Los Machucambos.
The subsequent ten and then twenty channel stereo recordings all have a wealth of acoustic marvels of their own, and even some original compositions from Zanotti and Gayoso. In 1971 their live performances of "Songs and Dances of Latin America" continued for two months at Paris' Olympia theater. Due to health problems making travel a hardship, Julia Cortes unfortunately had to retire from the touring group but did continue to record sporadically. It would take two voices to try to fill Julia's shoes; Mariana "Anna" Venegas-Montalvo and Maria Licata.
While corporate backed semi anonymous "disco" steamrolled a continent, back in Europe the Machucambos had hits with Bossanova and Salsa compositions. Marchinha Pra Angela Davis was particularly popular. In 1978, the group won the Grand Prix d'Interpretation at Tokyo's World Song Festival and toured Japan. In Recent years Los Machucambos CDs have begun appearing, including a reunion of the original three great Machucambos! New fans of the group are still being made because they simply knock people out with their fantastic, powerful vocals and tight complex instrumentation!